Help Ray Kick Cancers Butt!
Click here to follow Ray's Journey on Instagram 

*written by Nade, Ray's fianceeRay and I met when she was 15, by the time she was 19 we were an item. Teenage sweethearts. Ray is the yin to my yang, I'm her tether to the earth and she is my rocket ship to other universes. This year will mark our 8th year together. Ray proposed to me in the Iveagh Gardens, which is where we had our very first date. We had been planning our honeymoon to New Zealand and Bali before this. 
(Myself and Ray on a night out together)
Last October Ray started having severe back pain. She started seeing a physiotherapist but the back pain continued on and off. In November of 2018, the headaches started. Ray went to the doctor and was diagnosed with sinusitis. She was given antibiotics which unfortunately did not alleviate her pain. During this time, Ray was unable to do anything because of the pain in her head. She would spend hours in bed with pain that she described as a pressure build up in her head and ears. That's when she discovered a small lump on top of her head. Ray went  back to the doctor who assured her that her back pain was sciatica, the lump on her head was a benign cyst and she was advised to see a neurologist. Hours were spent calling neurologists in all of Dublin's hospital to see how early Ray could get an appointment. We finally met with a neurologist who diagnosed Ray as suffering from migraines. He also confirmed that the lump on her head was benign even though at this point it had grown. She was prescribed medication and home we went.  Over the next few weeks, things went from bad to worse. Ray developed polyps in both of her ear canals and was brought to A&E of the eye and ear hospital. They started her on antibiotics but after two checkups they realised they weren't exactly sure of what they were dealing with. The lump on her head had doubled in size at this point and her voice sounded high pitched and she would cough every time she drank water. Something wasn't  right. We knew it. She had a checkup on her ears with the ENT who had a look at her throat. He saw that her vocal chords weren't closing properly. Ray was sent directly to St. James's hospital immediately as they believed that this was something neurological.  
(Ray, Myself and our friends at the hospital while Ray was waiting for her diagnosis)
This lead to a agonising couple of days in which the amazing staff at St. James's conducted MRI's, biopsies, CT scans, X-rays and PET scans to determine exactly what was causing Ray all of this pain. Eventually, we were told that cells taken from her biopsies were cancerous. We were devastated. She was 27 years old three days after she was admitted to the hospital. How could the world be so cruel?  The next stage in Ray's journey was to figure out what sort of cancer (sarcoma) this was so they could figure out how to treat it. Some of her cells were sent to a sarcoma expert in Harvard who was able to decipher that it is a rare form of sarcoma which affects a very small amount of the population. Only 400 cases a year in the USA are diagnosed.  Ray underwent 6 sessions of radiotherapy and has begun her intensive chemotherapy regime. Ray will receive chemotherapy for 39 weeks, the amount of time it takes to create a life.  
(Ray and I chilling in the park before her treatment was to begin)
Ray was 26 years old when she went into the hospital in March 2019. We had been planning a holiday to New Zealand and Bali, we were both studying part time, Ray had just set up her new all female band, was expanding her role at her Vancouver based tech start up job where she worked remotely, and our podcast that Ray produced and I narrated was asked to sign to a network.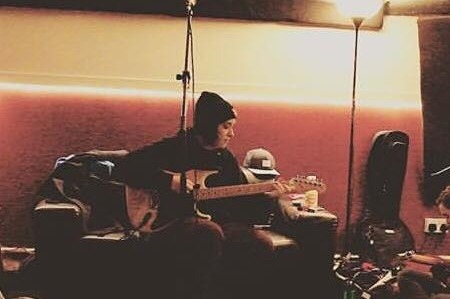 (Ray Jamming in the Studio with her Band)
Ray is a loyal and dedicated daughter, sister and friend. Since her diagnosis, the support she has been shown by everyone in our community of friends and family has been overwhelming.  
(Myself, Ray, Her Mum and Sisters during Radiation Therapy)
Ray has had to quit her job which she loved and her superhuman mum Ellen has also left her career behind to take care of Ray full time throughout her treatment. The road ahead is long, but the same reason so many people love Ray and the same reason I said yes when she asked me to marry her will be the very reason she gets through this; her strength.  
(Ray and I in the hospital when she was beginning Chemotherapy)
The cost of this cancer is emotionally devastating but any donations received will go directly towards Ray's ongoing treatment, her medications, transport costs and anything that will make life easier to live throughout her treatment.  
(Ray, a couple of weeks before being diagnosed) 
Thank you for reading Ray's story, thank you for your donation and thank you for joining the fight with us. We will keep you updated on future fundraisers and Ray's progress.    
#fuckcancer 
(Ray, her Mum and myself in the hospital after Ray got her PICC line in)
Follow Ray on Instagram  @glassjaw_jackdaw  to follow her Journey.
Organizer and beneficiary
Claire Flanagan
Organizer
County Dublin
Sinead Nic Eoin
Beneficiary