Help our beautiful friend Stacey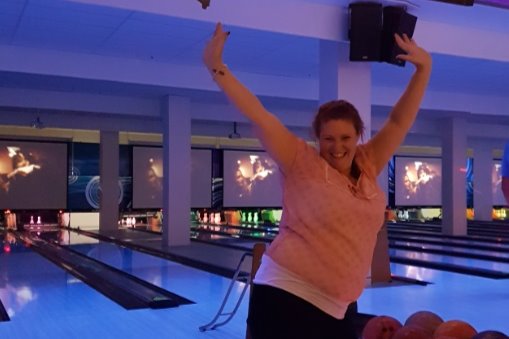 This crowdfunding campaign has been created by the friends and workmates of Stacey Thomson, a Gold Coast mum who suffered a fairly severe stoke in August 2018.
There have been some really difficult times due to this life changing event at such a young age, and there are still many challenges ahead for Stacey and her family (including her three year old son). We want to provide practical and financial assistance to help them to rebuild their lives.
Unfortunately the stroke Stacey suffered has left her very debilitated, unable to work, care for her family or do the things she used to enjoy. She remains in hospital undergoing intensive rehabilitation and has a long road to recovery. Her speech, eyesight, movement and mobility have all been affected.  But she likes to remind us all that she will come back, BETTER THAN EVER!
Stacey makes an immediate impact when she meets people because she is such a warm, outgoing and friendly person who people love to have around. Funny, witty and generous to a fault, her career sees her helping those who are most vulnerable and most in need. She is selfless and cares deeply about people, being wholly committed to helping those struggling in life.
Prior to the stroke, the photos show Stacey as an active and lively woman who adores her young son Finn who is only three years old.  She loves him to bits and the pair of them are struggling with this transition right now.  She is also the main carer for her mother who lives with Stacey and her partner Nathan. After saving up for years, they were so excited to finally be able to move into their first home near the Gold Coast, just months before the stroke changed their lives.
So now her friends and work mates want to help look after Stacey (who always looks after us!), her partner and her gorgeous little ball of energy, her son Finn.
We are raising funds to help Stacey cover her medical costs, rehabilitation aids and the additional expenses this family now have to cover on a single income. They live 40 minutes away from Gold Coast Hospital. The transport and parking costs alone have meant a huge, additional pressure. Stacey fights on a daily basis to rebuild her life and to regain her mobility and her health.
Your support will make this difficult journey a little easier, so please donate and know you are helping Stacey and her family during this very difficult time.

Fundraising team: Horizon Housing Company (2)
Elise Waugh 
Organizer
Raised $1,150 from 7 donations
Clear Island Waters QLD