Help My Husband Peter Higginson Fight Cancer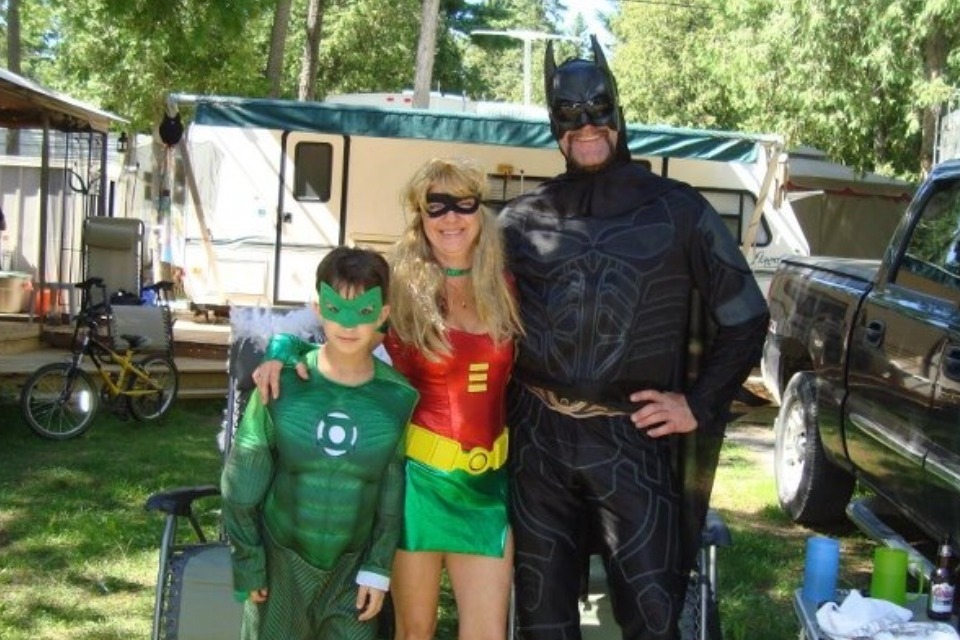 Traduit en français à mi-chemin


My Husband
My name is Manon and I'd love to tell you a little about the love of my life, Peter. I married Peter on July 13, 2013 and look forward to spending the rest of my life with him. Peter is also a loving and dedicated father to his son Jason (age 28) and stepson, Frederik (age 16).
At 56 years old, Peter has impacted many people personally and through his job as a hardworking carpenter/supervisor.
Peter believes in family first, dedicating himself to care for our immediate family. Peter helped support me in caring for my dad until his passing in November 2018. Peter comes from a large and loving family (the 2nd youngest of ten children; predeceased by his brother Stephen at age 44 of pancreatic cancer) and has devoted himself to caring for his widowed mother who had lived alone until last fall. Stopping by after a full day of work to check on his Mom, Peter would help her with ongoing maintenance around the house and family farm.
The Cancer Diagnosis
After experiencing concerning symptoms and undergoing a number of tests, Peter was diagnosed with cancer on February 28, 2019. Bile duct
cancer (which is fairly rare and difficult to treat), with metastases in the liver (cholangiocarcinoma, also called Klatskin Tumor). This was absolutely devastating news to learn!
Conventional Treatment
We were very excited to meet with a well-respected Toronto specialist (who leads the largest bile duct cancer/liver surgery program in the world) in March.  After reviewing Peter's file, this specialist indicated that the goal of treatment would not be a cure or remission, but rather to manage symptoms for "as long as possible". 
Peter completed six rounds of gruelling chemo between April - August with the hope that he would then be a candidate for a 'miracle' liver surgery. His most recent August scan showed the bile duct tumour had slightly shrunk and the biopsy of a surrounding lymph node came back non-cancerous, which the specialist called "significant". In other words, "the chemo has been effective!" We were absolutely thrilled to learn this!
However at the August 15th appointment, the Toronto specialist shared his reluctance to move ahead with the surgery. Because cancer was found in Peter's original lymph node biopsy, there is concern there may still be cancer elsewhere in the body. If cancer is still present in any lymph nodes, liver surgery will not provide a cure.
The surgery itself is extremely risky with a 12% chance of Peter not even surviving the operation (compared to a 2% chance of heart transplant patients not surviving surgery). Even if Peter survived the surgery, the specialist shared that "it makes the time you have left a struggle". There have only been 75 patients in 10 years at Princess Margaret Hospital in Toronto who had this specialized surgery and only 30% of patients survived 5 years after surgery. 
The specialist suggested Peter consider specialized radiation as an alternate option to surgery. Radiation would not cure the cancer but combined with chemo, it may control the cancer for a few more years. However if Peter chooses to have this radiation, he will no longer be a candidate for the surgery.
Frederik and I lost his father 10 years ago. Frederik does not want to lose his step-dad. I just lost my father last year. I don't want to be a widow. I just will not give up on my husband.  I want to enjoy a long, healthy and happy life together with Peter.
Another option
After hearing this very disappointing news, we started to look at all our options. Particularly a clinic in Mexico where Peter's niece is currently receiving cancer treatment herself. The Immunity Therapy Centre (ITC) uses an integrated approach to treat cancer - employing both conventional and complementary therapies concurrently - and has a track record of  treating many advanced cancers. However these treatments are not currently covered by insurance or OHIP.
The initial three weeks will cost approximately $30,000 CAD which includes three weeks of treatment, airfare, accommodation and other associated expenses for those three weeks. The clinic has already recommended that Peter consider staying for six weeks, depending on how Peter responds to initial weeks of treatment. Weeks 4-6 will probably cost an additional $25,000 CAD.
What Peter and I are hoping for in our time at ITC is, if not a cure, that his cancer would go into remission and/or that his cancer would shrink enough to make surgery possibly easier to do.
Peter has been off work on critical illness disability since the diagnosis due to the volume of medical appointments and gruelling chemotherapy treatments. Unfortunately I have also been off work because of my own health issues that have prevented me from returning to work.
It's at this point that we know we need help from our family and friends.
Where You are needed
1) DONATE. Peter and I believe that ITC can provide treatment options that combined with conventional treatment in Ontario may provide Peter's best possible outcome. We are asking for help to raise funds to cover Peter's time at ITC - between $35,000-$55,000 depending on how long Peter stays.
We know this is A LOT of money! Because neither of us are currently able to work, we cannot afford this ourselves right now. We are hoping to raise most of this amount before our flights to San Diego (border city to Tijuana) which are booked for August 29. All money raised will go directly to cover Peter's treatment expenses.
Money can be donated via the GoFundMe platform, via etransfer directly to Peter or myself, or offline. Please contact me directly if you
would prefer to send a donation via mail.
2) SHARE, share, share. To help get the word out, please share the GoFundMe link!
3) Peter and I always appreciate notes/emails of encouragement. Please be patient if it takes some time to receive a response from us.
4) Your prayers!
Thank you from my heart to all the friends and family members who have helped us so far! 
I'm so proud of my husband Peter! He's taken this rollercoaster journey in stride and has stated that he will do whatever it takes to beat this cancer because in his words "I WILL NOT GIVE UP!" Mon mari
Je m'appelle Manon et j'aimerais vous parler un peu de l'amour de ma vie, Peter.  J'ai épousé Peter le 13 juillet 2013 et j'avait hâte de passer le reste de ma vie avec lui.  Peter est également un père affectueux et dévoué envers son fils Jason (28 ans) et son beau-fils, Frederik (16 ans).
Dans ces 56 ans, Peter a eu un impact positif sur de nombreuses personnes  autant  sur le cote personnel que du cote  travail de charpentier / superviseur assidu.
Peter croit en la famille d'abord, se consacrant à s'occuper de notre famille immédiate.  Peter m'a aidé à prendre soin de mon père jusqu'à son décès en novembre 2018. Peter est issu d'une famille nombreuse et aimante (le deuxième plus jeune de dix enfants.) Son frère Stephen est décédé  à l'âge de 44 ans dû à un cancer du pancréas. Il prend aussi  soin de  sa mère veuve qui a vécu seule jusqu'à l'automne dernier.  S'arrêtant en chemin après une journée de travail pour vérifier sur sa mère, Peter l'aidait à effectuer l'entretien courant de la maison et de la ferme familiale avant de savoir son état de santé.
Le diagnostic de cancer
Après avoir ressenti des symptômes inquiétants et passé plusieurs tests, Peter a été diagnostiqué d'un cancer le 28 février 2019. Le diagnostique: Cancer du canal biliaire. Cancer assez rare et difficile à traiter, avec métastases dans le foie (cholangiocarcinome, également appelé tumeur de Klatskin).  C'était une nouvelle absolument dévastatrice à apprendre!!
Traitement conventionnel
Nous étions très heureux de rencontrer un spécialiste respecté de Toronto (qui dirige le plus grand programme de traitement du cancer des voies biliaires / chirurgie du foie au monde) en mars.  Après avoir examiné le dossier de Peter, ce spécialiste a indiqué la possibilité d'une opération après les 4 à 6 traitements de chimio. 
Peter a terminé six cycles de chimiothérapie exténuante entre avril et août, dans l'espoir d'être candidat à une opération du foie «miracle».  Lors de son dernier examen, celui ci a montré que la tumeur des voies biliaires avait légèrement rétrécie et que la biopsie d'un ganglion lymphatique environnant est revenue non cancéreuse, ce que le spécialiste a qualifié de "significatif".  En d'autres termes, «la chimio a été efficace!» Nous étions absolument ravis d'apprendre cela!
Cependant, le 15 août, le spécialiste de Toronto partagea sa réticence à poursuivre l'opération.  Étant donné que le cancer a été détecté lors de la biopsie des ganglions lymphatiques initiale, il est à craindre que le cancer persiste ailleurs dans le corps.  Si le cancer est présent dans les ganglions lymphatiques, la chirurgie du foie ne permettra pas de guérison.
La chirurgie elle-même présente un risque extrêmement élevé, avec 12% de chances que Peter ne survive même pas à l'opération (comparé à 2% de chances que les transplantés cardiaques ne survivent pas à la chirurgie).  Même si Peter a survi  à la chirurgie, le spécialiste a déclaré que "le temps que vous allez  avez passé sera difficile".  Il n'y a eu que 75 patients en 10 ans à l'hôpital Princess Margaret de Toronto qui ont subi cette chirurgie spécialisée et seulement 30% des patients ont survécu cinq ans après la chirurgie.
Le spécialiste a suggéré à Peter de considérer la radiothérapie spécialisée comme une alternative à la chirurgie.  La radiothérapie ne guérira pas le cancer, mais associée à la chimiothérapie, elle pourra contrôler le cancer pendant encore quelques années environ seulement de 1 an à 3 ans. Cependant, si Peter a effectivement cette radiation, il ne sera plus candidat à la chirurgie.
Frederik et moi avons perdu son père il y a 10 ans.  Frederik ne veut pas perdre son beau-père.  Je viens de perdre mon père l'année dernière.  Je ne veux pas être une veuve.  Je ne veux tout simplement pas abandonner mon mari et je veux vivre avec lui une vie longue, saine et heureuse.
Une autre option
Après avoir entendu cette nouvelle très décevante, nous avons commencé à examiner toutes nos options.  En particulier une clinique au Mexique où la nièce de Peter suit actuellement un traitement contre le cancer.  Le centre de thérapie immunitaire (ITC) utilise une approche intégrée pour traiter le cancer - employant simultanément des thérapies conventionnelles et complémentaires - et a fait ses preuves dans le traitement de nombreux cancers avancés.  Cependant, ces traitements ne sont actuellement pas couverts par une assurance ou OHIP.
Les trois premières semaines coûteront environ 30 000 $ CAN, ce qui comprend trois semaines de traitement, des billets d'avion, d'hébergement et autres frais connexes pour ces trois semaines.  La clinique a déjà indiqué que Peter devra probablement rester six semaines, en fonction de la réaction de Peter aux premières semaines de traitement.  Les semaines 4 à 6 coûteront probablement 25 000 $ de plus.
Ce que Peter et moi espérons de nos jours à l'ITC est, sinon un traitement curatif, que son cancer entre en rémission et / ou que son cancer se rétrécisse suffisamment pour rendre la chirurgie plus facile à faire.
Peter est en arrêt de travail depuis le diagnostic de son cancer lié à une maladie grave en raison du nombre de rendez-vous chez le médecin et de traitements de chimiothérapie épuisants.  Malheureusement, moi aussi, Manon, je me suis absentée du travail à cause de problèmes de santé qui m'ont empêché de retourner au travail.
C'est à ce stade que nous savons que nous avons besoin de l'aide de notre famille et de nos amis.
QUELS SONT NOS BESOINS?
1) FAIRE UN DON. Peter et moi croyons que le CCI peut offrir des options de traitement. En Ontario, le traitement conventionnel peut donner les meilleurs résultats possibles.  Nous demandons de l'aide pour collecter des fonds afin de couvrir le temps de travail de Peter à l'ITC - entre 35 000 $ et 55 000 $, selon la durée de son séjour.
Nous savons que c'est beaucoup d'argent!  Étant donné qu'aucun de nous n'est actuellement en mesure de travailler, nous ne pouvons nous le permettre nous-mêmes pour le moment.  Nous espérons réunir la majeure partie de ce montant avant nos vols à destination de San Diego (ville frontière à Tijuana), réservés pour le 29 août. Tous les fonds amassés serviront directement à couvrir les frais de traitement de Peter.
Vous pouvez donner de l'argent via la plateforme GoFundMe, via etransfert directement à Peter ou moi-même, ou hors ligne.  S'il vous plaît contactez-moi directement si vous préférerai envoyer un don par courrier.
2) PARTAGER, partager, partager.  Pour aider à passer le mot, partagez le lien GoFundMe!
3) Peter et moi apprécions toujours les notes / courriels d'encouragement.  S'il vous plaît soyez patient s'il faut un certain temps pour recevoir une réponse de notre part. 
4) Vos prières!
Merci de tout cœur à tous les amis et membres de la famille qui nous ont aidés jusqu'à présent!
Je suis tellement fier de mon mari Peter!  Il a pris ce voyage en montagnes russes dans la foulée et a déclaré qu'il ferait tout ce qu'il faut pour vaincre ce cancer parce que, dans ses mots, "je n'abandonnerai pas!"

Organizer
#1 fundraising platform

People have raised more money on GoFundMe than anywhere else. Learn more

GoFundMe Guarantee

In the rare case that something isn't right, we will refund your donation. Learn more

Expert advice, 24/7

Contact us with your questions and we'll answer, day or night. Learn more