Help me finish my fight with cancer
Help me finish my fight against cancer
***20% OF ALL FUNDS RAISED FOR ME WILL BE DONATED TO THE HISTIOCYTOSIS ASSOCIATION ON MARCH 1ST TO HELP FIND A CURE***
To those of you who know me, this may come as a surprise: I was diagnosed with a rare blood disease/cancer called Langerhans Cell Histiocytosis on May 23, 2017. A few months prior to being diagnosed, I woke up one morning with horrible pain in my right ear and blood on my pillow. I rushed to my general practitioner who said it was probably just an ear infection. After a few months of struggling with chronic ear pain, my ENT discovered a polyp in my inner ear canal. On May 12, I had surgery to remove the polyp that we assumed was benign. Once removed, I thought I was ready to carry on with life as normal.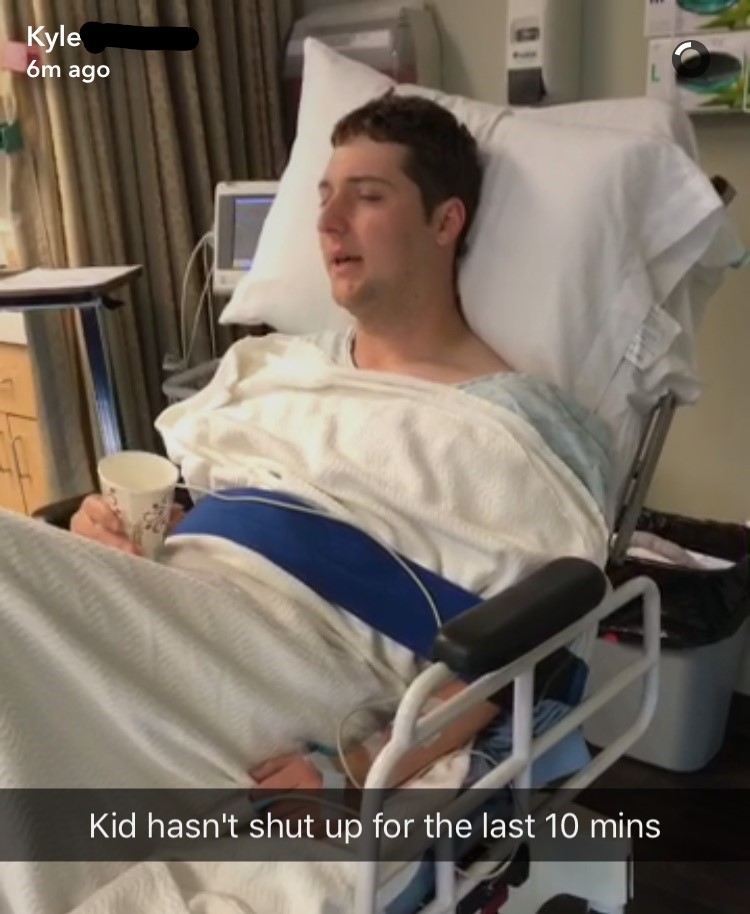 [Waking up from anesthesia after my initial ear surgery…nice snap Kyle]
But on May 23, all that changed and, like any independent 23-year-old guy would do, I called my mom immediately. As expected, my incredible mom drove through the night from Tampa to be in Atlanta the next morning. That day, we worked to do one thing: get me into the Emory University Hospital system. Thanks to the best friends I could ever ask for, I was meeting with an Emory neurologist the following week. After my meeting, an MRI and PET scan were scheduled. On June 20, my lead doctor (oncologist/hematologist) walked into my room and delivered the following message: "Alex, your MRI showed multiple areas of involvement — a brain tumor, which your PET scan confirmed, and two bone lesions on your skull, one behind your ear which had invaded the ear canal causing the ear pain. There are treatment options and we are confident that you will respond well to treatment and will have a positive prognosis. However, we will be starting 12 months of chemotherapy treatments immediately. You will be receiving the drug Cytarabine (usually used to treat Leukemia) and you will probably lose your hair". On June 30, 2017, a week before my 24th birthday, I started my first of twelve months of chemotherapy at Emory's Winship Cancer Institute.
[Chemo Day 1. Free cookies...]
In early November, after my first three months of treatment, I had my first follow up MRI and PET Scan. The scans showed much improvement! My hematologist was encouraged, but advised that we continue the treatments as planned with 9 months to go. Luckily, I haven't lost my hair! On January 6, 2018, I completed my sixth month of chemotherapy. In early February, I will have another set of scans to see if I am still responding to treatment. If everything still looks good, I'll continue on for at least another six months. Unfortunately, after six months of chemotherapy, three surgeries, multiple MRI's, PET and CT scans, countless doctors' appointments, a plethora of medical bills, and a new insurance calendar year, I can no longer fund this fight on my own.
I am asking you to donate any amount in this time of need. As stated above, 20% of all proceeds will be donated directly to the Histiocytosis Association to help others like me. All other proceeds will go directly to my medical expenses and possibly travel expenses for my mom, who has only missed one treatment (even though she lives in Tampa!) Unfortunately, there is no cure for Langerhans Cell Histiocytosis. While many LCH fighters do achieve remission, it can reactivate at any time. I will be monitored closely by doctors for at least the next five years and will likely have a precautionary MRI and PET scan annually.
Many of you who read my story may have seen me or talked to me in the last seven months and might be wondering why I didn't tell you or post this publicly from day one. Honestly, it has taken every minute of those seven months for me to really accept my new reality. Before being diagnosed, the only medical problems I ever had were a few broken bones from playing sports and some cavities (because candy is awesome!) Just a few years ago, I graduated from UCF and landed a good job right out of school. I was traveling around the country and having all the fun any guy in his early 20s should have. I never would have imagined this is where I would stand today: a cancer patient.
Though the chemo means my blood counts are chronically low, making me susceptible to infection and fatigue during treatment weeks, I haven't let it keep me bedridden by any means. I get up every day and try to do all the things I love. I have restrictions, but I am still employed full-time by an amazing and very supportive company and go to my office on most non-treatment days. I still play golf and tennis, watch Braves baseball and UCF/UGA/Atlanta Falcons football, and hang out with all my friends and family. My point is, it could be much, much worse.
The most difficult part of this entire situation for me has been seeing and getting to know all the wonderful people in the infusion center who are currently battling illnesses of their own. Seeing these mothers, fathers, brothers, sisters and friends push themselves and their bodies to the brink to win their battles is very difficult to watch. And knowing that some of those beautiful souls will have their lives taken too early is absolutely heartbreaking.
I don't need to sit here and talk about how terrible cancer is because unfortunately, all of us have experienced it in one way or another. So, if you choose not to donate to me then please,
PLEASE
donate to a Cancer Research Foundation of your choice to help save the lives of those brave cancer fighters who will inevitably come after me. Doing nothing is not an option.
I've had some friends ask what it was like to be diagnosed with a rare disease. While I'm very lucky my disease doesn't pose a fatal risk in the near future, hearing a doctor say, "brain tumor […] rare blood disease […] 12 months of chemo" certainly puts things in perspective and forces you to confront your own mortality. When my hematologist read me the MRI results, the last thing on my mind was what car I drove or how badly I wanted that new watch and pair of sunglasses. The only thought that came to mind was of all the remarkable people in my life.
I thought about how important my relationships are with my family and friends and all the people I love. I thought about how lucky I've been to have such incredible individuals love and influence me, making me the man I am today. I thought about how hard it was going to be to talk openly about my diagnosis and how devastating this news would be to them. When it comes down to it, those material possessions we thought to be so important mean nothing at all. If presented with the choice of a brand-new car or taking a trip with your closest friends or loved ones, take the trip EVERY SINGLE TIME.
I wake up every morning and truly consider myself the luckiest man in the world for having so many great people supporting me. Below are a few pictures of some of the incredible people in my life. While I am currently facing some tough circumstances, I have no doubt that I will achieve remission so I can return to life as normal. I look forward to hopefully seeing every one of you in person so I can give you the heartfelt thanks you deserve for all the overwhelming support. Until then, live each day to its fullest potential and love and cherish the people in your life.
But most importantly: Fund cancer research. Find a cure. Save lives!
Much love,
Alexander J. Villani
[Christmas Day 2017. Pictured: Chris (brother), Me, Mom (Tina), Nick (brother)]
[Chris, Me, Dad (Dave)]
[The Boys: Daniel, Connor, Paul, Me, Kyle]
[Zack (Oldest friend and cousin), Me]
[Me, Connor (Honored to be his best man when he gets married in March)]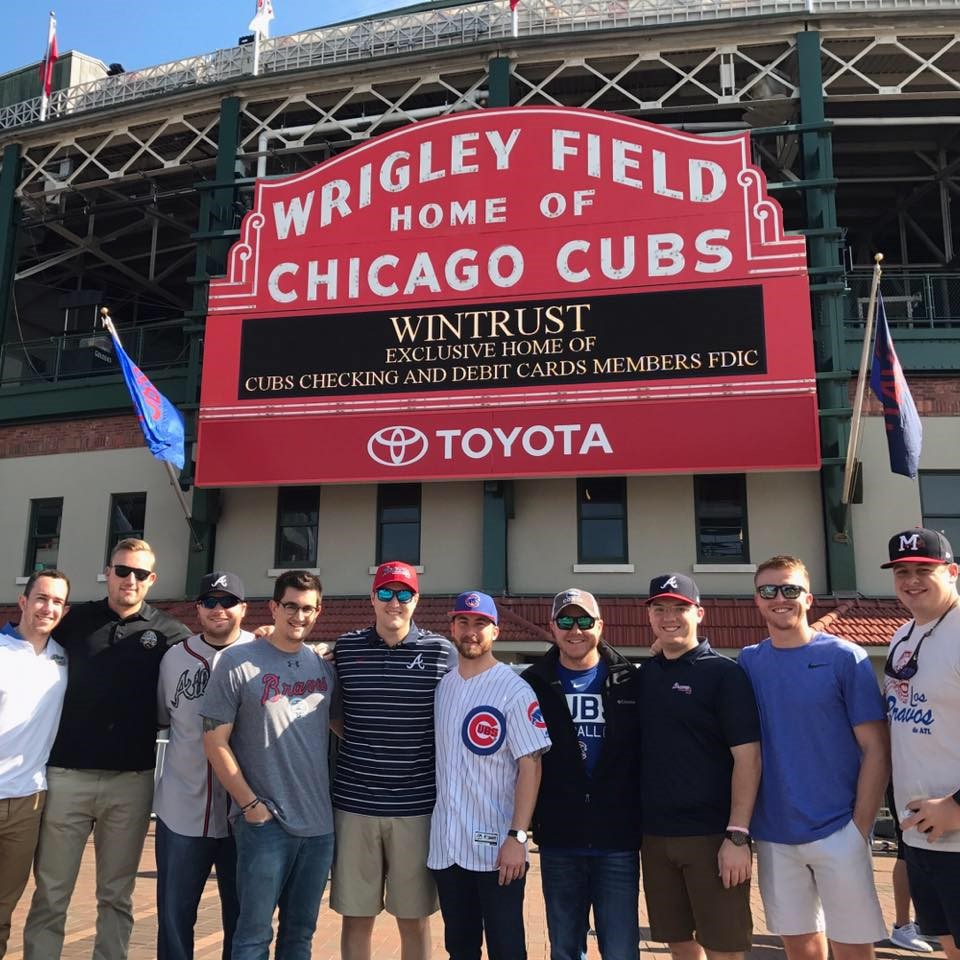 [Daniel, Kyle, Chris, Bob, Me, Reid, Ryan, Nick, Chris, Cam]
[Matt, Paul, Me, Stephen]
Go Knights
Organizer