Help Maria Celebrate her 50th by telling her story


TransTALE is almost complete we are 5,000.00 dollars away from post-production editing with your help we can finish the documentary. The Documentary will be complete with your support and released in the summer of 2021.

TransTale is a docu-love-story that follows Transgender Activist Maria Roman and Her  fiancé Jason Taylorson as they became Become the first Trans/Cis Couple to Wed at the historic St John's Cathedral in its over 100-year history in Los Angeles, California in March of 2019.


Maria and Jason share their journey to finding love against societal bias standards that continue to shame Cis/Hetero/Men who are attracted and in love with Trans women. 


TransTALE follows the inner moments of Maria and Jason who have defied all odds in their journey to love. Maria and Jason's goal is that their story will inspire other individuals within the Trans spectrum to follow their hearts, spirits, and be guided by the resiliency of living authentically. 



Maria Roman has been a fierce Puerto Rican Transgender activist for the past 20 years, and she is celebrating turning 50 December 12, 2020. Maria hopes that she can contribute to the landscaping of stories that represent Trans people in her their own terms. Maria today serves as the Chair of the TransLatin@ Coalition and works as a housing specialist at APAIT, providing housing services to people living with HIV/AIDS and critical services for Trans People in Los Angeles.




TransTale will also highlight the journeys and sentiments about love and marriage of Maria's Trans chosen family through the lens of Bridesmaids, including Legendary Activist Bamby Salcedo  Maria's best friend and Maid Of Honor and Maria's flower girl, Zoe Luna, 16-year-old trans girl featured in HBO Quinceanera among and the resent film The Craft: Legacy


As so many men across the US continue to be shamed for being attracted to Trans Woman, Jason's Journey as a Cis/Hetero/ Man in Love with a trans woman would further support the normalizing of openly loving trans woman as he shares this day with some of his closest Cis/Hetero/Male friends and their spouses.


Over 200 Trans/Cis/GNC Community Members witnessed and celebrate along with Maria and Jason as they made history marriage at St John's Cathedral.



 TransTALE will uplift and highlight the experience of a Trans woman who has survived the streets, homelessness and has become a voice stress voice for equality. 


As Trans Woman continue to face violence, discrimination in our society simply for being who they are.  Around the world, thousands of  Trans people are struggling every day for their space, dignity and respect in this society. These are their realities that people like Maria's go through in their everyday life. 


 TransTALE will shed light in the resiliency, diversity, drive and humanity of Trans women through the experience of sisterhood love and community in one of the most symbolic days of Maria's life.  



The Impact


Although the Trans community continues to make great strides towards equality,  The Trump administration continues to put policies in place to virtually erased Trans people out of existence; however, Trans people will not be erased. We continue to see stories that do not show a well-balanced view of the realities and journeys of trans people. Most of trans stories do not show trans people as romantic partners nor as members of loving families. We aim to show a side of Trans women that has not been shown in the media through a new lens of love, not only as a romantic love story but as the Daughter, sister, mother, friend and wife to be. Showing tolerance and diversity at the height of integration will stimulate cross-cultural discussion on improving both public education and society on how we view trans people in the world.



Director Sanora Bartels

is the Faculty Chair of the Documentary Department at New York Film Academy – Los Angeles Campus.  She has over 15 years of documentary feature, television and commercial projects under her belt.  Her feature documentaries include Michael & Me; Taking the Hill: A Warrior's Journey, a documentary about PTSD; and Greedy, Lying Bastards, executive produced by Daryl Hannah, for which she travelled all over the world as the Field Producer/Field Director. Sanora also worked as an Assistant Director on several projects including reality television shows for Discovery and NatGeo.  She holds a Master of Professional Writing degree from University of Southern California.  At USC, she studied screenplay under Syd Field, the author of Screenplay, the industry's bible on screenwriting. Her screenplay, Straying Home, was a semi-finalist in NexTV Writing and Pitch competition; and Comet Line, co-written with Carl Bartels, was a quarter-finalist in the 2018 PAGE Awards.  She currently teaches screenwriting and documentary writing and producing at New York Film Academy, Los Angeles and continues to 

produce and direct.



Carl Bartels is a Cinematographer with over 25 years of experience on an international level having worked on feature documentaries, narrative films (including all three movies in the Taken franchise), commercials and music videos. His documentaries include Dark Girls, an Image Award nominee and Greedy, Lying Bastards, executive produced by Daryl Hannah.  He has shot and directed several reality crime-themed shows for television and VOD. He has in-depth experience using 16/35 mm film cameras (Panavision, ARRI) as well as all current digital cameras from Red, Alexa, Sony F55 to DSLR cameras. Prior to becoming a cinematographer, he worked as a Sports Photographer for Spalding, shooting on the east coast – his credited photos include: New England Patriots, Boston Celtics, World Cup Tennis, PGA & the Boston Marathon. He currently teaches at New York Film Academy, Los Angeles and continues to shoot and direct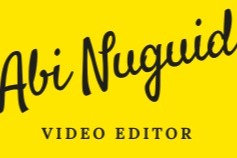 "Abi Nuguid is a video editor and documentary filmmaker, best known for her film "Lola Divas" - A Story of Filipino Grandmas ("lolas"): The Life and Love of Drag Queens on Stage. The short documentary film was shown in film festivals in California and won Best Film and Best Director (2016 Filipinos On Film Festival). She's been working with award-winning directors and producers on film projects as a video editor, as well as creating and editing content for films, series, trailers, and social media."



$100.00

A special signed copy of TransTale


$350


Private screening of Translate


Items included:


Private screening of TransTale


$700


 Maria's Rehearsal Dress


If you would like to own Maria's Custom Pantsuit By aclaimed Designer


Items included:


white jumpsuit worn by Maria Roman to her Rehersal Dinner


 

$800


 Your name in the credits


By you pledging, $800 you would have your name in the credit list of the film.


 

Credit in the film


$950


 Custom made dress by designer Tony Iniquez worn by Maria.


If you pledge $950.00 you will receive One of Maria Roman favorite sequin gold dress work and a red carpet event.

5,000.00 Associate Producer Credits
Donations

Organizer
#1 fundraising platform

More people start fundraisers on GoFundMe than on any other platform. Learn more

GoFundMe Guarantee

In the rare case something isn't right, we will work with you to determine if misuse occurred. Learn more

Expert advice, 24/7

Contact us with your questions and we'll answer, day or night. Learn more