❤ Please help support this Go Fund Me campaign to help provide palliative care for my friend's sweet, loving, senior rescue dog: Daisey. Their mom Juli has been a long-term volunteer in pet loss support and is a long-standing animal rescuer and advocate for many animal organizations, and she knows all too well the heartbreak that comes with dealing with senior animals! Daisey is her fur-child and she means the world to her.  Update: Juli's other dog Sadie became very unwell and very sadly, Juli had to let her go, on Tuesday, May 28th.  :(  
Daisey is continuing to respond well to treatment but needs ongoing medical care.

Daisey's medical issues took a bit of a 'back seat' to Sadie's needs when Sadie was very ill. Sadly Sadie is gone, however Daisey still needs help, especially now. Daisey was diagnosed with a serious gastrointestinal condition called Protein Losing Enteropathy, which causes weight loss and muscle wastage. Over the previous 8 months Daisey lost more than 6 pounds, which is an incredible amount for a small dog. This happened despite her having a very good appetite and eating substantial quantities of food but her body was not absorbing the nutrients and protein from the food.  

This condition (PLE) is similar to Irritable Bowel Syndrome in some ways but it is more serious. It is treated by feeding a very strict diet and steroids to help reduce inflammation in the gastrointestinal tract.  Daisey is on a very special prescription dog food diet, and also gets cooked boneless chicken breast along, with daily medications. 

Thanks to a wonderful internal medicine specialist veterinarian, Daisey is finally on the right food and seems to be responding well to the treatment. She has gained a pound so far, (which is like an average human gaining about 20 pounds) so that is very promising! Hopefully she continues to gain more weight and can get closer to her more normal weight over the coming months. Ideally Daisey needs to continue to be monitored and to receive specialty veterinary care but each visit is quite expensive (about $300 including blood tests). The main concern is that her protein levels are normal and that she doesn't become anaemic.
The cost of treatment involves veterinary care, medications and a special diet which consists of Hills brand Prescription Low Fat I/D canned food plus cooked chicken breast.  The dog food alone is pretty pricey even when purchased through an online pet food supplier- the cost of which is about $350 USD per month. On top of that is the cost for the chicken and then of course the daily medications.  To date vet visits and some diagnostic tests for Daisey including multiple blood tests, ultrasound and X-rays have resulted in costs over $5000 CAD (on top of the costs for dear Sadie which were very substantial).
Funds are needed now to help Daisey. 
Any donations, no matter how small, will go to helping Daisey.

Here's a bit of history on Daisey Duke:  She was rescued from a high kill shelter when she just was a skinny little, timid young dog. Thankfully all that changed when they came to live with Juli at just over a year old. Daisey is 15 years old and will hopefully make it to her 16th birthday in September. 

Juli's goal is to be able to take care of Daisey and manager these medical conditions and keep her happy (for however long  that may be). This means providing qualitative palliative care. She has been an absolutely wonderful companion and gone through thick and thin with Juli. Let's help make his last stage of Daisey's life the best it can be.
Juli has helped countless animals and animal-related causes for many years and fundraised for organizations (Farm Sanctuary, Sea Shepherd, WSPA, IFAW, C4P Animal Rescue (the organization I run myself) and the Toronto Humane Society, to name just a few… Now, she needs some help... so I am reaching out to the wider community and asking for support for one of our own. Everything was being managed fine up until last year however following a big move and job/financial struggles, it's been tough.  She just wants to do the best she can for her beloved dog, as she has for so many other animals throughout the years. 



Your donations are greatly appreciated and will be used for veterinary expenses and food. No amount is too small and every little bit helps. Thank you so much!❤  (FYI, if you are donating and it asks for a tip amount put zero.)




Daisey, April 27, 2019



Daisey, Springtime 2018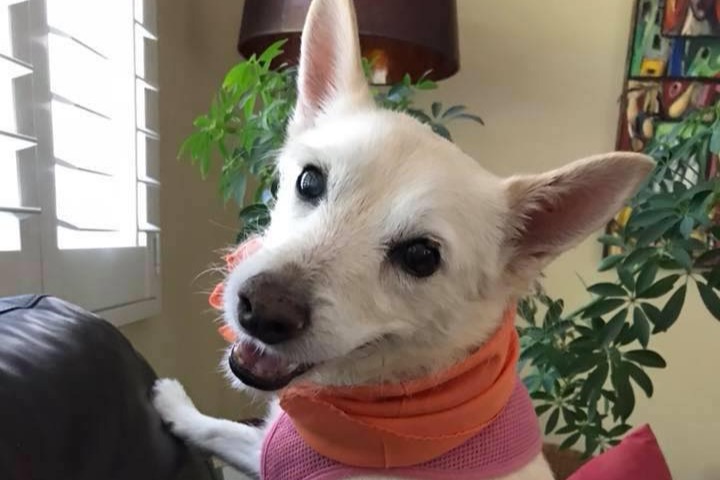 Sadie in her fancy jumper, happier times.  
  May she RIP.  







Sadie in her Christmas jumper, waiting for Santa.  We miss you precious Sadie.