ENGLISH *Español más abajo
The Problem: Inequality
Many people come to Tulum every year for its beautiful beaches and natural landscapes. What they don't know is that the people who work in the tourist or construction industries, often live in communities that lack the most basic services. The pandemic exacerbated this inequality even more, when hundreds of families were left out of work and income, and schools closed entirely for children. The local government does nothing to provide for the inhabitants of these communities, which are often known as "Invasiones" (invasions).
The Solution: Autonomous Community in Action
The "Escuelita Arrecifes" started in mid-2019 in response to this problem. Doña Mari, a member of the community, opened the doors of her home to support children who, without access to internet or computers, had no way of continuing their schooling process.
Today, after months of hard work, the Escuelita Arrecifes has become a community project that goes way beyond reading and writing classes. With the help of volunteers from all over the world we have succesfully managed to develop English classes, Recycling workshops, Dance classes, Theatre classes, Crafting workshops for mothers, Individual therapy sessions, and much more.
What we need
We are urgently in need of funds to continue to develop our wonderful school. The funds will be used for:
The salary of two full time literacy teachers.
Infrastructure and materials for classes.
Snacks for the children who attend class - many of them come to school on an empty stomach.
Continue to develop arts, sports, and language (Mayan and English) programs.
Begin to develop electricity and carpentry workshops
Infrastructure - Finish building classroom, restrooms, sink, etc.
Furniture and didactic materials for the classroom
A computer for community use and bring internet service to the Colonia
A campaign to plant fruit trees throughout the Colonia.
We need your support to continue providing a place of education, culture and community to the most vulnerable families of Tulum, Mexico.
Transparency
All aspects of the progress of the construction of the school, the hiring of new teachers, and others mentioned above will be shared with you via photos and video as often as possible.
ESPAÑOL
La problemática: Desigualdad
Mucha gente viene a Tulum por sus atractivas playas y belleza natural. Lo que no saben es que mucha de la gente que trabaja para el turismo y la construcción viven en comunidades a las que les faltan los servicios más básicos. La pandemia vino a exacerbar la situación de desigualdad, cuando cientos de familias perdieron sus ingresos y las escuelas cerraron para los niños. El gobierno local no hace nada para ayudar a los habitantes de estas comunidades, a las que se les denomina comúnmente como "Invasiones".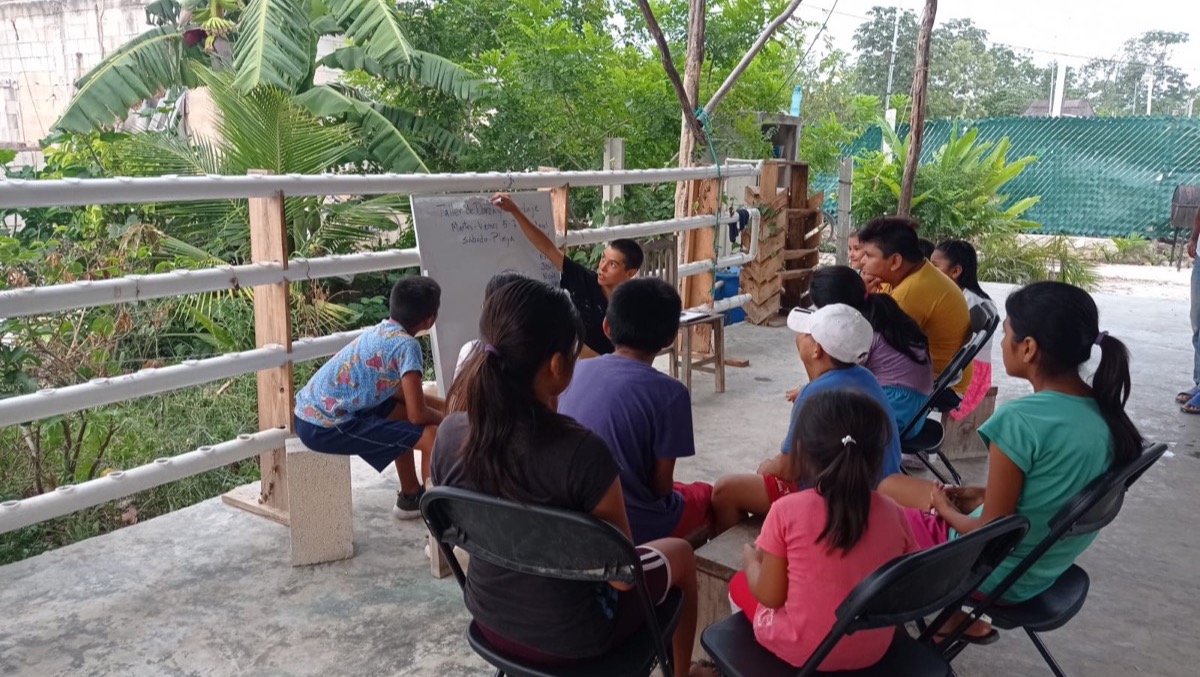 La Solución: Comunidad Autónoma en Acción
La Escuelita Arrecifes nació a mediados del 2019 en respuesta a este problema. Doña Mari, una miembra de la comunidad, abrió las puertas de su hogar para apoyar a los niños que, sin acceso a internet ni computadoras, no tenían manera de continuar su proceso de escolaridad.
Hoy, después de un año de arduo trabajo, la Escuelita se ha convertido en un proyecto comunitario que va mucho más allá de la simple alfabetización. Con la ayuda de voluntarios e todo el mundo, hemos logrado implementar Clases de Inglés, Reciclaje, Danza, Taller de Arte Dramático, Talleres de Manualidades para las Madres, Espacio de Terapia Individual y mucho más.
Lo que necesitamos
Ahora estamos urgentemente buscando fondos para continuar desarrollando los siguientes proyectos:
Sueldo para dos maestros de planta de lecto-escritura
Refrigerios para los niños que asistan a clases, ya que muchas veces vienen sin comer.
Seguir desarrollando programas de artes, deportes e idiomas (Inglés y Maya)
Comenzar a desarrollar un curso de oficio (electricidad, carpintería, etc.)
Infraestructura -- terminar de construir el aula, baños, lavabo, etc.
Muebles y materiales educativos para el aula
1 computadora para uso comunitario y la instalación de un servicio de internet
Apoyar a la campaña de siembra de arboles frutales por la Colonia.
Necesitamos tu apoyo para seguir brindando un espacio de educación, cultura y comunidad a las Colonias populares más vulnerables de Tulum, México.


Transparencia
Cualquier progreso que se lleve a cabo en la construcción del aula, la contratación de maestros, y otros mencionados arriba, le serán compartidos en foto y video tan frecuentemente como sea posible.
Fundraising team (2)
Escuelita Arrecifes
Organizer
Raised $100 from 2 donations
Brooklyn, NY
Laia Jimenez Llimona
Team member