Just in one day our world was turned upside down in September 2018 when my husband Errol was diagnosed with highly aggressive and difficult to treat brain tumour, glioblastoma, while being just 42 years old. The day I received the devastating diagnosis, which has a poor prognosis, the world lost all its colours and turned black and white… I want to wake up in my husband's arms feeling relieved that I had a nightmare. But this doesn't happen… The whole world collapsed, and life became a battle with cancer. 

It happened when we were in Asia doing our personal project to document disappearing cultures and traditions (www.anywayinaway.com). It was going well, when all the sudden Errol developed headaches and started to lose his right-side vision. In hospital the MRI showed a brain tumour mass… 

Immediately back in Switzerland, Errol underwent an extensive and risky brain surgery, followed by an exhaustive course of radio- and chemotherapy treatments. But, despite all the efforts the tumour had grown back to its original size in just 3 months. This brought Errol back to a surgery, which was followed by another 2 surgeries to deal with complications.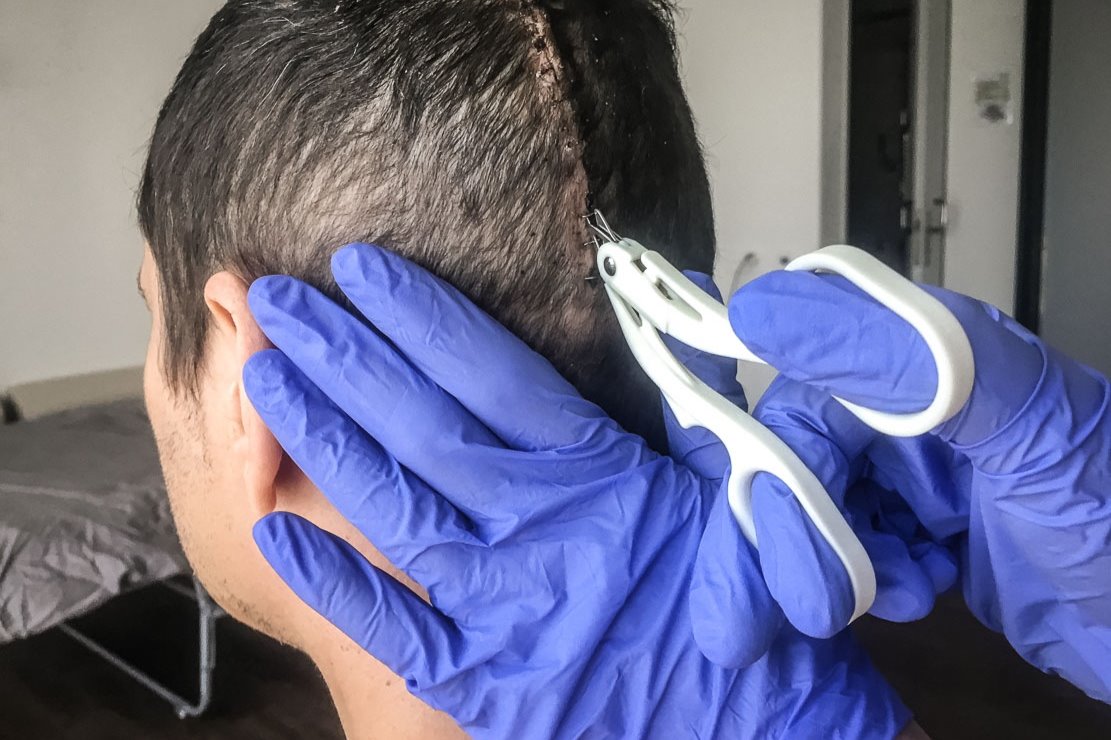 I spent days and nights looking for newly developed treatment options and meeting specialists. Errol underwent different treatments and started a strict ketogenic diet (no carbohydrates, no sugar), which is hard. But with his will to live he changed his dietary habits. All this helped and the tumour seemed to retreat, but in August Errol nearly went into a coma due to the tumour regrowth. The doctors didn't give us much hope. But Errol recovered. I told to myself that there is always a place for a miracle, and we should keep fighting. 


Now, one year passed since the diagnosis, and Errol is now on the last standard treatment option, Avastin. His last MRI showed that it seems to work, and the tumour had shrunken. But the battle is not over yet as Avastin is known to be effective only temporarily, and it has many side effects. I keep researching into new and promising treatments. We all understand that cancer is a trial and error game, and we have to keep rolling the dice to win this "Russian roulette".  

I visited a few clinics in Germany offering new, experimental therapies, including the Immun-Onkologisches Zentrum in Köln, which uses the oncolytic virus. These therapies have shown promising results. It's a rare, not well studied disease affecting only 3 out of 100,000 people around the world, and no one knows which treatment works better for each patient. Each new option might increase Errol's chances to survive. 

Unfortunately, the innovative and promising treatments aren't covered by the health insurance. In addition to treatment costs, which are very high, there are travel and lodging expenses. The option is experimental treatments but it takes years before they become part of the standard protocol, and Errol doesn't have this time.

Because of the tumour, Errol lost his right-side vision and developed aphasia (word finding issues), which left him unable to work. During this time I have been caring for Errol, researching non-stop life-saving treatments, going to doctor's appointments with him and meeting different specialists. Bills, including out of pocket medical expenses, don't stop coming through the door, and our savings and even retirement funds have been almost used up.  

I want to see my husband alive. He is such a wonderful, kind, funny and generous person, who helped many in his life - buying a flight ticket to complete stranger, helping a family in Indonesia with a motorbike …. Now Errol needs our help. Asking for help isn't easy but I cannot stand the thought of losing my husband. I love Errol so much. I am trying to be strong but this is the hardest thing I have ever done in my life. Time is ticking against us, and I hope to raise the necessary funds as quickly as possible. Without your help we won't be able to afford Errol's life-saving treatments.  

To have access to these new treatments, we would need a whooping Euro 70'000, the amount we simply cannot afford. If I could sell one of my organs to get the money, I wouldn't hesitate.  

Please donate whatever you can and share with as many people as you can. If you could send Errol a few words of encouragement, it would be so nice. I want Errol to know he is not alone in this fight for his life.  

Thank you so much, we are forever grateful.

Olga Fontanellaz