Erin and her husband Will were anticipating June of 2019 to be a fresh start. After 4 years of medical school, a year-long internship and countless days, nights, and weekends apart, Will was scheduled to begin his ophthalmology residency at Columbia University in New York, and they were excited to settle into some much needed normalcy as they began a new chapter of their lives in a tiny, sunny apartment on the Upper West Side.
They'd fought hard to keep their family afloat, and it looked like some relief and hope were finally on the way. The month of May was spent selling their home, signing a lease for student housing, starting to say goodbye to friends and family in Maryland, and dreaming about raising their 2.5 year old daughter, Olivia, and 1 year old son, Liam in a new city with new opportunities.
Before their big move, Erin decided she should probably bite the bullet and get the lump she'd found a few months ago checked out. She was pretty sure it would just be a cyst - something she'd dealt with in the past. But minutes into the ultrasound, the radiologist began to indicate that something was seriously wrong. The doctor, a breast specialist, was immediately suspicious that the ping-pong ball sized tumor they found was cancerous. A biopsy was scheduled for the following week and, though reeling, the Plums hoped for the best.
On Wednesday, May 22nd, they got the call from the radiologist: Erin has breast cancer. Specifically, triple negative Invasive Ductal Carcinoma — it's aggressive and fast-growing, and her oncology team at Columbia wants her to begin intensive chemotherapy immediately. Currently they're planning for treatment to last about a year. It will include not only chemo, but extensive testing, multiple surgeries, and potential radiation therapy as well. Only 5% of women get breast cancer under the age of 40. Erin is just 30 years old, and is now part of that 5%. She will have to be vigilant for the rest of her life.
Needless to say, June 2019 is going to be a big month for the Plum family, but not in the way anyone had expected.
The thing is, most people would be absolutely crushed by a cancer diagnosis — especially on top of the additional stress of an interstate move to a new city, a husband in the midst of completing a highly competitive residency program, and the responsibility of caring for two active young children.
But most people aren't Erin.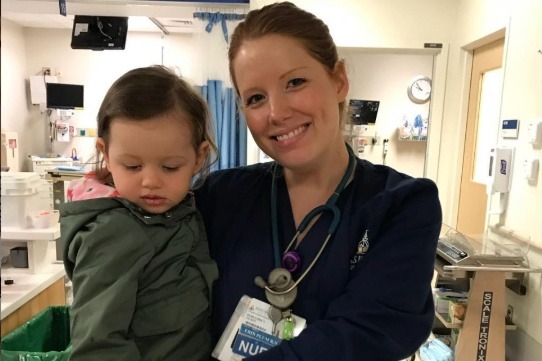 Erin's a fighter. She graduated from nursing school with flying colors. She worked as a pediatric nurse for 8 years. She single-parented a newborn when Will was working 18-hour shifts at Johns Hopkins. She quit her job to stay home when little Liam was born. She battled postpartum depression. She rose to the challenges of being a mom of two while working from home. And now in the face of this cancer diagnosis, Erin is refusing to go down without a fight. So we're asking you to join with us, Erin's friends and family, to help her do just that — fight, and fight hard.
Your contribution.
The Plums live on an extremely tight residency student budget. Erin stays home to care for Olivia and Liam and was planning to continue working part-time on the side, but once chemotherapy and surgery are part of their everyday lives, all bets are off. Unfortunately, due to Will's extremely rigorous but necessary schedule, Erin will be alone with the kids for a good portion of the week, and the challenges of attempting to function during treatment will cause a lot of stress. The Plums are very aware of the needs they will face during this time. In light of this, we hope to raise funds to provide for childcare, meals, errands, housekeeping, rides to appointments, medical expenses, and all around at home care for those days when Erin is feeling overwhelmingly unwell.
We want Erin to be able to fight cancer and win. Your financial contribution will allow her to give 100% of her energy to treatment and recovery, and allow Will to focus on caring for his family, while also managing the intensity of the residency program.
Help us spread the word.
We want to tell Erin's story in the hopes that others - friends and strangers alike - would be inspired to help and pray for Erin and Will in their fight against breast cancer. Whether or not you contribute financially, we'd ask that you consider supporting them by posting an image of a pink square on social media, with a link to this page and the hashtag #erinbeatscancer in the caption. We would love for her to have a constant reminder that she is not alone and that others are standing alongside her as she fights, victoriously.