Help Debby Conquer Her Skin Cancers
This surgery was by far the longest, and the most painful for her. The doctor was concerned for blood clots to form in her scalp so a drain was installed. The scar on her left eyebrow is from the primary surgery that was unsuccessful. The doctors have her on hyperbolic chamber oxygen therapy, blood thinners, pain medicine, antibiotics, immune boosters, and a plethora of vitamins and supplements to ensure that this operation is the last one that counts!






This surgery that was about to take place was done correctly and delicately. The dead flap removed, and the new one constructed, and she was admitted to the hospital for follow up and precautionary measures. The second opinion that she received from the doctors at the Arlington Cancer Center is what led to them find the other form of cancer that was beginning to ravish her body. With out this second opinion and this surgery right her, the other cancer would have gone untreated by her original doctors.
The flap that was originally used to try and reconstruct her nose had completely died at this point and had also spurred an infection on her septum. This flap was removed and another was fabricated on June 26, 2017, which also happened to be her 13th wedding anniversary.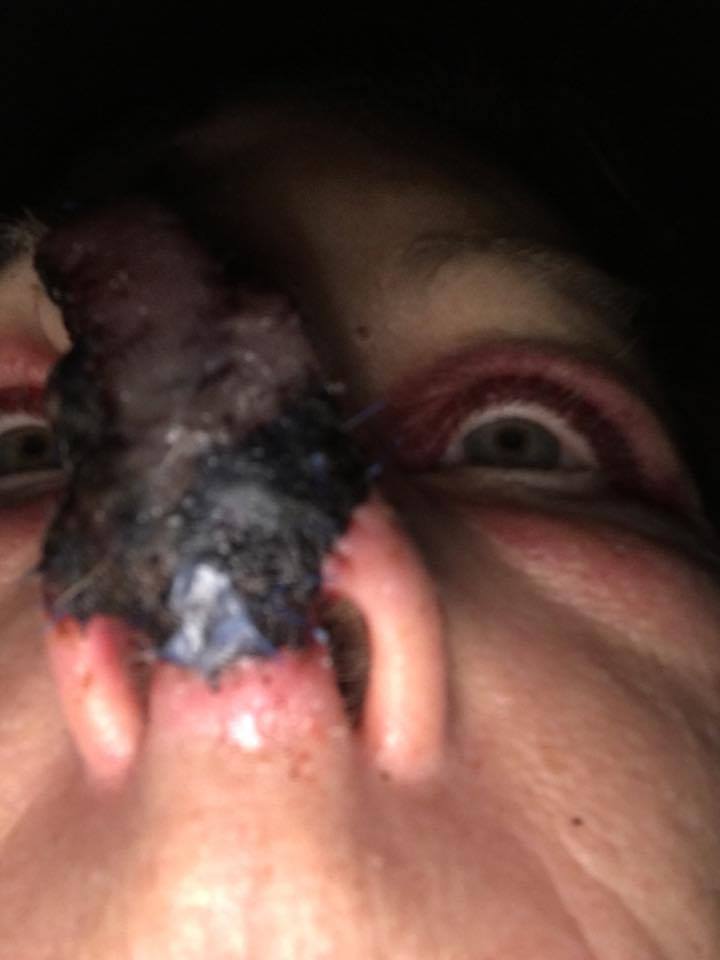 The picture above is roughly a week before her second opinion surgery took place. Her flap was not responding to antibiotics or pin pricks and was then determined to have died. The tissue then became necrotic and an emergency secondary surgery was scheduled to remove all of the faulty first procedure and repair those damaged tissues, and then also to re-preform a secondary graft and flap from the other side of her head.


This picture above features the rose tattoo that my mom got to always remind her of me back in 2008. This picture also shows the extent of the damage that malignant melanoma has ravished on my mom's skin. This was the second biopsy that she had to be removed in this particular spot on her shoulder. The first biopsy took place while she was in recovery just days after her first surgery. She then received a phone call in which the pathologist determined that there were margins of cancer still left in her shoulder. This most recent procedure DID in fact come back and is guaranteed to remove all of the cancer. Not pictured is another procedure that took place on the bottom of her left foot. A smaller area was removed on her foot that was also determined to be malignant melanoma and that procedure ALSO came back with clean margins and good news!



The photo above was the first and failed reconstruction surgery that took place on May 9th, 2017. The cancer had already infiltrated the cartilage and septum of her nose by this point. The bandage on her ear is from a cartilage graft that was transplanted in the ball of her nose. The flap of skin uses a vein to supply constant blood supply to help the regrowth process. This graft and flap was later determined, after a second opinion was obtained, to have been faulty and died before her nose had healed.

Organizer and beneficiary