Help Bring a Giant AI Oracle Sculpture to Life!
Welcome, dear friends and supporters! I am thrilled to announce my latest project, an ambitious monumental sculpture of a digital philosopher, that will question the fabric of the reality we live in and amaze audiences in the long run. The sculpture will be a powerful symbol of the intersection of art, technology, and philosophy, and will serve as a catalyst for public engagement and reflection on these important contemporary issues.
I am very lucky to be selected as one of the few artists to exhibit the sculpture at Burning Man 2023. It is a great honor to be amongst so many talented artists that create the most breathtaking works I have seen in my life. Here, I need your help to make it a reality!
Project Description:
This is a visual reflection of the idea of an artificial philosopher. Sunken down in a plexiglass pillar are featureless artificial heads, legs, arms, body parts resembling that of a human. They lay in a randomised position; this speaks to the idea of an AI trained on the knowledge of different philosophical eras and writings, a synthesis and artificial extrapolation of thought. The plexiglass acts as a barrier to the other realm. Unnatural lighting with a vapour wave tone sets up a vibe full of questions...
The sculpture will be interactive, with a touchscreen display embedded in the base that allows visitors to engage with the figure and explore different philosophical ideas and questions. Additionally, the sculpture will be equipped with AI technology that will allow it to respond to visitors' questions and engage in conversation.
As technology advances, the question of what it means to be human and the relationship between humans and machines is increasingly relevant. The concept of an artificial philosopher, a machine capable of deep thought and contemplation, raises important questions about the nature of consciousness, intelligence, and the meaning of existence. This sculpture will be an engaging and thought-provoking representation of these questions, inviting viewers to contemplate their own relationship to technology and their place in the world.
Why This Matters:
Art has the power to transform our world, to uplift and inspire us in ways that nothing else can. An Artificial Philosopher like this is a testament to our collective creativity and imagination. We already plunged into the unknown world of bending our realm of existence in new fascinating ways. The oracle will gather its thoughts and speak loud and clear. We all have questions, sooooo many of them. All we need to do is ask. Who knows, this will be a total experiment, something absolutely new! Even I don't know what the end results of this spectacle would be. We will all become witness to it.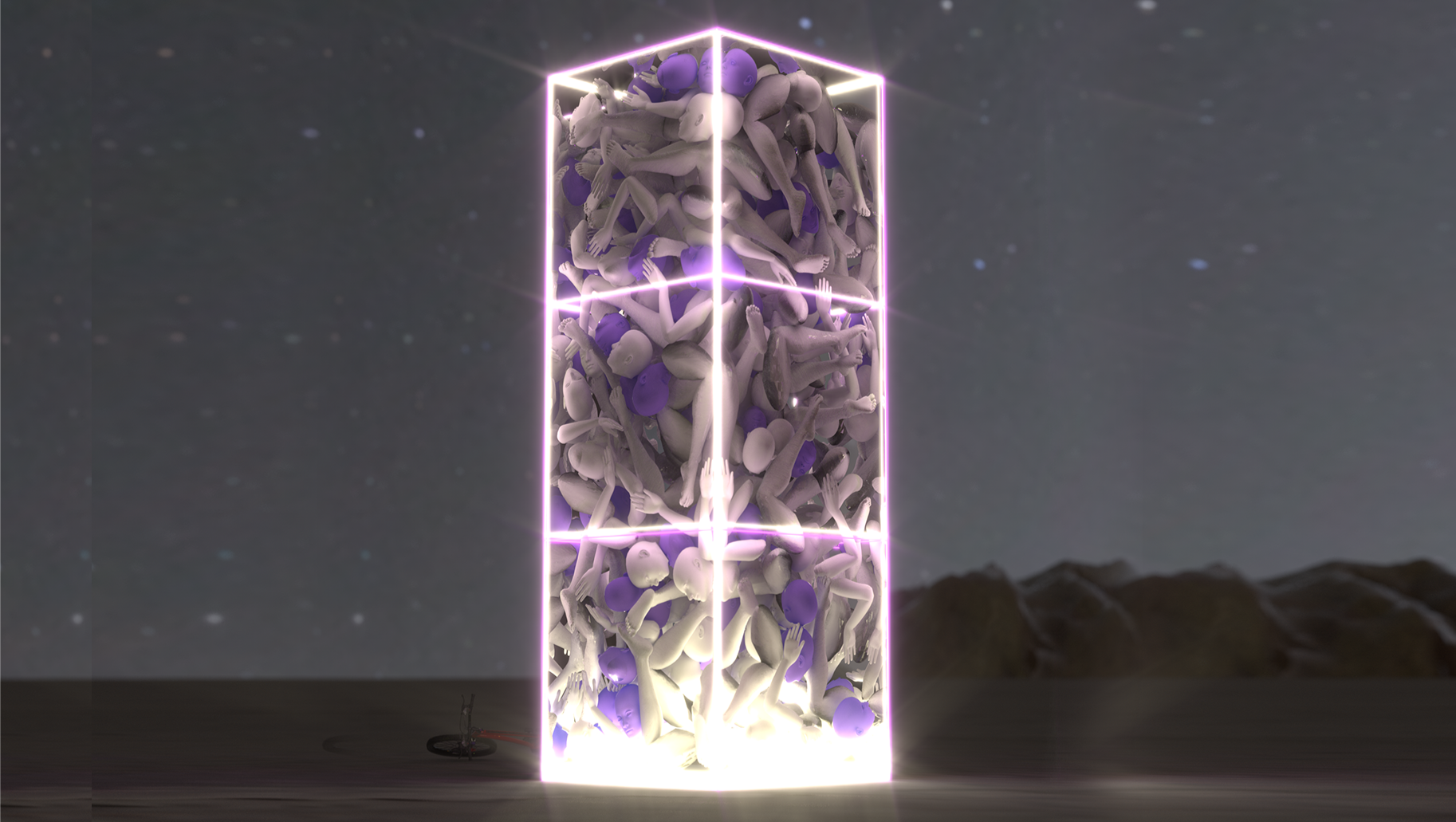 What It Takes:
My goal is to produce a durable monumental sculpture that will be maintained outside BRC after the event. I want it to withstand time and evolve on its own.
The funds raised will go directly into the production and maintenance of the sculpture:
1. Manufacturing the Physical Part
(body production, material expenses/plexiglas+carbon fibers/ assembly)
2.------- This is done!!! Producing the AI Algorithm: with my limited knowledge of coding I am hiring external magicians that can write the exact AI that is needed.-------
3. Electrical: A sound system for the voice of the philosopher, a stylized monitor to reflect the speech, proper direction lights for nighttime exhibition, lighting setup on parts of the sculpture, solar generator and battery (I opted out of the idea of a fuel generator for sustainability purposes)
4. Shipping and Transportation: Transportation from San Francisco to BRC alone on this scale costs ±9,000$ with many factors influencing the total price.
5. Installation and Onsite Construction (though most of the sculpture will be manufactured in one piece, some parts of it will require additional handling and electrical manipulation.
6. Maintenance: returning from BRC The sculpture will need a place to rest before heading off to a new exhibition location.
The budget for this project includes the cost of materials, fabrication, transportation, installation, and maintenance of the sculpture. The budget also includes the cost of developing the interactive display and AI technology, as well as the cost of marketing and promoting the sculpture.
How You Can Help:
I invite you to join this exciting journey by donating to my GoFundMe campaign. Every contribution, no matter how small, will make a difference and bring me one step closer to creating this piece. And, if you are unable to contribute financially, please share this campaign with your friends and family, and help spread the word about this pretty awesome project.
You can also purchase teeny-tiny limited edition figurines in several colors and buy NFTs of the philosopher :) All the proceedings will go toward the sculpture production.
Click on one of the following:
Together, we can create something truly unforgettable and make a lasting impact on the world of art and culture. Thank you for your generosity and your belief in the power of art!
My name is Daria, a visual/conceptual artist based in Brooklyn, New York. I love creating complex multi-dimensional works that redefine space in the close vicinity physically, as well as metaphorically ranging from paintings and collages, to digital, 3D, sculptures and interactive installations. I have shown my works in various exhibitions, and currently is further developing my practice by colliding the use of digital spaces and traditional materials.​
Become the first supporter
Your donation matters
Organizer
Daria Zhest
Organizer
Brooklyn, NY