Help Bella Fight Her Brain Tumor
Isabella (Bella) Parrish was a precious 3 year old girl when her parents noticed that she often ran into things. Doctors determined her peripheral vision was damaged. She was diagnosed with Craniopharyngioma, a benign tumor and Cyst. Both are invasive and aggressive just like a malignant tumor. The tumor and cyst are located on her Optic Nerve and Pituitary Gland. Bella had several brain surgeries and six weeks of proton beam radiation treatment that first year of her illness. The tumor, cyst and treatments damaged her optic nerve and her pituitary gland. As a result, her vision has deteriorated and her growth is stunted. The treatments were successful for eight years, allowing Bella to grow into the wonderful young lady she is today.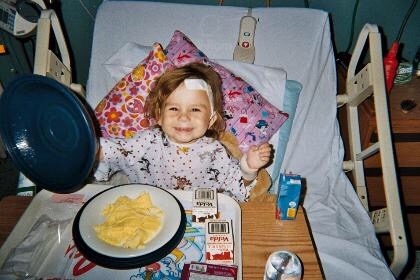 Bella's first surgery
When Bella was 11, the tumor and the associated cyst, reappeared. Bella took weekly chemotherapy infusions in hopes of shrinking the tumor and cyst. In December 2017, her doctors determined the treatment unsuccessful. The next course of action; surgery and another regimen of proton beam radiation. Bella's surgery took place February 7, 2018. The surgery successfully drained the majority of the fluid in the cyst; allowing another round of radiation therapy. After a seven to 10 day recovery period, she will begin another regimen of proton beam radiation therapy. The specialized treatments are scheduled to take place in Orlando, Florida; a two and a half hour drive from her home.
Bella right after her latest surgery
Bella's parents have health insurance. The family's plan has a $2,000 deductible with a 50% copayment up to a maximum treatment cost of $15,000. Each of Bella's two surgeries in the past 4 years exceeded the $15,000 maximum. Pharmacy costs have a separate deductible and maximum and do not have a cap. Additionally, many of other procedures are not covered fully by the insurance. For example; out of pocket cost for each MRI is $500. MRIs have been ordered at least quarterly and some after only a month.
Bella lives in Lehigh Acres, Florida and her radiation therapy will take place in Orlando over a six week period. Bella and her mother Becky will move to Orlando for the duration of the treatment. Dad Jacob and Bella's younger brother Owen will stay home so Owen can continue going to school and Jacob can work.
The family has just finished paying the cost for the last treatments only to be confronted with this new challenge. This time we would like your help. Please consider donating what you can to help us reach our goal of $10,000. Any amount you can send will be appreciated.
Bella in the hospital after her 2014 surgery 
Just words alone cannot really describe our Bella – she is that special! She is known by friends, family and all who meet her for her amazing spirit and toughness. Her attitude about life and her fight against this illness is an inspiration to anyone who knows her.
Organizer and beneficiary
Mary Anne Hahn
Organizer
Gerrardstown, WV
Rebecca Parrish
Beneficiary