Help Beautiful Together save Olive
Sweet Olive has been through so much in her first short year of life. When we got her out of the shelter she was extremely pregnant and covered in ticks.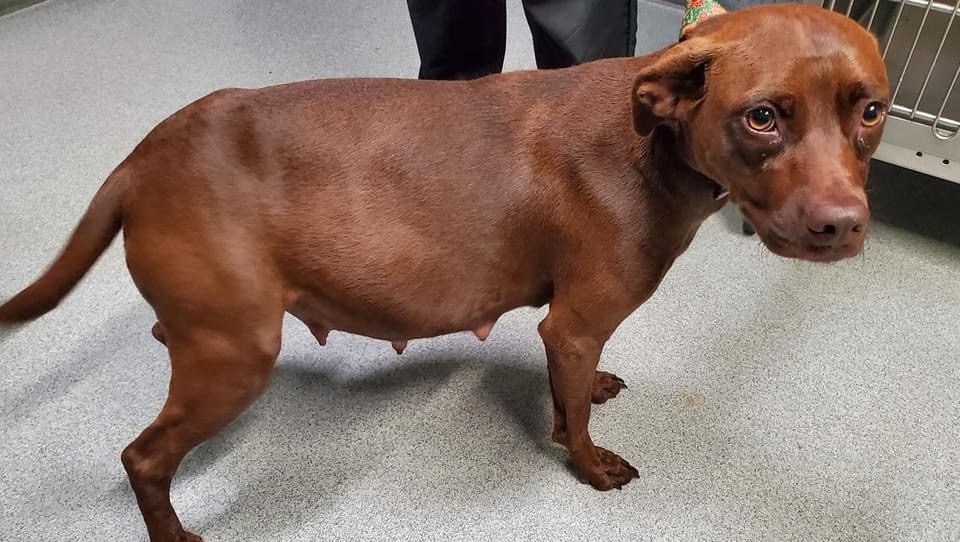 Within a few weeks, after being cleaned and having a safe foster home to make herself comfortable in, she was finally ready to deliver her babies.
She started labor signs around 8 in the morning on Friday, June 11. After a lot of straining at 11:50am, she gave birth to a beautiful daughter with a cleft palate. We thought this was going to be our biggest concern.
However, after 4 more hours, Olive still hadn't delivered a second baby. We could see the babies moving around so knew something wasn't right. She started having bloody stool, which looked very similar to discharge related to labor, so we were sure another baby was coming soon.
She started becoming very tired, so we took her to the emergency vet to see if she needed a C-Section. They did an ultrasound and x-rays to discover there were 10 fetuses and one of them had become stuck in the birth canal. They determined a c-section would be necessary. But, they soon discovered that she had gone into full septic shock and was extremely weak, so her tiny body would likely not survive the c-section.
After giving her IV fluids and a cocktail of other helpful meds, they were luckily able to retrieve the stuck baby from the canal (a healthy puppy!) and deliver a total of 6. This was around 12am on June 12. They continued to monitor and helped her have the remaining 4 babies throughout the morning. Miraculously, all but the last of of the babies survived.
But sweet Olive had taken a turn for the worse. Her body was giving up. Her blood sugar and blood pressure dropped drastically, despite all of the support she was on. She hit a critical point yesterday where they needed to give her a blood transfusion for any hope of survival.
Meanwhile, we were bottle feeding her firstborn, and picked up her 9 additional puppies for bottlefeeding. Olive is on a broad range of antibiotics, so even if she recovers will bot be able to nurse.
The blood transfusion seemed to help a little, but her numbers remained extremely low, so they needed to administer "pressers" to help stabilize her blood pressure. By this point, she has been on round-the-clock intensive care for 24 hours with a dedicated nurse— extremely costly but necessary.
As of yesterday evening, the pressers had helped stabilize her blood pressure and her blood sugar was getting more stable. She had a little bit of energy and was able to walk outside for a little bit. There was a ray of hope for survival.
They tried slowly weaning her off of the pressers overnight, but had to go back up again when her blood pressure began to decline.
After seeing that little bit of progress, they are hopeful that she has more than a 50% chance of survival with continued intensive care. We want to give her the chance of living a good life if at all possible. So we are dedicated to keep trying as long as she doesn't decline. We need all the help we can get as the current charges are around $6,000 and for each additional day of care, it is another $1,500.
Olive deserves so much better than the hand she has been dealt. Please help us give her the chance to have that. ❤️
Organizer
Registered nonprofit
Donations are typically 100% tax deductible in the US.