Help Baby Camilla Fight SMA
Our two-year old grand-daughter Camilla Blossom Corchado has been diagnosed with Type 1 Spinal Muscular Atrophy (SMA).
 Camilla was born on November 28, 2015 to our son and daughter-in-law Andy and Marve Corchado who are currently living in the UAE. As Camilla developed Marve and Andy noticed that she wasn't very active and was missing some of her developmental milestones. They were cautious but not overly concerned since they believed she was a late bloomer and would eventually accomplish the milestones that she had missed.
Soon after Camilla turned one year old she had to be hospitalized due to a respiratory infection. It was at that time that the doctors determined that she had muscular deficiencies which led them to believe that she was afflicted by Spinal Muscular Atrophy (SMA). In order to confirm this diagnosis a test specimen was sent to John Hopkins University Hospital in Boston for genetic analysis. The results came back positive for Type 1 SMA. This diagnosis was devastating to Andy and Marve but their faith and hope for a cure or treatment has never wavered.
Since her diagnosis Camilla has undergone surgery for the insertion of a feeding tube and a tracheostomy since she had difficulty swallowing and breathing on her own. When Camilla was released from the hospital she required expensive life support equipment to assist with her breathing, feeding and to monitor vital signs.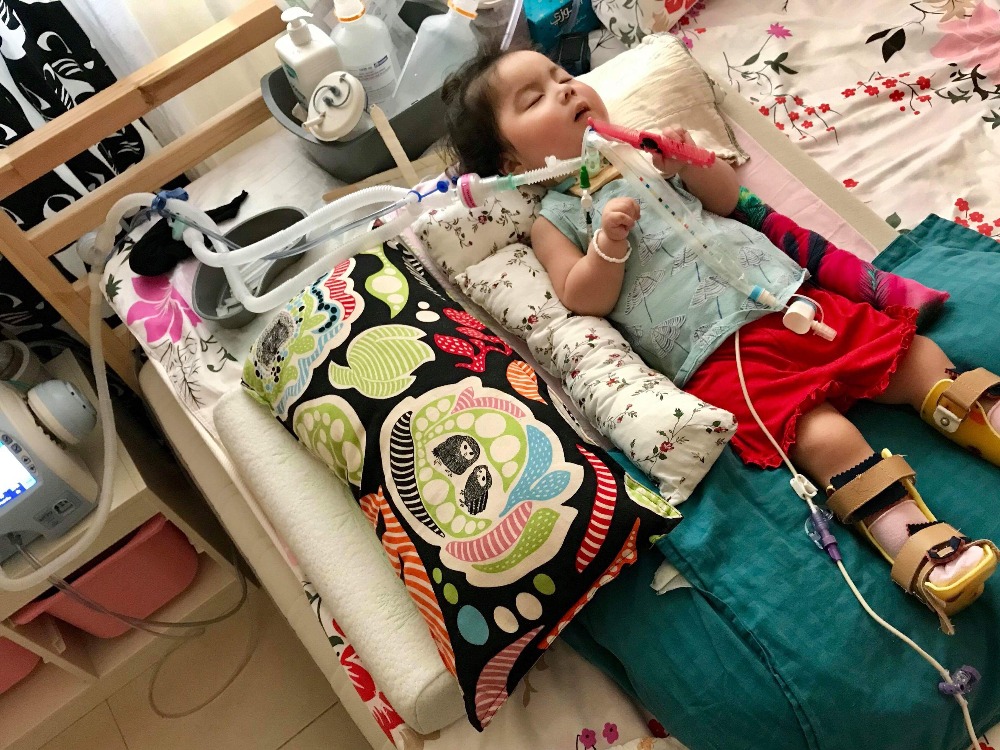 Though most of the expenses are covered by health insurance there are many out-of-pocket expenses that are placing a very heavy financial burden on Andy since he is currently the only one able to work to support his family.
As anyone who cares for a child with SMA knows caring for Camilla is a 24/7 endeavor and one that Andy and Marve as loving dedicated parents had no hesitation in confronting and accepting. They know that keeping Camilla as strong and healthy as possible will allow her to slow down and overcome some of the devastating effects of this disease until a treatment or permanent cure is available to her.
Recently a treatment (Spinraza) for SMA has been released for use in the United States, but Andy's insurance will not cover treatments outside of the UAE where he currently lives and works as an elementary school teacher. In addition, as too often happens, the cost of the treatment (about $750,000 for first year of treatment) is out of the reach for those with limited insurance coverage or with no coverage at all. Andy is searching for any option that may be available to Camilla that would allow her to get treatment in the US. This will require travel for Camilla from the UAE to the USA which would most likely require the use of an ambulance flight. Given the travel distance and associated costs such a flight would be out of Andy's financial reach. 
Once Andy returns to the US he will no longer have medical insurance coverage and will have to pay for medical insurance until he is able to secure a job that provides him with health insurance coverage.
Please help us give Camilla the best chance to survive this affliction.
We appeal to your sense of generosity and compassion in the hope that through your contributions no matter how small, our little angel Camilla will be able to get the treatment she so desperately needs to keep prolonging the hope for a bright long future.
Estimated cost for relocation to US and medical expenses: $100,000

Organizer and beneficiary