Help Angus keep his vision!
Who is This Furry Angus Guy?
Matthew and I had been wanting a second furry friend for quite some time. Our Lola Bean loves meeting and playing with all of the dogs in the area - and the cats! She likes to wait outside of their patios for them to come out (we live in an apartment complex) and say hello. It was obvious that we needed to get a friend for her - plus we had room in our hearts for another dog. We filled out adoption paperwork for several dogs with no luck even though we came close several times. Then one day we got a call from Animal Rescue Friends Network (ARFN)...we were one of two couples that they narrowed down to and they wanted to come over to inspect our home that day!
Angus came to live with us the day after that phone call and we instantly loved him. He has made our home whole <3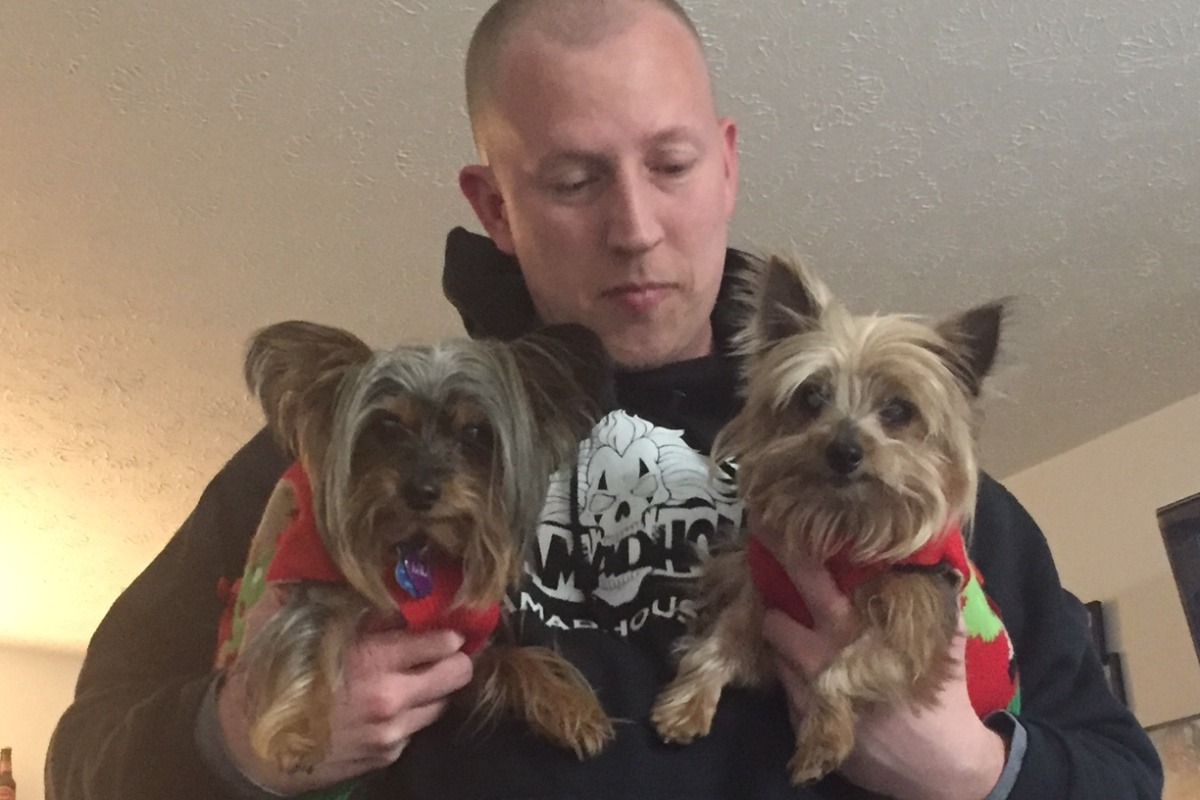 Why Does Angus Have Cataracts?
Prior to that phone call we kept in touch with ARFN regarding Angus. They let us know that he would stay with his foster mom for a bit longer to take care of several issues including his cataracts due to
neglect
. He was also underweight and had skin and hair issues. 
Unfortunately, it was determined in the end that the cataract surgery took up too much of the ARFN yearly budget. They did a wonderful job bringing his health back to normal and giving him all of the love in the world - this surgery is just very expensive. When Angus came to our home the expectation was in place that he would go blind eventually and we would accommodate him in our home for that.
In the short time that we have had Angus we've realized that we just can't accept not trying to raise the money. He is such a sweet and loving boy who loves to see us come home, follow us...EVERYWHERE (I can't go to the shower or bathroom alone haha), watch us make dinner, make his way into a sea of blankets and bury himself, kiss our faces, nibble our fingers, lick his sister, smell the flowers at the park, and run towards the ducks in our backyard (haha).
I would hate to allow him to lose his sight because his heart is so big and therefore the world is so bright and exciting to him. Everything he sees turns into something fun and happy.
Barbara Human needs her textbooks for homework? Time to stand on top of them so he gets all the attention! Haha <3 (Trust me, Angus...I would rather pet you than do homework)
We have noticed that Angus is often spooked if we approach him from behind. With that being said, he also does not seem to realize how close he is to things at times. We carry him up and down the stairs so that he does not stumble considering his jumps onto the couch can be messy sometimes.
So what is the cost?
Dr. Wolf, the veterinary ophthalmologist in our area, has seen Angus in his office. He determined that Angus is a wonderful candidate for surgery and he would like to do it as soon as possible. 
Here are the details seen on the paperwork:
- Mature/complete cataract OD right eye
- Immature cataract OS left eye
- 95% success rate
The cost of surgery is $4,115.64 for both eyes and $3,800 for one eye. This is with a discount due to the fact that he was from that specific rescue. Yes, we do have a CareCredit card, but they only offer a 12 month financing plan which means a $342/month payment. That is not an option for us at this time. We don't fail to take care of our dogs. We pay for yearly teeth cleanings and vet visits. They are on all necessary medication, eat incredibly healthy food, and have a wonderful life.
For now, Angus gets Ketorolac eye drops on a daily basis and LOTS of love from his humans and new sister Lola Bean.
If you've made it this far,
we appreciate you
taking the time to read about someone that means a lot to us.
We love our family as you love yours and couldn't imagine not trying everything that we could to help.
Our promise to you is to:
- ONLY use money raised for surgery 
- You will always know how he is doing especially since any donation you make or moment that you share his page with someone -
gives you a piece of his heart and ours.
Thank you xoxo 
Love always, 
Matthew, Barbara, Lola Bean & Angus 
Donations

Organizer
Barbara Sabella
Organizer
New Port Richey, FL