Help Adam Fight Stage Four Cancer
Amanda, Matt, and I are putting this benefit together to help our brother Adam fight Stage IV Tongue Cancer (Squamous Cell Carcinoma) and Stage IV Lymphoma.

Adam went from being a 37 year old guy who thought he could conquer everything the world threw his way to being told "You have Cancer" and not one type but two types of Cancer. 




Adam was diagnosed with these two types of cancers in May 2017. On June 23, 2017 he had a 13 hour surgery at Barnes Jewish to remove the tongue tumor as well as remove the cancer from his lymph nodes on both sides of his neck. He was only supposed to have a third of his tongue removed however the tumor grew in size causing half of his tongue to be removed and his left forearm skin, tissue, and muscle was used to rebuild his tongue. His right upper thigh had skin grafts taking off to replace his forearm. He was put on a tracheotomy to heal his voice box and muscles since the tumor progressed. When his doctor went in to remove the lymph nodes it was worse then they thought so he had to take muscle from his right pectoral. In both cases surgery to remove this tumor came with significant risk meaning Adam had to have what they call a "radical neck dissection" meaning the removal of his lymph nodes in his neck. In both cases removing the tumor and lymph nodes came with significant risk including facial disfigurement and the impairment of his speech and the ability to swallow fully.
(This photo is three weeks post surgery)
He has begun speech therapy however this isn't a guarantee he will fully be able to talk normal again. He stayed in the hospital till July 4, 2017 however it was a tough road before he was discharged from the hospital. He was in ICU and his lungs began filling with fluid  causing them to collapse and the doctors had to put tubes in both his lungs while cracking his ribs in the process.  He has to do Chemotherapy for at least 6-12 months including immunotherapy along with 6 rounds of Radiation. He has come a long way since then as far as being positive and wanting to fight this battle as hard as he can.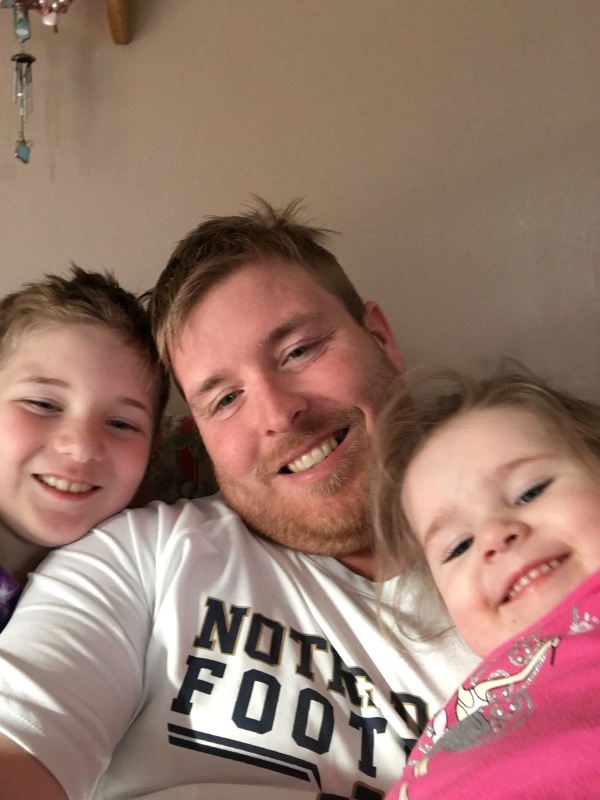 We now know he may never be able to go back to work with everything that has happened and this can cause a big financial burden with medical bills piling up and not knowing what is going to happen. Adam worked with constructing towers and being a project manager his entire life and it was a thrill for him to climb those towers and look out into the world and be grateful for all things and now this may never be an option again.


We are asking for any help that anyone is willing to give. If anyone knows our brother he hates "hand-outs"as he calls them and will never ask for help from anyone as he doesn't want to burden them with his problems and this is why Amanda, Matt, and I are doing this. We want Adam and Stacy to be able to focus on fighting this disease together and for the future of their kids Logan (10) and Khloe (3)to be able to have their father growing up as well as his daughter Jordyn (17).Life isn't always easy and this may help their life feel a little less chaotic with the news that keeps coming there way.


Adam hopes to one day be able to still coach his son Logan's Hockey games and still be able to walk his daughters down the isle when they get married as well as continue to be a good spouse to Stacy and be a family that won't let Cancer come barreling back in their lives a third time (Our father and grandfather lost their battle to this deadly disease) and maybe look back one day and say "Hey I did it" "I BEAT CANCER".


We appreciate everyone who took the time to read this and donate and even if you can't donate we are thankful for you. No matter the situation we are a family and can pull through this.

Adam you are stronger then you know...braver then you think...and more loved then you can imagine..

#AdamtheWarrior #IwillBEATCancer