Help 9 yr old Aiden and his family.

I would like to introduce you to two amazing people, Aiden Heeley, a smart and determined almost 10 year old boy, and his amazing Mother Kelda.

During Aiden's first year his Mom noticed that he was not meeting various 'milestones' like his brother and sisters had done before him. Following a lengthy battery of tests Aiden was diagnosed with Cerebral Palsy. Doctors told Kelda that he would never walk or play and would certainly never enjoy playing any sports with his friends. Despite this diagnosis, our tiny fighter has resisted the temptation to believe his kismet and was determined to prove those Doctors wrong.
Aiden loves baseball.
From the moment he could hold a baseball he would practice throwing it and playing catch with his siblings. His will to play earned him a spot on the roster of a local team where he has spent a few happy summers, despite having to miss parts of each season due to pains in his legs. Aiden dreams of being a famous Basketball Player. His backup plan is to be a video game designer so that he might properly capture the spirit of the game digitally.
Aiden is scheduled for surgery April 18th at Sick Kids hospital in Toronto.
There, Doctors hope to stretch out the tendons that have been plaguing this little boy all his life. From the age of 2.5, Botox injections have been administered every 4 months to help relax those tendons. This procedure was followed up with leg casts to help stretch out the tendons over a period of 3-4 weeks. Unfortunately, this practice has diminished in effectiveness over time and now he lives with constant pain. Orthopedic braces that once aided him to play the sport he loved can no longer help either. Currently Aiden is unable to stretch his heels to the floor. The surgery itself will take up to 4 hours and will result in a 6-12 week institutionalized (Bloorview Children's Rehabilitation Hospital) recovery period. Aiden is very lucky to have been accepted for this procedure and Kelda is exceptionally excited for his recovery. The elongated procedure does add a considerable weight to an already abundant charge for Kelda and this is where outside support would be most appreciated.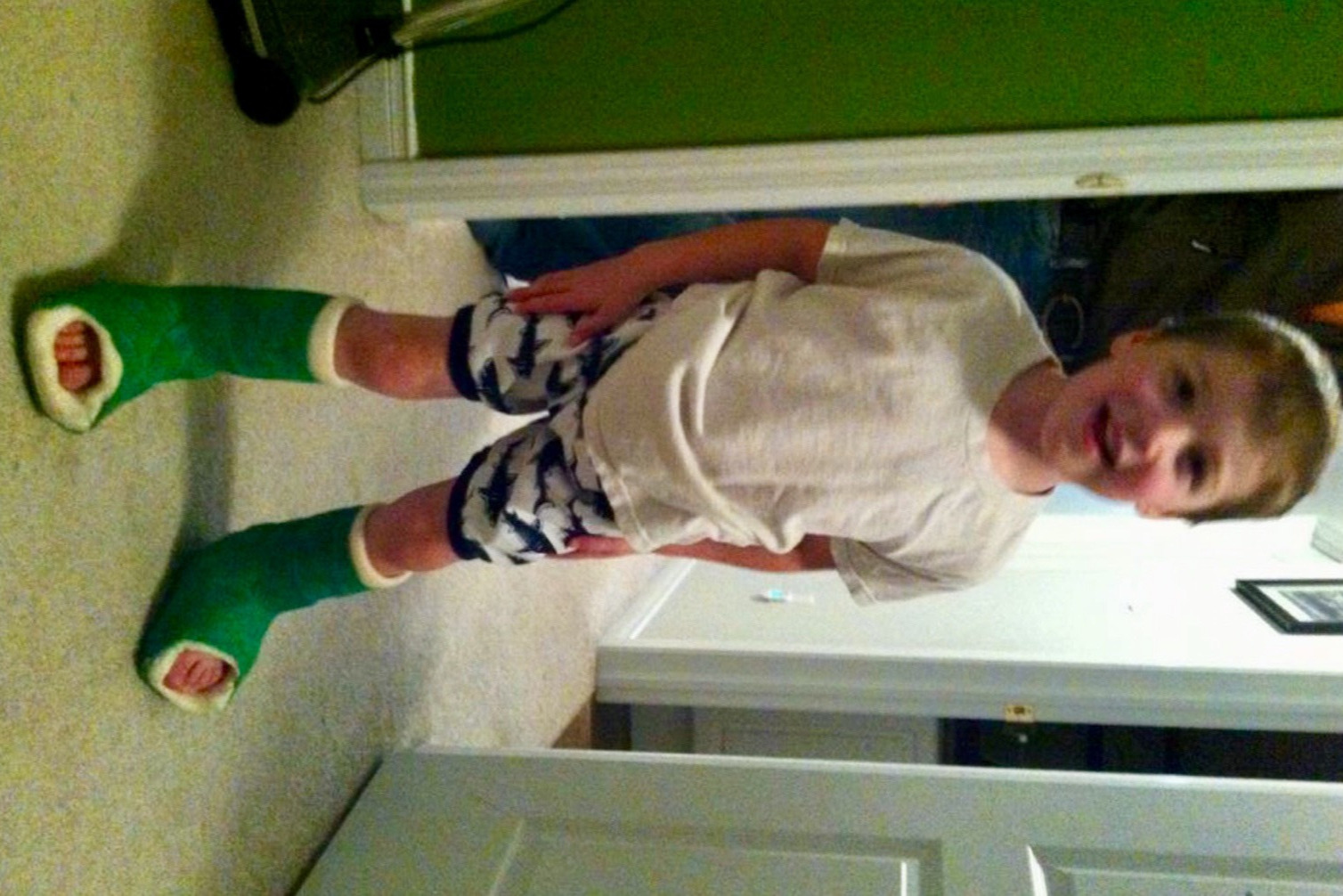 *When Aiden's legs are cast after Botox injections, he calls them his "Hulk Legs" lol.
(Sorry, I know this picture is sideways but the program wouldn't show the entire pic when vertical.)
As previously mentioned, Aiden's surgery is scheduled for April 18th. He is very frightened of the surgery but is hopeful that by his 10th birthday (a milestone that shall fall under the umbrella of his stay at Bloorview) he will be able to walk again. Kelda will be with him that first night but she also has 3 other children under the age of 16 living in their single parent home 1.5 hours outside of the city. Fuel, parking costs, 407 fees (when she needs to rush back to relieve a babysitter), accommodations, home utility expenses, mortgage payments and lost wages are not Kelda's only obstacle.
Non-OHIP covered equipment for post surgery is estimated to cost $6 000 -$10 000
. Renovations to the home to make it wheelchair accessible and the conversion of a room on the main floor as a makeshift bedroom for Aiden while he recovers are also potential sink holes for an already thread bare budget.
Kelda has been putting in extra hours at the hospital where she works as frequently as possible leading up to Aiden's surgery to try and cushion the financial blow but it is not enough. She has also been working tirelessly to gain a yoga instructor certification as the stretching actions this exercise provides have proven effective in helping Aiden maintain a healthy set of legs post surgery. She is an amazing mother and tirelessly strives towards helping her children succeed.
Who Am I and why is this cause so important to me?
I have had the pleasure of being Kelda's friend for almost 30 years. I've always been impressed and inspired by her ability to stay positive and keep smiling during difficult times. She's been knocked down many times in life but she continues to bounce back and make a light hearted joke to boot.  I have no doubt that Aiden gets his fighting spirit from his Mother. Her strength and love for her children keeps her pushing forward. My hope with this gofundme page is to provide some financial relief for a family who could really use a win.
If you can spare a few dollars it would be most appreciated, if you cannot, I would be so grateful if you could take a moment to share this page with your family and friends, as every little bit helps!
Thank you for your time, and for caring.
(Camping Fun! Aiden (red hat) with his Mom and 3 of his siblings.)

Organizer and beneficiary
#1 fundraising platform

More people start fundraisers on GoFundMe than on any other platform. Learn more

GoFundMe Guarantee

In the rare case something isn't right, we will work with you to determine if misuse occurred. Learn more

Expert advice, 24/7

Contact us with your questions and we'll answer, day or night. Learn more