URGENT Heart Surgery needed for Finn
Hi, my name is Finn. I am a French Bulldog and I was born 8/17/17 so I'm just a little over 15 weeks old. I came to my new home on Thanksgiving. I have a lot to be thankful for but I'm especially thankful for second chances and my new family who adopted me! My story is unique and I'm not ready for it to end here!!! I've had a lot of people love me in my short 15 weeks of life and I've been through a lot in the last couple weeks!
My original mom (who bought me) lives in Iowa so I went there to live with her on 11/14/17 for about a week. She was so happy to have me and loved me so much! Things were going great and my big sister was even starting to like and enjoy me. On 11/17/17 I went to the vet for a routine examination (per my original mom's contract with the breeder) and the rest is just a big blur for me. I didn't understand why she couldn't keep me or why I had to go back to the breeders house, but I did. You see, my original mom was told I had a bad heart and was very sick! Her Vet said I had a grade 4 heart murmur (on a scale of 1-6, 1 is mild and 6 is the worst). She spent the next few days trying to decide what she should do. Not knowing why I was so sick or what was causing my murmur she was going to keep me and just let me live out my life for however long that was.
She was afraid to bond with me and get attached because the vet wasn't really optimistic about the longevity of my life and there were so many unknowns! I was unfortunately never taken to the vet prior to going home with my original mom so nobody knew I was so sick or had a broken heart and I was sold to her. Thankfully my new adopted mom heard about me and my story and never hesitated about opening her heart or her home to me. So when my original mom was told I could go to a Home that would care for me no matter what my condition was and treat me she opted to let me go so I could have a chance at life! My new Mom welcomed me without any knowledge of exactly how sick I was or what I was facing or what type of added expenses I would cause, she didn't care because she just wanted to help me get better and give me a chance! I love my new family so much and all of my big sisters. My new mom already had testing and appointments set up for me before she even adopted me or brought me home, I guess she really wanted to make me better and help me. I heard the term "euthanize" and that made me so sad because I'm just a baby and love life! I don't want to be sick and I didn't feel as sick as they said I was! By the time I got to my new home I wasn't really feeling good and was having a hard time breathing and playing! I kept having this annoying cough and it was so hard for me to climb stairs. I would get really dizzy and loose my balance! Thankfully she was always there to catch me so I didn't fall! The next day after I arrived to my new house, my new Mom took me to the vet again and that's when she found out I was way worse than she originally thought! I watched the tears fall from my new moms face and tried to lick them up but they were falling so fast and hard I couldn't keep up. My new Vet said I had to be seen ASAP and couldn't wait until my scheduled appointments. I had to get in to see a specialist in the cardiology department soon! She said my murmur was rapidly declining because in 1 week I went from a grade 4 to now a strong 5 almost 6! My new Vet called the U of M to tell them how bad I was and they moved my appointments up several weeks to get me in! I got to meet a new doctor and care team on 12/1/17 and spent a majority of the day there with them! They examined me, did testing, and an Echocardiogram. I heard the new doctor tell my mom there are a few different things wrong and that it's really bad and I'll die if don't have surgery ASAP! My mom started to cry again really hard and I was sad too because I was so tired and exhausted from all the events that day I couldn't really comfort her and just wanted to lay on the table and sleep, it was so hard for me to stay awake because my heart was working so hard. I don't like being away from my mom and she had to stay behind when they did the Echocardiogram and that made me really nervous and anxious! I must have gotten really worked up because I don't remember anything after that so my new mom will have to tell you the rest of the story from here....
The Echocardiogram revealed a severe valvular pulmonic stenosis with a pressure gradient of 180mmhg(this is massive). The right ventricle was also severely thickened with marked right atrial enlargement.
Finn has been diagnosed with severe pulmonic stenosis. Congenital valvular pulmonic stenosis is believed to be inherited in most breeds of dogs with this defect. Pulmonic stenosis results from a narrowing of the right ventricular outflow tract, which obstructs the flow of blood from the right ventricle to the lungs. Because the heart has to pump the same amount of blood out this narrowed opening, it has to pump harder and push
the blood faster. This causes the cardiac muscle to become bigger (or thicker) than normal and additionally results in a murmur due to the increased velocity of blood flow. The narrowing of pulmonic stenosis can occur below the valve (subvalvular), at the valve (valvular) or above the valve (supravalvular). Finn's pulmonary stenosis is due to valvular dysplasia. Valvular pulmonic stenosis is the most common form of pulmonic stenosis in dogs and most commonly results from fusion of the valve leaflets; however, there is often annular hypoplasia (narrowing of the valve support ring) as well. Pulmonic stenosis is graded as mild, moderate, and severe based on the velocity of the blood as it flows across the narrowed region of the right ventricular outflow tract. Dogs with mild and moderate pulmonic stenosis are unlikely to have symptoms of disease in the future. However, they may experience tiring and/or fainting with exercise and occasionally they may have a sudden death episode but this is usually only seen in patients with severe pulmonic stenosis. Severe pulmonic stenosis, as in Finn's case, requires intervention to relieve the obstruction of blood flow and prolong life. Surgical intervention is required to save Finn's life. Without it he will soon develop severe excercise intolerance, frequent fainting episodes, and sudden death if not treated! By opening the pulmonary valve, it thereby reduces the obstruction and lessens the amount of work the right side of the heart must do on a daily basis. This prevents or reduces the pathological changes (disease) that occurs secondary to the increased work, the enlargement of the heart. The end result is a reduction in right sided heart failure or sudden death, both of which he is facing! With that being said, not doing surgery isn't an option so Finn has been scheduled for his pulmonary valvuloplasty surgery on Wednesday 12/13/2017. The U of M has been generous with how and what they are charging and have waived exam fees and discounted hospital stays, etc... but unfortunately because it is the University they require payment in full at time of service! Finn has to be dropped off the evening before his surgery at 7pm and payment of 75% will be collected. The balance will need to be paid when he is picked up either on December 14th or 15th... For transparency we have included the estimate for his surgery from the U of M. Due to the severity of his heart conditions he was started on a Beta Blocker called Atenolol. He will most likely be on this for the rest of his life. By doing the surgery this will give Finn quality life and longevity of between 6-10+ years! The other issues like the opening between the ventricles and the murmur will never go away but with the ability to redirect the blood flow those things won't be at risk like they are now! We, along with the Dr and his care team, are hopeful for his recovery!!!
One of the biggest hurdles we have encountered in regareds to funding for his treatments/surgery are the insurance companies. Pet insurance was one of the first thoughts we had when asking ourselves how we were going to pay for everything (we do have a policy through Healthy Paws) Unfortunately, Finn's condition is considered pre-existing because they have a 15 day waiting period and he had to be seen prior to those 15 days and the murmur detected so Therefore, Finn's condition is not covered under these plans for any insurance company and so have we have to turn to alternative solutions.
Although there are plenty of pressing issues and grave circumstances among those in the world, pets have a special place in our hearts which is why this means so much to us. Finn is without a doubt a special member of our family and we will always care for him like so. Given that Finn is just a baby and through no fault of his own is faced with a terminal condition, the goal for adopting him was to give him an attempted second chance at life he otherwise wouldn't have had! We strive to protect him from the confusion of losing his ability to play and be a puppy and to continue his active, fun-filled lifestyle. If you have had the chance to know and love Finn, or if you are a fellow Frenchie lover or just a dog lover in general and know the special bond with one, any donation is greatly appreciated, helps, and will not go unnoticed!
With much love,
Chris, Tracy, and Finn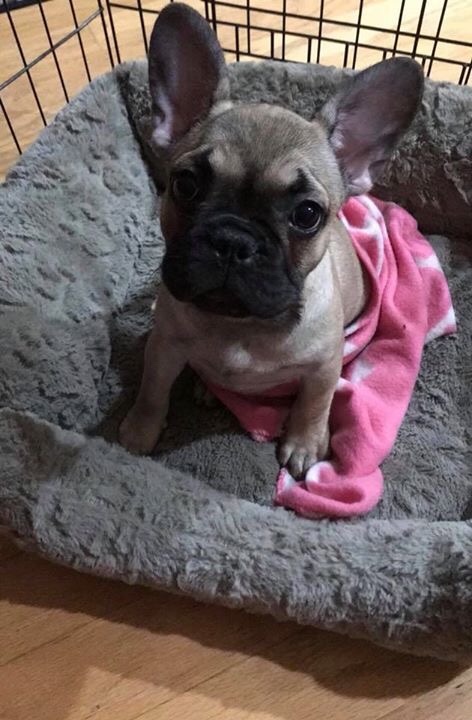 Leon and Miles (The Frenchies) 
Organizer
#1 fundraising platform

More people start fundraisers on GoFundMe than on any other platform. Learn more

GoFundMe Guarantee

In the rare case something isn't right, we will work with you to determine if misuse occurred. Learn more

Expert advice, 24/7

Contact us with your questions and we'll answer, day or night. Learn more