Healing from Elephant Attack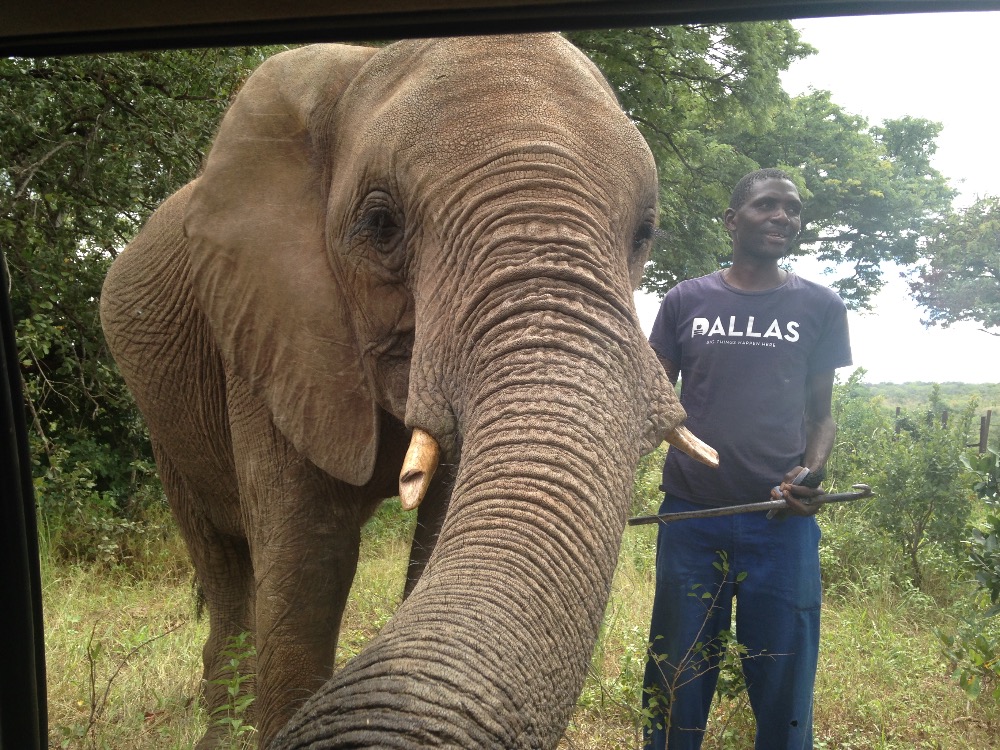 On Wednesday, January 31st James Ncube, a staff member at the Africa Center for Holistic Management (ACHM) was attacked by Dojiwe (pictured with Simon Mathe, her keeper), an orphaned elephant that the center took in 18 years ago. The ACHM staff found her as a weaned calf and tried to find the herd she came from, but after searching for some time were unable to locate them. The staff says that even if they had been able to locate the herd, orphaned elephants are not often adopted by other elephants and Dojiwe would have died, so they decided to raise her themselves. She became a part of their community and a part of their family. She had never shown any signs of aggression before this January event. 
James Ncube (pictured above) was born June 16, 1954, and has been a gardener and groundsman at ACHM for 5 years. He is married and has 8 children. His coworkers at ACHM call him "Shoko" which is an affectionate word for monkey. After James was attacked, he was brought to Victoria Falls Hospital where he was given a prescription for medical supplies. He is now at Mpilo Hospital in Bulawayo.
Healthcare in Zimbabwe is lacking, and when he arrives at the Victoria Falls Hospital his family was given a list of what James would need in order to be helped there. They had to go into town and purchase the syringes, cotton wool, antibiotics, and bandages so that the doctors could do what was necessary and he could be sent to Bulawayo.
James is now awake and talking, but still in a lot of pain. The doctors have placed him in traction and are draining the blood and fluids from his chest. James lost a lot of blood and is on his last transfusion. Every day, James needs 4 injections that add up to about $49 a day. The hospital stay should last about three months, but that could change if any infections pop up. James may need a wheelchair and there is rehab in his future.
Most hospitals in Zimbabwe do not have the proper supplies to help their patients and the patients' families have to purchase the supplies, increasing their medical bills.
How did this happen?
Over the past few months, Dojiwe had become especially attached to one of her herders, Simon. On January 31st,  Simon was away and James and another staff member Hazel were walking with Dojiwe through the property. With no warning, Dojiwe picked up Hazel with her trunk, threw her to the ground, and mauled James while Hazel stood by unable to do anything.
The staff at ACHM called the vet who tried to get close enough to tranquilize Dojiwe so they could further assess what was causing her behavior.  As she charged buildings, the vet worked hard to get a safe shot, until his assistant had no choice but to shoot Dojiwe as she charged the staff and the vet.
The vet ran tests and discovered that Dojiwe was not pregnant, which was at first thought to be the reason for her acting out. Recently, Dojiwe has tried to join many passing herds but has been run off by the herd and returned to ACHM a couple of weeks later. The vet told the staff at Dimbangombe that elephants that have attacked humans normally do again, so sadly, they were not able to save her.
Why is this important to me?

Four years ago, my family and I visited ACHM and met Dojiwe, James, and the other amazing staff members. She was friendly and even came to meet us when we first arrived at the Centre. Dojiwe was loved by all at ACHM and adopted as a part of their family. No one who has met her would believe she was capable of this, and no one could have possibly seen it coming.

How You Can Help

Your support helps to pay for James's medical bills will help on so many levels. It will give James and his family a fighting chance, and it will give the team at ACHM, and all of us that knew and loved Dojiwe an opportunity to heal.

Without our help, James and his family have no hope of paying these medical expenses. It's hard to imagine $10,000 dollars having this incredible of an impact on a family, but life in Zimbabwe and life in the US are truly worlds apart. 

Help us support James in his recovery and at the same time remember Dojiwe for the amazing creature that she was. 

Thank you for your incredible support. I know we can meet this goal and support this family.

You will see in the campaign that Laura Benson is the beneficiary. She is my mom and we have to transfer the money to her bank account so that we can use MoneyGram to send the funds directly to James in Zimbabwe. There are very few methods to get money to ZImbabwe and we are happy that we found a way to facilitate this process for James. I can assure you that this money is reaching James and he is incredibly grateful for all of your support.



Organizer and beneficiary
Grace Benson
Organizer
Kirkwood, MO