My name is Sheryl Brown. I was a presenter at the Healing with Horse Collective Symposium at Apache Canyon Ranch in Arizona last month. It was an outstanding collection of presenters and participants who shared the passion of the horse and an awe of the amazing sentient beings horses are.
About Diedre

I had the opportunity to get to know Diedre through the process of being interviewed by her for the TeleSummit and through the processing of all the paperwork, and then by meeting and getting to know her at the Symposium.  Pam Salem, who has known Diedre for twenty years, caught the essence of Diedre in her comment to GoFundMe:
"I have known Diedre for twenty years. One of the impressive things I was told about the Symposium was that it went off beautifully with no drama drawn to her [health] condition, but focus on the wonderful experience for the participants. That is Diedre. She is attentive to detail and is very organized, with high integrity. "
A Challenging Symposium


Talking to Diedre at the Symposium I learned about many of the hurdles she had to deal with to put on the event. The challenges ranged from:
· Our President's Muslim Ban causing many international attendees to drop out
· The Sawmill fires that broke out, threatened the event and caused changes in travel plans, and requests for refunds
· The breakdown of her car trying to get to Arizona
· Her horses not being able to be brought with her to utilize in the Symposium
There were many more challenges.  These are just some of the ones that are top of mind.
The sad part for me, as a business person, was that the event ended up not making money for Diedre.  After months of hard work and sacrifice on her part, I found that particularly discouraging.
Helping a Friend


I started this GoFundMe campaign because of the information I just shared - the dedication to an excellent event, dealing with all kinds of challenges, coming away entirely broke, not to mention feeling sick throughout the whole thing.  That was enough to have me set up this fund!  
And Then Things Got Worse
A few days after I set the fund up, I learned that Diedre was hospitalized!  I wasn't too surprised honestly.  She had been under so much pressure and she had been so sick, she was a candidate for some break down in health!  I was just glad to hear that she was getting proper care and rest.
But the news coming from Diedre at the hospital took a turn when she told me that it was looking like cancer.  Several days later, the doctors confirmed the suspicion - it was Ovarian Cancer.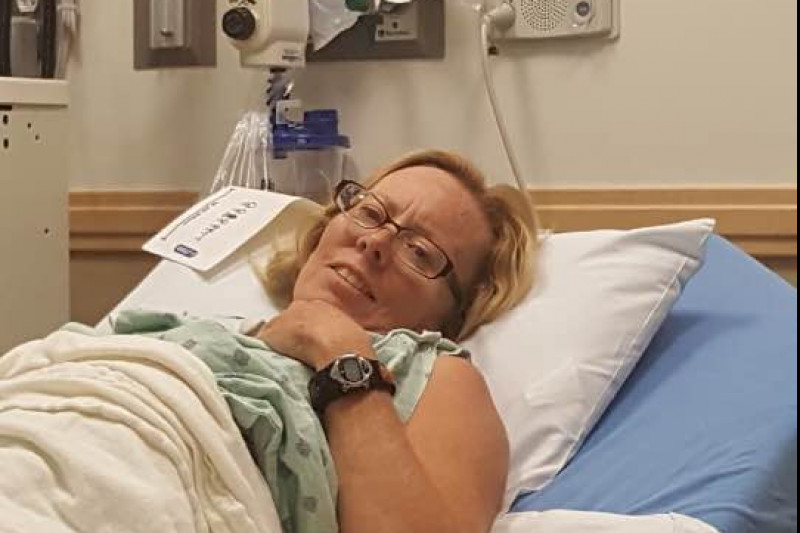 . . . And Worse


Sometime last week, in one of Diedre's posts that she shared, she revealed the fact that she doesn't have medical insurance!  My heart sunk.  
I called her to find out she was in bed doing her taxes for 2016 (she planned to file late).  She wasn't doing them to get a tax return, she was doing them because in order to get financial aid and get medical treatment, she now has to prove she needs it!
What's Next?


When I last talked to Diedre she was considering all of her options.  Her ability to get medical care is still uncertain and she may decide to use alternative treatments.  
She has friends selling off all of her personal possessions which are in storage and she is selling her car.  She doesn't have any income and the money we are sending her is her lifeline.  
Right now she is in a fight for her life, and the only possession she hopes to hold onto besides her life, are her horses.
Casting a Wider Net and Raising the Bar


Friends and colleagues of Diedre have been contacting me.  We all know that Diedre needs more financial support.  The $5000 fund is helpful, but completely  inadequate to help her in the months ahead.
So, I asked Diedre to release her contact list to me so that I could send this GoFundMe campaign out to more people and I am raising the amount to a new goal of $20,000.  
Will that be enough?  I doubt it.  But it is a modest place to start until we get more information on what her needs are going to be.  
On Healing and Help
As part of her healing, Diedre's focus right now is on living and building a dream for the future.  Here is one dream she has shared: 
". . . [a] vision of living in the Pacific NW or SE Alaska with all my horses, a lodge or center with a team of people who deeply love wilderness, wildness, healing, meadows, beaches, a hangar that gets taken over as hay barn/indoor arena. . ."
". . . help me envision my future, and perhaps you could do that by envisioning OUR future! . . . feel free to email notes to the emails you find on Collective newsletters or our correspondence. . . .  
Diedre asks that . . .  "we all allow the magic to fill the pause for something new to happen."
Other ways to help?  "I'd love to get recipes of cancer-killing foods . . . send simple tidbits of knowledge [on curing cancer] I can collect in a binder and review."
Her Outlook
Diedre's outlook is positive.  She believes this all happened for a reason.  She says, "I feel very sure I'll live. . . . I observe all the roadblocks to love and wellness that I encounter --personal, institutional, and I wonder at them.   And I release all that, and watch it flow."
Thank you
I want to thank all of you that helped us reach our initial goal.  The money is such a positive statement that the Collective and so many others are here to support her.
We love you Diedre!