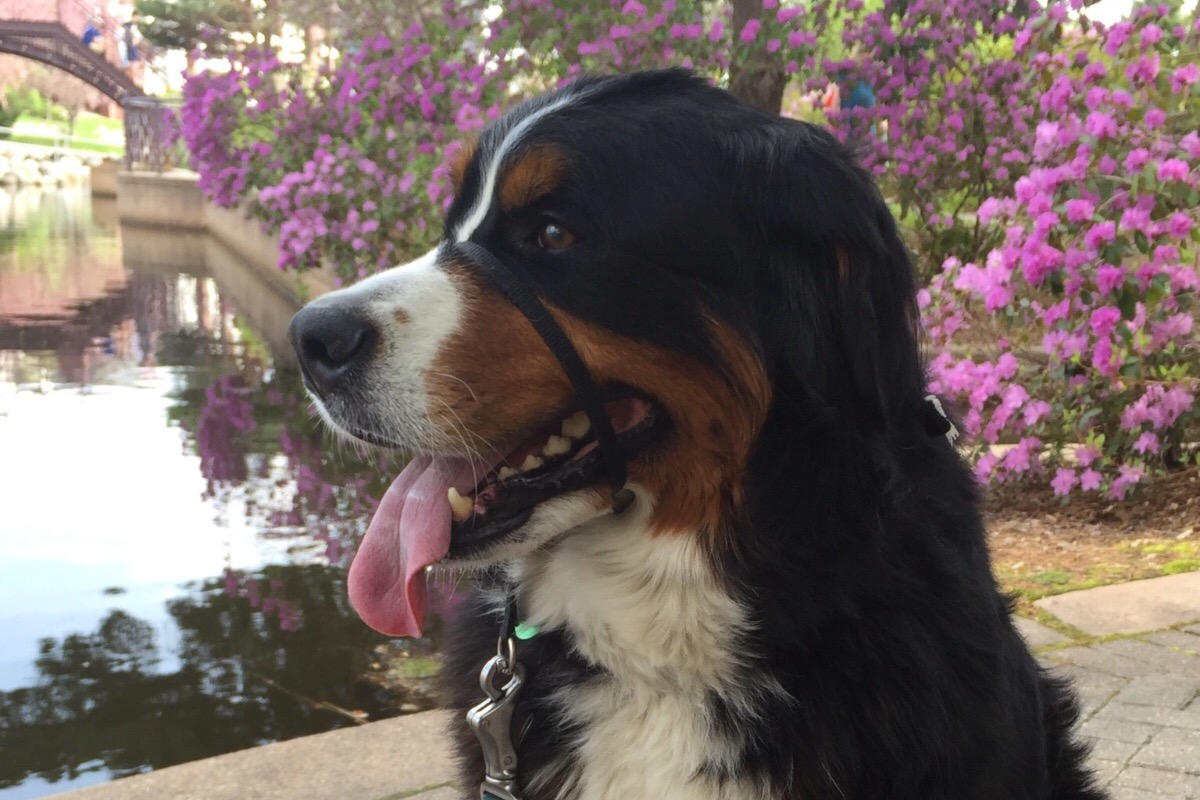 Hani the Berner Goat Doggo had emergency surgery to correct intussusception, a life threatening condition affecting the intestines. She had a blood transfusion, stayed in the hospital 5 days, had her intestines and stomach stapled to her abdominal wall, and had a biopsy that revealed cancer. This is her story.
On Wednesday I came home from work to find vomit, diarrhea and blood all over the house! Frantic, I rushed her to the vet. After finding very low blood counts, they referred me to the emergency vet. After overnight hospitalization, her blood count dropped 50%.
The very concerned vet did an ultrasound. The finding...a life threatening intestinal condition called intususception requiring immediate emergency surgery.  Portions of her intestine telescoped into each other, leading to severe bleeding and blockage. They did a blood transfusion before surgery because she'd lost so much blood.
During surgery they found a mass in her intestine, and sent that off for biopsy. The surgeon also sutured her stomach and parts of the intestine to the abdominal wall to prevent further telescoping and bloat, another life threatening condition common in Berners.

After surgery they hooked her up to a vitals monitor...she styled a bright blue shirt to keep it in place. You can see how skinny she looks (she lost 12 pounds!). She also has a central line on the right side of her neck where they administer meds and fluids.

She was at the hospital for 5 days. I was able to visit her during the day and in the evening. On Sunday I was there for 2 hours in the morning and 2.5 hours in the evening, comforting her. I think that helped her feel less stress about being in a strange place.

The biopsy came back positive for low grade Sarcoma...cancer. It could spread to other organs. We just need to wait it out and monitor her energy level and have periodic screenings.
She's already endured 4 surgeries on her right knee after tearing her cruciate and meniscus ligaments.  She had a TPLO surgical procedure where they break her leg and install titanium to adjust the angle of the knee joint, then she developed an infection.  The second surgery was to remove the titanium plate they put in to fix her knee joint.  Then a suture tore and a third surgery fixed that.  Then almost one year to the day of the first surgery, the surgeon went in to clean out the infection that was still there.  We did rehab for 3 years, with twice weekly hydrotherapy sessions. The cost for her knee treatments were close to $8000.



Her current vet bill is almost $8000, with the possibility of further treatment for the cancer. Any amount helps this bundle of love and joy get the treatment she needs. We appreciate your help.  #helpHanifightcancer
Update: another hospital bill arrived putting the cost of just her hospitalization and surgery at $8670. We really appreciate your assistance in helping Hani!
Hani is 7 years old, loves to listen to music, dance like Fred Astaire and whistle when she's happy.  She adores her family, kids and other animals.  She likes to take a schnoozle, aka nap, with my slippers or boot, and she's happy watching the squirrels and birds in our backyard. The quintessential Berner, she always has her paw on my arm or is sitting on my foot.

Organizer