Haiti First Foods Startup Funds
September 20, 2023 is the 265th Birthday Celebration for
Jean Jacques Dessalines (Haiti's First Leader)
We are celebrating with a Proud2Pay BOOK campaign called
The Marathon Independence Package (Journey 2 Consciousness: C'est La Vie)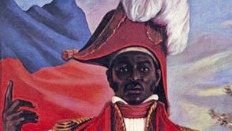 What is Haiti First Foods?
Grow & distribute high-quality organic farm-raised foods in the Artibonite department of Hayti. The ultimate plan is to eliminate world hunger! Our movement is based in St. Marc which is in the Artibonite Department of Hayti. We plan to organize farmers from this department & work with them on their OWN family farms which have been passed down from generation to generation. This is the most essential piece to the success of Haiti First Foods. We are planting Diri Dessalines which is found only in L'Artibonite.
As we construct our farmer cooperative, the farmers will remain self-reliant. Each farmer owns his/her plot of land. Each farmer is a master of his/her OWN plantation. Each farmer determines how much they sell to Haiti First LLC. Each farmer is an independent entrepreneur, which means no one has the authority to tell them what to do with their OWN land. It is up to their OWN discretion to work with Haiti First Foods as they are fully autonomous. Without the farmers, there is no Diri Dessalines (Dessalines Rice).
Summer 2023: Kendrick Chea's University of Pennsylvania Graduate School of Education Masters in Education Entrepreneurship Capstone Project, we are launching our new company called Haiti First LLC in honor of my uncle Jean Jacques Honorat (former prime minister of Haiti)
Who is Jean Jacques Honorat?
He was a Renaissance man of his time. His family was close to the Duvaliers' Papa Doc (former leader of Haiti) was like a father figure to him. Growing up Uncle Tipop as he was called by our family saw the good, bad, & ugly of his country, Haiti. He was trained as an agronomist. He understood the importance of agriculture & technology to the country of Haiti. His work was rooted in human rights. Before becoming a Prime Minister of Haiti; he founded an organization called Haitian Center for the Defense of Public Liberties (CHADEL). He believed that one day Haiti would regain itself as a fully free nation without negative outside influences. His ideas sparked Haiti First LLC.
What is Haiti First Foods?
• Watch the videos to find out more...
In Kreyol
In English