Attorney fee to get back Urban
Hey all. It saddens me to have to make this account but unfortunately, Hailey is needing our help and support. If you are unaware of the events that have taken place in the past few months, I have gone into more details below. (With Hailey's permission) She has been through so much here recently and has put out so much money to take care of herself, she's needing our help getting funds to secure an attorney to fight to get her beloved baby, Urban, back where he belongs. The initial fee is $2,500. Please, even if you can not make a donation, just share her story, let's reach as many people as we can. As many of you know, Hailey's dogs, Carmen and Urban, are her world, they are her children. I couldn't imagine getting a baby ripped away in the way it has happened to her. So let's all join together and HELP GET URBAN BACK! 
Urban.
Urban and brother, Carmen.

Treg and Hailey started dating in 2012. They moved in together in 2016. On 8/3/2018, Hailey went with her mom to pick up a new puppy for her mom. As her mother was picking up her new friend, Hailey saw the cutest, softest, smallest, brown potato we've all come to know and love as Urban. She knew right then and there she had to bring him home with her. Instead of the one planned puppy as intended, two puppies came home that day. Not only was Urban chosen by the best possible person, but he was also going to be able to continue a relationship with his litter brother.
And just like that, Urban was quickly a part of the family. Hailey & Treg took him to the vet for his first appointment and both of their names were listed, although the monthly payment plan could only come out of one account and they decided to put it into Treg's name but the expense was split between the two of them evenly, every month. Hailey works from home and taught Urban how to sit, lay down, and shake hands. She house trained him and never missed a vet appointment. Hailey and Treg both bought toys, food, and beds for Urban. Treg works and coaches football and is gone from the home 8-12 hours every day. Hailey is home every day, all day, as her job has always been work-from-home. So Hailey has always been there for anything Urban may have needed day or night.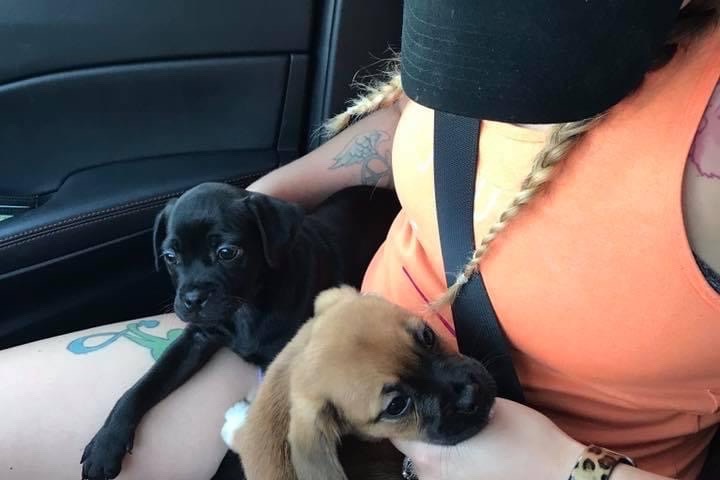 The day Urban became family.

Urban and his litter brother, Oliver on their one year birthday. 

On 8/15/20, Hailey found out that Treg had been having an affair with one of her "best friends"/a bridesmaid in their upcoming wedding scheduled for 6/20/21 (originally 6/20/20, but the Pandemic affected that). Treg then refused to leave their home and forced Hailey to find somewhere else to stay. She was staying with friends and living out of boxes in her car. He eventually allowed her to stay at their home for 5 days without him; however, he was texting her constantly and showed up to the house on multiple occasions during that 5-day period. He consistently kept asking her to get back together and work things out, stating that he loved her and was sorry. Hailey said she did not want to work on the relationship; however, she did agree to share Urban with him. Hailey was willing to create a weekly plan to make it as fair as possible for herself and Treg to evenly split time with Urban. Treg's mother even offered to be a middle man so that Treg & Hailey did not have to communicate as the breakup was ugly, for lack of a better word. 


Heartache was set aside to make it work.

In addition to her best friend, in just two months, Hailey has been informed of three other relationships/cheating incidents that Treg was involved in just within the last year. Once more of the truth came to light, Treg made every exchange with Urban complicated and it never failed to end up in a fight or a 2-hour long conversation. He also denied allowing his mother to be a middle man.

As the days went on, Treg would call Hailey from unknown and blocked numbers which resulted in her being unable to use her own phone due to the amount of calls. Treg also had his relatives email and call Hailey to make threats and make her feel even more horrible about the breakup than she was already feeling. Hailey did not want to deal with the fighting or the harassment anymore (nor would anyone) and stated that she thought it was in Urban's best interest for her to keep him full-time. (Which was stated before by Treg) Hailey had prior arrangements with her father to go golfing on Sunday, 10/4. She was reluctant to go but was assured that Urban would be attended to and not left out of sight. Little did Hailey know, Treg was stalking her and figured out where she was staying and waited for his opportunity. He knew Hailey was out of the house for the time being. In a quick turn of a back, for hardly a minute, Treg trespassed onto the property, jumped the fence, and stole Urban out of the back yard. 

Hailey immediately notified the police of the incident and shortly after, went to file an order of protection against Treg. Hailey hoped that the police could help in getting her sweet boy back home to her but unfortunately, they were unable to do so.


Hailey with her boys.

Since Hailey was left homeless, she's needed to find a new place to call home. There were expenses at their previous home together that Treg refused to help cover so Hailey, being the responsible adult, covered the costs. She is tight on finances, but she's needing to take that next step for Urban. She has found an attorney to help fight for her and Urban's reunion but like I said in the beginning, the initial retainer fee is $2,500 before he can start the process to help.

Urban deserves to have his momma. Hailey has been with him since the beginning. She's the one who taught him right from wrong. She's the one who did the multiple night trips outside during those tiring puppy stages. She's the one who comforted Urban during the day when he wasn't feeling well or running him in for a vet visit while still staying on top of her high demanding job. She's the one who is witnessing her other baby, Carmen, miss his brother. She's the one who tried to make it work with Treg so they both spent time with Urban.

Hailey is the one who got her world stolen away. Hailey is NOT the only one who is suffering.  


She needs them as much as they need her. 

Please, help in any way that you can. Whether it be $1 or just simply sharing this post to reach as many people as possible. Be a part of the story of bringing Urban back where he belongs, with his loving owner, caretaker, and dog mom.


Anything will help to bring this sweet baby home. 

Thank you to everyone that has been involved in this very hard and stressful time in Hailey's life. And I know Hailey appreciates it too.
I mean it from the bottom of my heart, thank you. 





Written and posted by Amanda Zweydorff. 


Donations

Organizer
#1 fundraising platform

People have raised more money on GoFundMe than anywhere else. Learn more

GoFundMe Guarantee

In the rare case that something isn't right, we will refund your donation. Learn more

Expert advice, 24/7

Contact us with your questions and we'll answer, day or night. Learn more