Venezuela needs your help!
Hi everyone, my name is Sylvia Zambrano Parra.
I am from Colombia but for the last 3 years, I have been living in Sydney, Australia, with my sister. My mother still lives in Colombia and my father in Venezuela.
Despite living in a magical country surrounded by beautiful landscapes of beach, sun and sand, we cannot forget about our people in South America, especially those in our neighbouring Venezuela, who are suffering through corruption, violence, hunger and a lack of respect for human rights.
For the past decade Venezuela has been going through an economic and social crisis that has become increasingly dire in the past few years under the dictatorship of Nicolas Maduro whose regime continues to erode away Venezuela's democratic constitution and abuse human rights. The economic collapse has seen Venezuela experience the world's highest rates of inflation and unemployment, the widespread closure of private businesses, shortages of basic necessities and housing, and increases in crime and homicides. For the average Venezuelan, hunger is now a part of everyday life. Emergency rooms are overwhelmed by children with severe malnutrition, and many die.
Last year I was working with two Venezuelan girls. Every day they would arrive to work very worried about their families and the situation in their country. The only way to know what was really happening in the Venezuela was through Twitter, as the government controlled mass media showed only propaganda promoting the good work of dictator Nicolas Maduro while in reality Venezuelans were living in hell thanks to his actions.
My colleagues began working with Venezuelan associations in Australia, sending medicines, clothes, food, trying to help in any way they could. Watching all the activities that they were doing, I admired their hard work and dedication. I heard many sad stories from them that made us cry during our working days, the loss of many lives including young people protesting for their rights and being shot by police and military. I couldn't understand how the rest of the world could be blind to the severe injustices occurring there.
Knowing the situation, I could no longer sit idly by and felt that I had to do something. I realized that it was my duty as a human to try to help these people who had found themselves in this terrible situation through no fault of their own – people just like you and I, people just like our mothers, fathers, brothers, sisters, sons, daughters and friends.
Together with my sister, Daniela, we decided to create an event to raise funds and awareness of the situation in Venezuela. We were thankful to gain the support of Manly-Freshwater Catholic Parish who allowed us to hold the event at St. Mary's Catholic School.
We got to work promoting the event through social media (especially our Facebook page "VENEZUELA NEEDS YOUR HELP") and presenting a video about the situation in Venezuela at Manly Church (a suburb of Sydney, Australia) after mass each week. We also had an article published in the local newspaper.
A number of Latin restaurants around Sydney donated food for the day along with many Venezuelan, Colombian and Australian friends. Thanks to them we had an amazing day for families to enjoy the food and some performances. We managed to raise $5,500 (AUD) which were passed to the local priest and president of our Catholic parish to manage.
We sent $4,000 AUD to Venezuela through Caritas Foundation. After presenting the idea to the priest, the rest of the funds were assigned to some projects that we had begun working on with local contacts in Venezuela through our own donations prior to the fund raiser.
One of these projects we arranged through our father Pedro Zambrano who lives in Valencia, Venezuela. Initially in September, 2017, we sent $300 donated by close friends of ours who knew about the situation. With this money my father prepared packs of staple foods and hygienic products and distributed them to 72 families in one of the poorest areas of the city. He also donated food for the children at Casa Maria Auxiliadora orphanage in Valencia.
With the remaining $1,500 from the fund raiser we decided it would be great to put on weekly community lunches in disadvantaged communities, providing the children with much needed sustenance and a positive social experience. My father identified two communities and made arrangements with the local Catholic and Evangelical churches to run the lunches. The community lunches were a great success, managing to feed up to 300 children each weekend from November 2017 through to mid-March 2018 in two of the poorest areas of Venezuela.
All of our activities are shared on our Facebook page "Venezuela Needs Your Help" and a record of each community lunch is signed by the local church confirming the amount of food that they received.
Since the money from the fund raiser ran out in mid-March we have kept the community lunches running through our own donations and those of close friends. However we really want to keep this wonderful initiative going and so we prepared this page to invite you to support these children in need. Every dollar can make a difference in helping a child fight off malnutrition.
As well as continuing the community lunches, additional goals we have for this year are:
Repair the roof of the community centre where the lunches are held. As seen in the videos on our Facebook page, the roof currently has plastic bags covering its numerous holes.
Provide a daily meal for 40 impoverished children in the communities who are suffering from malnutrition.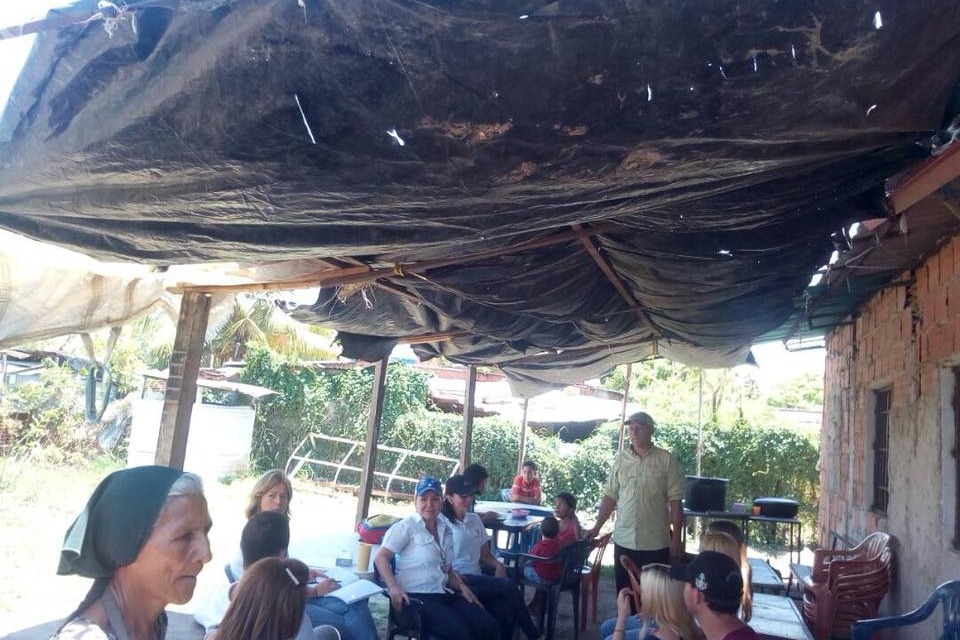 Please support us in our efforts to help the children of Venezuela. As we have seen through our previous activities, a little can go a long way.
Thank you.
This video explains a little about the situation in Venezuela and what we are trying to achieve.

Organizer
#1 fundraising platform

More people start fundraisers on GoFundMe than on any other platform. Learn more

GoFundMe Guarantee

In the rare case something isn't right, we will work with you to determine if misuse occurred. Learn more

Expert advice, 24/7

Contact us with your questions and we'll answer, day or night. Learn more