Grenada Literacy Initiative
Ann is over 60-years-old, and when she first heard about the opportunity to learn how to read, she had mixed emotions. She was excited about finally being able to read, but she was also anxious. She thought,
"Other people will now know that I struggle to read. What will they think? Will they laugh at me?"
However, Ann took that first step and attended adult literacy classes. Now, she says,  
"I could read a little better...read sentences. I could now pick up a book and call out words; words that I couldn't call out before. I get a little more understanding
about
how to write letters and stories. Although I don't know everything yet, the classes help me feel better, feel good about myself."
The goal of the Adult Literacy Initiative of Grenada (ALIG) is to empower people like Ann through literacy.
Your donation will help support literacy students with free classes across the tri-island nation of Grenada.
QUICK FACTS: Why Support ALIG?
ALIG tackles a serious societal issue in Grenada: low literacy rates among adults
ALIG is the most effective, comprehensive program devoted to adult literacy in Grenada
ALIG confronts negative stigmas attached to illiteracy and liberates participants to pursue personal goals
ALIG offers classes for free
ALIG tutors are professionally trained, patient, and compassionate individuals who volunteer their time to tutor adult learners
ALIG maintains small classroom sizes to provide learners with quality, one-on-one attention
Your donations will help us sponsor a
learner
, a
class,
or
permanent venues
.
Sponsor a Learner (US $100 per academic year)
In Grenada, you are left behind if you are not literate.  Literacy is crucial for getting a good job, understanding human rights, accessing services, and participating in the community, school, and church. With your donation, you can be the reason someone is able to read and write.
Many adults in Grenada have difficulties performing basic, everyday, reading and writing skills. Sponsoring a learner will enable ALIG to continue offering free literacy classes to these members of our community. This is a big benefit to children who will receive greater academic support from their parents and grandparents. The real cost of providing effective instruction for one student for one year is US $100.  This includes training and equipping tutors, providing materials for students, advertising to recruit students, administration and record keeping, and guidance from the Adult Literacy Tutor Association (ALTA) of Trinidad and Tobago for the class tutors.
Sponsor a Class (US $2,300 per class/per year)
Individuals or organizations can sponsor one or more of ALIG's existing free literacy classes in a selected center for one academic year (e.g. September 2018 – July 2019). Currently, ALIG has locations in St. George's, St. Andrew, St. John, and St. Patrick. We aim to have a center in all 7 parishes, including Carriacou and Petite Martinique. This includes remote areas in Grenada where access to services is significantly limited. Choosing to sponsor one of ALIG's classes will enable us to provide literacy instruction to people aged 16 and over, and help support lifelong learning.
If you sponsor a class, you will be supporting these areas:
>>Volunteer Tutor Training
: ALIG tutors are professionally trained and guided in the classroom to deliver effective classes based on best practices in educational research.  The extensive training process prepare tutors for delivering the program at 3 levels: Level 1, Level 2, and the Advanced Literacy Program
>>Subsidized Book Packages
: Each term in the academic year, ALIG sources literacy materials from ALTA Trinidad and Tobago, which incurs both shipping cost and cst for materials. These materials include tutor books, workbooks for students and tutors, phonics and sight word cards, and spelling dictionaries.
>>Arranging Venues
: Because ALIG has no permanent venue for classes, as yet, it requires continued collaboration with community organizations to secure locations each term.
>>Classroom Needs
: Providing all classroom needs from attendance registers and student evaluation forms to stationery
>>Monitoring Tutors
: An experienced ALIG tutor is contracted as coordinator for each class and visits at least three times per month.
ALIG has calculated class sponsorship per academic year to be US$2,300 per class. ALIG seeks to maintain a student/tutor ratio of approximately 7:1 in order to ensure that students are able to receive the attention they require. Sponsors have the option to fund a single ALIG Level within a class.
Sponsor Permanent Venues (
US
$200 or donated space/building)
Prior to September 2018, ALIG operated in one location. Now, we offer classes in four different locations, and we intend to have more locations next year. Because demand for classes is high, our classes keep growing. The ALIG way is to continue to serve those who show up, so we often need to change venues each term (3 terms per academic year). This moving around inconveniences our learners, so we would like to provide more stability for our participants. Having more permanent venues around the island will provide more accessible homes that will help ALIG serve more people, in more ways, such as by offering literacy skills in computer, math, public speaking, and other developmental classes and opportunities. Consider making a donation of US$200 or more to help us secure permanent venues in 2019.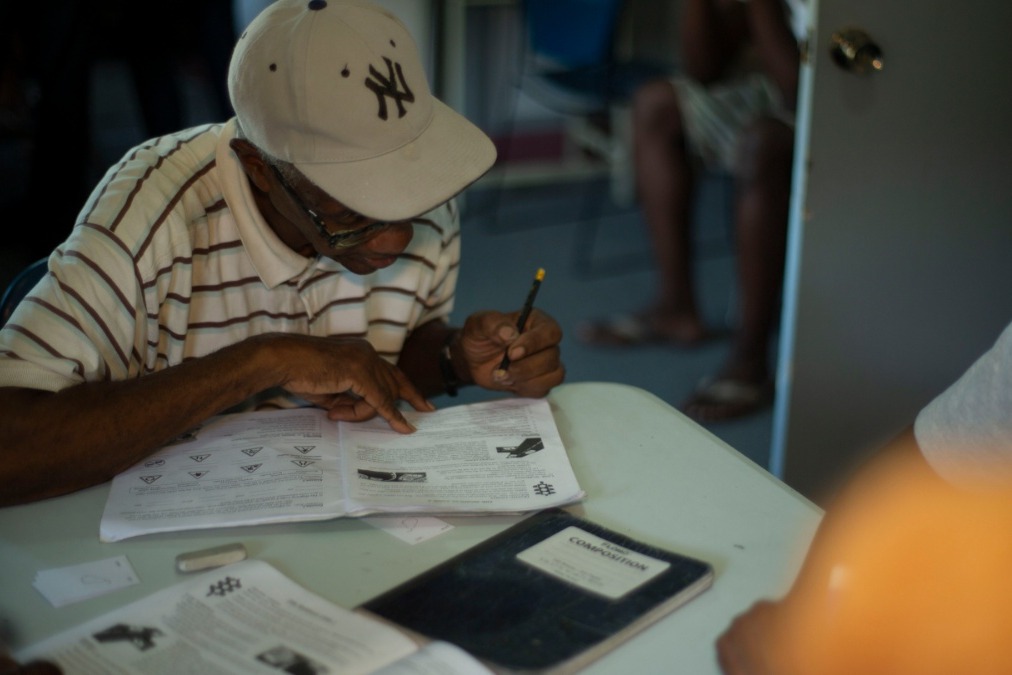 "This class helps me to grow in so many different ways - in my relationship, in my workplace, and even in my business. Now I can walk through St. George's and anywhere and read anything I see. This class is very motivational. Very educational." – Ray, Level 1 Student
About ALIG
The Adult Literacy Initiative of Grenada (ALIG) is a non-profit organization that targets the low adult literacy rates in Grenada by offering literacy classes to Grenadians.  Although it is claimed that Grenada has a 96% literacy rate, the UNESCO Institute of Statistics highlights that most literacy surveys are superficial and do not adequately investigate the reality of national literacy.  Many participants in the ALIG program start out unable to read or write standard English. Therefore, ALIG's focus is to equip participants with basic, relevant skills that are crucial for effective communication at home, in the workplace, and in the local, regional, and global community.
This program is helping to build a stronger and more competitive Grenada and Caribbean. It has been successfully teaching functional literacy for over eight years, and the program is run solely by professionally trained volunteers who devote significant time to tutor participants.
ALIG's vision is every adult reading and writing in Grenada. To realize this vision and make classes more accessible to participants, ALIG offers classes for free and seeks to set up centers in areas where they are most needed. With help from partners like you, we can achieve this vision.