Nederlandse versie onderaan, Dutch version below
GIVE THE RECYCLING WASTE PICKERS OF PHNOM PENH A GREEN SCAVENGER
Thousands of discarded plastic bottles and beverage cans end up in waterways and the ocean every day. Many countries have recycling facilities, but the waste collection is usually done by the poorest people. These recycling waste pickers, or sometimes called scavengers, collect bottles, cans, cardboard and other recyclable materials and carry them in big bags until the bag becomes too bulky or heavy. Then they must carry their heavy bags over long distances to middlemen who in turn sell the recyclable plastics and other materials to processing plants. In Cambodia a waste picker receives 0.25 US$ per kg for the plastic and 0.50 US$ for the aluminum cans. The textile industry is the biggest buyer of polyester which is made of plastic bottles.
There are many ongoing worldwide initiatives addressing the plastic waste problem. The problem is so enormous that every attempt is important. Like in many big cities in developing countries, hundreds of recycling waste pickers roam the streets of Phnom Penh, the capital of Cambodia. These people are among the poorest and make on average between 3 and 5 US dollars per day. Some rent a two-wheel cart for a dollar-a-day to work the streets; others only have a large polypropylene bag. Their job is part of the informal economy and is not regulated by any work legislation. Their role in the current recycling process remains essential as there is practically no other structure in place to recycle usable materials. 
Green Scavenger: My name is Alex Bor and I am from The Hague, The Netherlands. After having worked in the humanitarian field for more than 30 years I decided to help reduce the worldwide plastic waste problem in my own little way. In May 2019 I constructed the first light weight two-wheel garbage push cart in Phnom Penh which I had earlier designed, and named it the Green Scavenger. The selected waste picker who received the Green Scavenger in this pilot project was very grateful and many other waste pickers expressed their high interest in receiving one as well. A waste picker with a bag can collect only 7 to 10 kg of plastic bottles and cans per day, while somebody with a two-wheel cart can easily collect 15 to 20 kg per day or night, or at least 5 to 10 kg plastic bottles and cans
more
per day, than without one. On a yearly basis that will make a difference of 2,000 kg per provided push cart, which is an enormous volume of waste since plastic bottles and beverage cans are very light! 
Including expenses related to local assistance, to construct a Green Scavenger and select the beneficiary waste picker costs 250 euros. I intend to provide Green Scavengers to the poorest waste pickers, those who only have a bag. By doing so I will pursue my main objective to increase the carrying capacity so the waste picker is able to collect more bottles and cans and less waste ends up in the environment. In addition, the push cart alleviates poverty of the selected waste pickers to some extent while providing work to some welding shops, as well. My next short term goal is to provide 10 Green Scavengers to waste pickers in Phnom Penh, but increase this number at a later stage. Also outside Cambodia. 
Waste like this enters rivers and eventually the oceans every day!
People like him collect plastic bottles and cans
and like her
and her
Some waste collectors have a push cart or rent one on a daily basis
Here is somebody's harvest of 10 to 12 kg (4 to 5 US$ minus the rent)
At the welding shop explaining the design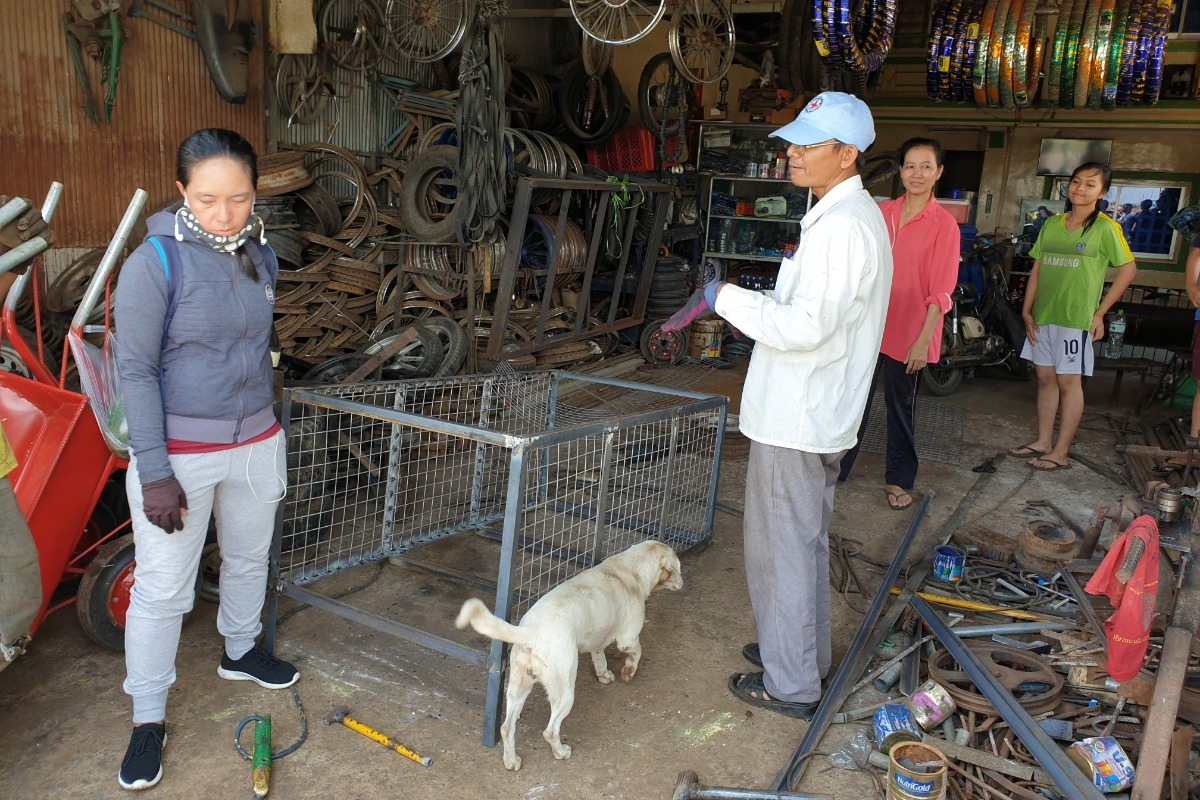 A few days later at the welding shop...
Handing over the first Green Scavenger, May 2019 Phnom Penh
GEEF DE AFVALVERZAMELAARS VAN PHNOM PENH EEN GREEN SCAVENGER!
Duizenden plastic flesjes en drankblikjes verdwijnen dagelijks in kanalen, riolen en rivieren om vervolgens in zee terecht te komen. Veel landen hebben wel recyclefabrieken maar het verzamelen en aanleveren gebeurt doorgaans door arme sloebers. Deze afvalinzamelaars, soms scavengers genoemd, verzamelen plastic flessen, aluminium blikjes en alles wat maar enige waarde heeft zoals karton en koperdraad, en dragen die materialen in een polypropylene zak totdat deze te groot en onhandelbaar wordt. Vervolgens brengen zij hun handel naar een opkoper op enige kilometers afstand die de materialen sorteert en doorverkoopt aan recyclefabrieken. Een afvalinzamelaar krijgt in Phnom Penh 0,25 US$  per kg voor het plastic en 0,50 US$ voor de lege drankblikjes. De textielindustrie is de grootste afnemer van polyester dat van plastic flessen wordt gemaakt.
Gelukkig zijn er wereldwijd veel acties en programma's gaande om het plastic probleem aan te pakken. Ik wil met mijn project hier ook aan bijdragen, het probleem is immers zo groot dat ieder initiatief belangrijk is. Zoals in vele grote steden in ontwikkelingslanden zwerven er ook in Phnom Penh, de hoofdstad van Cambodja, honderden arme afvalinzamelaars rond. Deze mensen behoren tot de allerarmsten en verdienen per dag tussen de 3 en 5 US dollars. Sommigen huren een wagentje voor een dollar per dag, maar velen hebben alleen maar een grote, polypropylene zak. Het inzamelen van bruikbaar afval valt onder de informele economie en wordt niet gereguleerd door enige arbeidswetgeving. Hun rol in het huidige recyclingproces blijft essentieel omdat er praktisch geen andere structuur is om bruikbare materialen te recyclen. 
De Green Scavenger: Ik ben Alex Bor uit Den Haag. Nadat ik meer dan 30 jaar in de humanitaire sector internationaal actief was, wil ik nu op mijn eigen manier bijdragen aan het terugdringen van het wereldwijde plastic probleem. In mei 2019 heb ik bij wijze van pilot het eerste lichtgewicht tweewielig afvalwagentje in een werkplaats te Phnom Penh laten maken. Dit wagentje had ik eerder ontworpen en de Green Scavenger genoemd. De afvalinzamelaarster die na een zorgvuldige selectie het wagentje kosteloos in ontvangst mocht nemen was heel dankbaar, en andere afvalinzamelaars lieten weten ook heel graag zo'n wagentje te willen ontvangen. Een afvalinzamelaar met alleen maar een zak kan per dag 7 tot 10 kg plastic flessen en blikjes ophalen, terwijl iemand met een wagentje minstens 15 tot 20 kg ophaalt, een verdubbeling van de capaciteit. Op jaarbasis maakt dat een verschil uit van 2.000 kg per wagentje, een enorm volume aan afval omdat plastic flesjes en blikjes haast niets wegen! 
Inclusief enkele kosten gerelateerd aan lokale hulp bedraagt de prijs voor het maken van een Green Scavenger en het selecteren van de juiste afvalinzamelaar aan wie het wagentje kan worden geschonken in totaal 250 euro. Mijn doel is om Green Scavengers aan de armste afvalinzamelaars te schenken, zij die alleen maar een zak hebben. Hiermee wordt bereikt dat meer afval en plastic wordt opgehaald en minder in het milieu terecht komt. Bovendien als secundair goed resultaat komen de inzamelaars uit de intense armoede op een iets hoger economisch niveau en als derde leveren we werk aan de lokale werkplaatsen. Mijn kortetermijnplan is om 10 Green Scavengers te schenken aan 10 afvalinzamelaars in Phnom Penh, maar om later uit te breiden, ook buiten Cambodja.