Help Laura Heal her Cancer
You can find us on
https://twitter.com/Helplauraheal
https://www.instagram.com/beauty_and_the_big_c/
https://www.facebook.com/Helplauraheal
"Hello, I'm Laura and I was diagnosed with a rare and incurable Neuroendocrine tumour in my pancreas last July after almost three years of repeated misdiagnosis. I have undergone chemotherapy in Edinburgh which, unfortunately, did not have the desired effect that my family and I had hoped for. I am attempting to raise money to help me afford alternative treatments which are often expensive and very far from home.
The initial cost for the treatment centre in Mexico that I have chosen was well over £40,000. I am now under the care of the team at Hope4Cancer in Cancun but my cancer has spread further and, in those areas, the tumours are now much more aggressive. This update, plus the addition of continuing the treatment plan for six months whilst home again, has now used up almost all of our second total of £70,000. This is the reason I am asking for your help today.  £120,000 is a massive target to reach and I understand that it is a big ask of you but I am determined to boost my immune system and give it, and me, the best fighting chance against this cancer and really take charge of my route to healing. Since being here the doctors have given me a much better understanding of my overall health, something which has been sadly lacking back in the UK, and with their guidance I now realise how much more I need to do to help gain control of the spread and progression.
Our new target of £120,000 would give me the opportunity to continue my treatment here in Mexico for another 6 months. Given what they have uncovered in only a few days, my hopes and chances of survival and possible control of my cancer would be far greater.
I have spent my time since being diagnosed researching, reading all sorts of books and papers as well as contacting various experts and clinics before coming to the decision to go with an alternative treatment. I have also changed how I live: I've changed what I eat and drink, I juice everyday and I am learning to meditate to allow my mind to help heal my body and now I need to continue seeking the expertise and help to give me the best possible chance of attaining my dream of having a future and a family of my own.
The centre has worked wonders for so many patients and has a history of helping people with my rare NET cancer. The chemo I endured was meant to help stabilise the growth for a short time but it has caused irreversible damage to otherwise healthy cells throughout my body whilst the treatment centre here, instead focuses on a non toxic and immune strengthening approach.
I have read so many patients testimonials that have really helped and encouraged me to begin this journey and the results have been incredible. I have also now met and begun to build a network of positive fighters and survivors whilst here who have been key to instilling a confidence I never realised I had.
So I am therefore fundraising to allow me to pursue this alternative treatment and would appreciate any donation you are able to give, however large or small. If you are not able to donate it would be fantastic if you could share this page in order to help raise awareness of this hidden and rare cancer. We will be raising money through various events but you can find out more about my story below.........thank you"
My Story

Background 


My name is Laura Gilmore Anderson and I have just turned 34 in April of this year, 2021.
I am a proud Irish girl from the town of Longford in the Republic of Ireland, I love the great outdoors, dancing, eating out and I am Disney mad.
I have been living in Edinburgh for 6 years now and it was here that I found and married my very own Prince Charming and love of my life, Paul (the dreamy Scotsman) and we are proud dog parents to Chip, our crazy and fun cocker spaniel.
I have gained courage from reading so many incredible and inspiring stories of other cancer sufferers and survivors on social media so I began to journal my own journey on the Facebook page
beauty
and the big c,  which  gives an honest and frank account of some of my ups and downs so far.
I thought I was relatively healthy, I keep fit and as I mentioned, enjoy the great outdoors, although I did enjoy the odd takeaway and glass or two of wine.
I took my health for granted until now and I have always dreamed of growing old and wrinkly after a successful career with all the stresses of a family in our ideal home. All of that seems to be on hold for now and that is one of the hardest aspects to come to terms with, especially during this pandemic which has amplified my hopelessness! It feels like our dreams have been completely taken away from my husband and I in the space of one half hour consultation with a doctor, expecting complications with getting pregnant, not to be hearing the dreaded C word! The universe can be very cruel!!
I have tried to take some control of my life since the diagnosis, changing my diet to organic and vegetarian, juicing everyday with the benefits of carrots, ginger and turmeric, altering my lifestyle to include meditation and affirmations on a daily basis and I have been educating myself by joining various cancer platforms and attending conferences. I have read so many inspiring cancer survivors healing journeys which have helped lead me to where I am today and to make clearer what my hopes are for the future.
Our world turned upside down in July 2020 when initially I was thought to have Pancreatic Cancer and a biopsy later confirmed it is a very rare cancer called Neuroendocrine Cancer and I was Grade 3, stage 3.
Diagnosis


I have a locally, advanced tumour in the tail of my pancreas. Extensive peritoneal disease, signs of further lesions on the liver and now have learned of the aggressive tumours in many of my lymph nodes. No curative treatment is available. This is the terminology used on my pathology report
We had never heard of Neuroendocrine Cancer, which is a very rare type of cancer, especially at my age but it is becoming more and more common worldwide. For a long time I had been experiencing abdominal pains, continuous heartburn, lower back pain and I was always feeling really full & swollen after a meal.
The pain could be very sharp at times and from memory it really started to flare up in January 2020. Since then I was constantly in and out of the G.P. surgery and the hospital. COVID-19 has not helped with the delay of scans and appointments and at times it was easier to go to A&E with the pain where they checked for kidney stones etc but told me to take strong painkillers & double the dose if need be.
I had been misdiagnosed for almost 3 years with viral infections , IBS , inflammatory diseases, endometriosis. All of which I can now understand as my age would usually rule out anything more severe or worrying.
Paul and I had been trying for a baby for over a year and the G.P.s thought it most likely that it could be endometriosis due to my pain increasing every month around my cycle and so I was then referred to a fertility clinic for more investigation.
I felt like I was wasting their time as I thought I was going mad and did not know what was wrong with me. Various doctors would say "your young & healthy & look great"…….well NO, my insides are a mess and I am in real pain…pain all the time but as a female, we tend to shrug these things off and get on with it. More needs to be done to raise awareness as cancer does not care about your age, gender or level of fitness!!
Unfortunately, not one size fits all for Cancer. Dr Google will give you a scary prognosis based on the stage of your cancer. In some cases the stats say you have 1 to 5 years left. I certainly do not want to die in my mid to late 30s! I have too much to achieve and too much to live for!!
Every body and everyone is different, no two people are the same, all our cells are unique to us and this is what makes you, You.
In just the first few weeks after my diagnosis I had already had thoughts about dying and started to plan my own funeral. Grim, I know and something that never would have crossed my mind but situations change and so must I!
Unlike with some other cancers, this doesn't necessarily kill you straight away…instead, the tumour is sneaky, with an overall plan to silently spread throughout your body, avoiding detection with little symptoms before being detected all too late.
So why not be proactive now while I am feeling ok and give it my best shot before it gets to a stage where it is too late? Cancer can change in an instant.
Treatment

I was initially given the limited options of two types of chemo, one slightly nicer than the other and there was talk of clinical trials in the future. It doesn't seem much when you hear the words "inoperable" and "incurable" and you cant help but think. "I would like more options to keep me alive and well and not for the options to run out".
What sort of future do I have now?
How long do I have left?
Will this treatment work and for how long?
I feel like a ticking time bomb waiting to explode while the cancer is creepily spreading around my body.
Ideally my dream would be to get the tumours out – not possible under my current specialist because of the location and size of the tumour and the fact it has spread but there are teams out there, willing to take the chance.
The few chemotherapy options available to me in the UK have a limited timeframe of success and aren't designed to treat but instead stabilise? So in real terms, it's still growing.
I decided to take the specialists advice and started my chemo journey last October which unfortunately proved very dangerous and ultimately futile.
I saw no reduction in the main areas of concern and there has been growth in my lympnodes which supposedly could have been blasted with radiation. This did not happen soon enough and now that I am under the care of this clinic in Cancun, they have unfortunately found that my lymph nodes have extremely progressive tumours.
I had continuous delays to my conventional treatment in the UK due to low platelets and neutrophils in my blood counts. Whilst this chemo was tolerable and I was getting used to the side effects, my quality of life had gone from a healthy runner to a bed bound woman not fit to do much at all. Trying to stay positive and focussed when you are suffering from fatigue is really difficult!
Alternative Healing – more natural approaches unfortunately cost a lot of money and this puts a lot of people off so they feel that western medicine is the only way forward for them but when you start looking more into holistic approaches it gives you so much more hope, positivity and drive.
The western world is driven by big pharma and new drugs and treatments don't always get the funding and research they deserve, stopping us survivors getting our hands on all the options available!
It was whilst doing this research that I found the inspiration of other Cancer survivors and most recently a friend from my own home town of Longford actually spent time in the Hope4Cancer clinic after raising funds for her treatment.
My hope is to do similar and to further seek alternative treatments around the world. The specialist treatment facility in Mexico that I have initially found along with another in Florida and further experts offering clinical trials in Germany and Finland, keep my hopes and dreams alive. These hopes are to be able to eventually afford each of these options and explore other treatments available to me to give myself the best possible chance of beating this thing and surviving.
The cost of the treatments are so expensive and would put most people off trying them but with your help I may have more of a chance of exploring these options and Mexico is first on the list.
Hopes and Dreams 

·  I am trying to remain positive, have a survivors attitude and give myself  the total commitment to get well
·  Find the best healing support team to help me get well and allow me to love myself, something I have really struggled with in the past!
·  Locate a surgeon willing to operate if possible to remove the tumours
·  Start a family of our own.
* Raise awareness of Neuroendocrine Cancer to help others with early diagnosis.
I was fortunate enough to have IVF before starting Chemotherapy and we have little Anderson embryos kept in storage. Although now, my body and soul are my baby, I need to take care of it, nourish it and fill it with love and hope to help heal myself and to keep the dream alive of having my own child someday.
My Future

My biggest and oldest dream has always been to have children. I met my Prince charming, we got married and were planning our future and family.
Now our future looks to be very different but I'm not going to let that spoil my dreams. Where there's a will, there's a way!
We may have to go down the surrogacy route but the UK has some archaic laws which really hinder the process so our only real chance is to go abroad and this, again, costs a lot of money.
I recently spoke to a lady in London who has the same diagnosis as me, at a similar age and has managed to raise enough funds to allow her and her husband so seek a surrogate in the states and I'm glad to say they now have a beautiful little girl and there family is complete. There is hope out there, you just have to believe!!
"Do I want to live"?
Yes of course I do. I would like to have the best quality of life possible on this earth and just maybe have my own family. This gives me all the reasons to live and more. Why should I choose the long term suffering option given by the teams in the UK, why can't I want and ask for more. The holistic approach can work wonders and it also helps to change a persons mind set……my mind set. I have one life and need to explore more than western medicine and take a more holistic approach to give me a fighting chance for a future.

Why this page will help and the goal for the funds:


With your help our hopes and dreams could come true to have a future and possibly a family. The money we raise will help us pay for the alternative treatment centre and can give me a head start to true healing .
We will update you as we go along our journey.
Today that story begins!!We would really appreciate it if you could also help share this page. 
Thank you for reading.
Laura & Paul 
P.s We have lots of fundraising ideas to come in hope of raising the money over the next few months.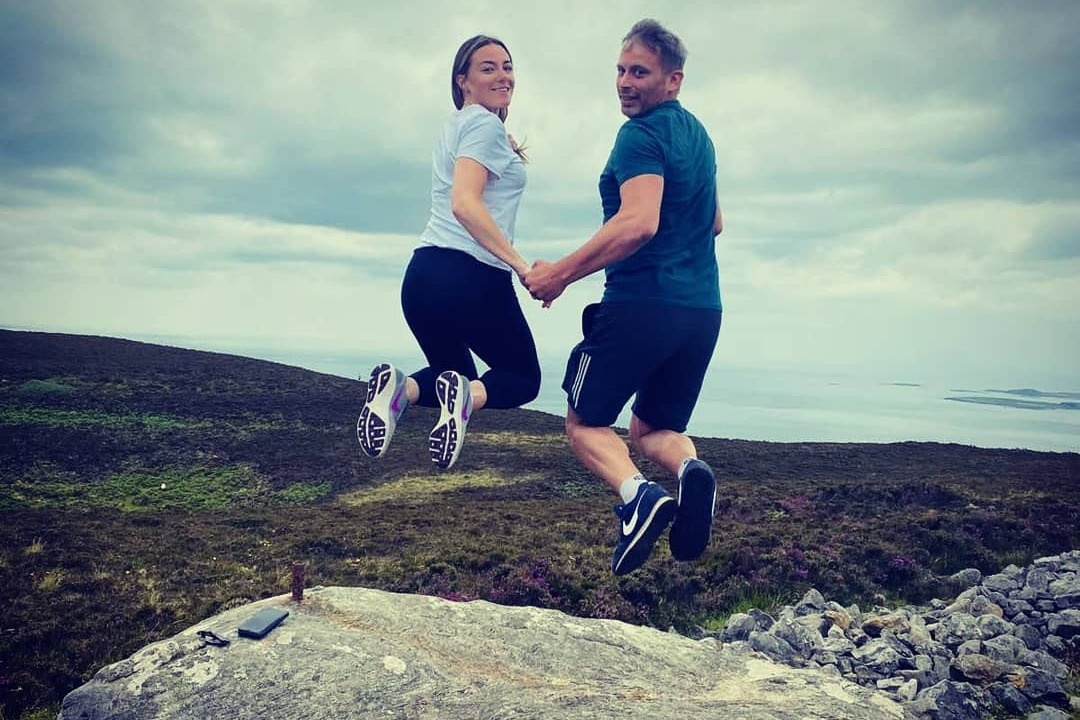 Fundraising team: Team Laura Nets (16)
Laura Gilmore Anderson 
Organizer
Raised £36,337 from 649 donations
Edinburgh, UK
Aisling Sheridan 
Team member
Raised £7,895 from 70 donations
Paul Anderson 
Team member
Raised £2,580 from 30 donations
Natalie Gilmore 
Team member
Raised £2,385 from 37 donations
Carlyn Brown 
Team member
Raised £2,310 from 80 donations
See all