Gaytri's College Dream
Our friend from Dharamsala, India is a true, life-long inspiration for anyone she meets.  A self-made woman and pioneer for women's rights in her family and community, Gaytri fought societal pressure to marry and become a house-wife in her small village.  She instead led her family through her father's death, found jobs to support them, finished high school despite her family's disapproval, became a program leader at an NGO working for women's rights, and eventually obtained a B.A. in Social Work from Indira Gandhi National Open University. She is now serving as a W.J. Clinton Fellow for Service in India. After spending years teaching herself English and learning from those around her, another dream of hers is about to come true.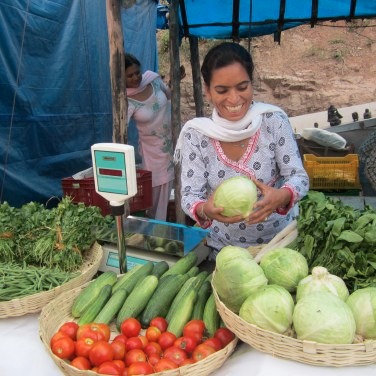 Gaytri was recently offered admission into Azim Pre­mji University's Mas­ter of Arts in Devel­op­ment Stud­ies.  It's a 2-year program that prepares professionals to lead in the development sector.  For Gaytri, it's a step closer towards achieving her dream of one day starting an NGO for widowed women and their children.  
In her own words: 
"Now I am learn­ing, but I can't read or write much. My school­ing and child­hood was not like that:that's why I didn't get the habit to read and write. I want to learn from other stu­dents, stu­dents from dif­fer­ent back­grounds, learn from teach­ers and pro­fes­sors, and see myself in a dif­fer­ent place, in a dif­fer­ent world:I believe that edu­ca­tion is the most, most, most impor­tant thing in our lives. Edu­ca­tion is the main tool to move for­ward, to open the door to what you want to do. What­ever my dreams are, I will be able to make my dreams suc­ceed. What­ever valu­able edu­ca­tion I will get, I will help other stu­dents and kids with that edu­ca­tion, because what­ever I suf­fered, I don't want them to suf­fer the same thing."
In order to help Gaytri continue to make an impact, we're asking for your help in ensuring that finances don't prevent her from obtaining her Master's degree.  Any contribution you make will go directly towards Gaytri's tuition, living expenses, and English tutoring for the next 2 years.  She has already received a 50% scholarship from the university, and we're aiming to raise $4000 to help cover the remaining costs.  We're extremely grateful for your help in ensuring that this amazing friend reaches her full potential.


To learn more about Gaytri, please read the article below, from which we've sourced her quote above.  

Gaytri Sharma: Pioneer for Women in India


Thank you,
Sarah, Aarti, & Bhumi
P.S. Photo Credit: Sarah Connette above, Liv Dowling below