Gage Trailer Replacement Campaign
Sandy Gage and her 15-year-old son, Zack, live in Ravensdale. Sandy has lived in the Maple Valley area for 13 years where she has raised three older boys in addition to Zack (two of which have served in the military). Zack is a sophmore at Tahoma High School and enjoys playing soccer and tennis.
Since becoming a single mom, Sandy has lived in an old '87 Bounder motorhome in Ravensdale. Over time, the motorhome has broken down to the point where it no longer has working water and plumbing, and many of the appliances are broken. There is an acute need to help Sandy and Zack obtain better living conditions which is why we have launched this GoFundMe campaign on their behalf.
Sandy works to support her household while putting herself through college and raising Zack. She recently obtained a part-time job with Tahoma School District as a bus monitor. The modest income from this job has been adequate for paying her monthly bills but has not been sufficient to improve her living conditions.  
We would like to join together as a community to raise $5000 in order to help Sandy purchase an upgraded used trailer that would provide a much better living situation for herself and Zack.
Sandy truly appreciates any help towards improving her and Zack's living conditions.  
Sandy and Zack Gage
Sandy's current trailer
Potential Replacement Trailers
After we reach our goal of raising $5000, we will open a search to find a suitable used trailer to replace the motorhome. Based on previous searches, we are confident that we will be able to find an option that will be a signifcant upgrade over the Gage's current trailer. As an example, the two trailers shown below were available for sale as of January 2018.
1999 Wildwood 32ft Fifth Wheel with Two Slide Outs - $4900
                                                                                             ,,,,,,,
1999 Lancaster 40' Park Model Travel Trailer - $4500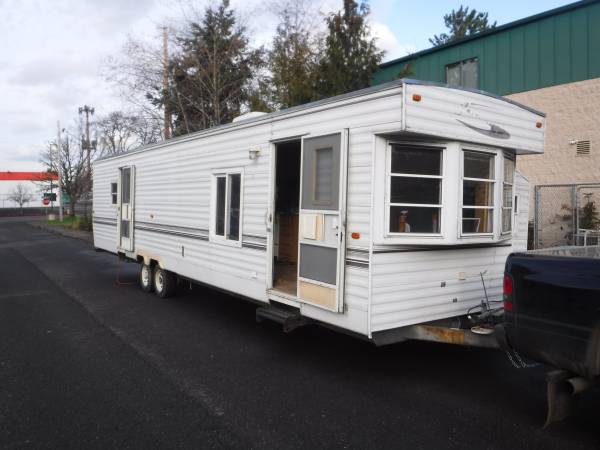 Organizer and beneficiary
Gage Helpers
Organizer
Ravensdale, WA