This is how G stands. He wraps his legs around each other to brace his ankles.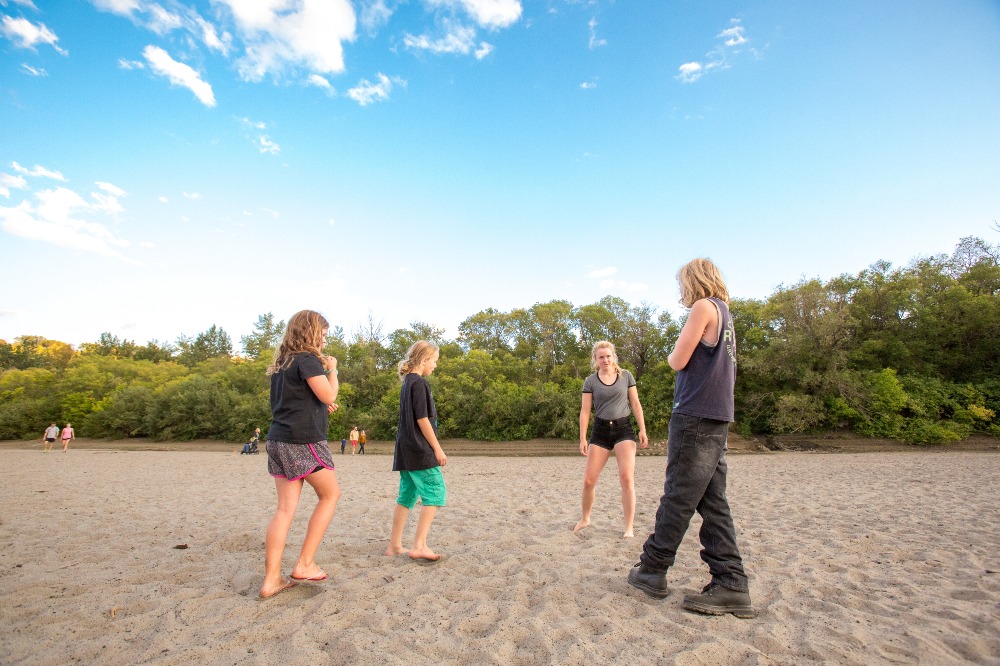 G is often trailing behind his siblings when we are out and about. I have to give him painkillers before we go on walking adventures.
This kid and his brother. He's kind of got skis for feet. (He has his toes curled in this photo, but its the only one I have showing his feet)
The short story:
G has exceptionally flat feet. He's in pain all the time and has been for at least the last 3 years. (Walking for more than a short period is a 10, standing is a 6, sitting is a 4, lying down is a 2-3). His paediatrician has recommended (and we agree) that he not get the traditional surgery until he's done growing as it involves cutting the bones, tendons and muscles. HyProCure is an alternative that basically puts a pin in his ankle, between the bones and involves minimal cutting or scarring. It costs $7600 for both feet. 
You may know I am a photographer; his father is currently working as a stay-at-home-dad and we have been blessed with his step-mother's generosity in paying for half of this treatment. I am trying to come up with the other half of funding for this surgery. 
www.hyprocure.com
The longer story:  
I am writing today about my son's flat feet. G is almost 13 years old and he has rarely run since he was in Grade 4. 
When I would meet him on the edge of the school grounds, he would bury his head in my stomach, sobbing in pain after a day of being on his feet. He was embarrassed to be crying in front of his friends at that age – although they were all very kind to him and would rub his back in sympathy. He would beg me to carry him home (4 blocks) or ask at the beginning of the day if I could please drive the car when I picked him up from school. 
We took him to his paediatrician who advised that flat foot treatment happens privately. We then went to The Foot and Ankle Wellness Centre to see Dr. Sheharyar Chaudhry, DPM who prescribed orthotics. Fortunately, at that time his father's health plan covered 2/3s of the $600 cost. He is now on his second pair of orthotics and I suspect we will go through several more pairs by the time he reaches 18. His father (nor I) no longer have health care coverage, although we are lucky both his stepmother and stepfather have agreed to put him on their health plans. 
Once he had orthotics, his pain was reduced to a 6 while standing (although it still was a 10 after walking), and a 4 while sitting. He gets down to a 2 or 3 when he lies down. If we do something that involves standing or walking for more than ½ hour at a time, he takes an Advil to combat the pain. One of the things I find most difficult about this is giving my child pain medication so that he can do his (once a week) paper route.
 After his second pair of orthotics and his ongoing pain, we discussed surgical options with Dr. Chaudhry and G's paediatrician. The standard surgery would likely involve removing some of the bone and fusing other parts of his bones, as well as involving ligament and muscle surgery. Our paediatrican strongly advised against surgery until G is finished growing – something I definitely agree with. Given the level of pain G experiences on a daily basis, I expect that a surgeon would be willing to do the surgery, which would be covered through Alberta Health Care.
There is another option which is not covered. It is called HyProCure (www.hyprocure.com). Basically, it involves inserting a titanium screw and essentially jacking up the foot. It is minimally invasive as the screw sits between the bones and only involves cutting the surface skin and a small amount of muscle. It is almost entirely reversible as the screw can be removed and would only involve a small amount of scar tissue if it did go wrong. (This is important because I suspect this may not be his last foot surgery – even with this procedure. Both his grandmother and aunt had foot surgery to reduce the length of their tendons.) (His stepfather's plan will cover $78 of this surgery).
After discussions with Dr. Chaudhry and learning of his interactions with Alberta foot surgeons, I suspect that HyProCure will at some point be covered by Alberta Health Care; however, there are processes that must be followed in order that a new procedure be determined safe and effective and worth public funding. In the meantime, I am a self-employed photographer and his father is currently unemployed. If we were to wait until we have saved enough money for this surgery, Gabriel may well be done growing.
I would dearly love to see my child run, as a child and without pain. If you can assist in the financing of this surgery, both G, his father, his brother, his step-parents and step-sisters would be so grateful.
Rebecca

Organizer
#1 fundraising platform

More people start fundraisers on GoFundMe than on any other platform. Learn more

GoFundMe Guarantee

In the rare case something isn't right, we will work with you to determine if misuse occurred. Learn more

Expert advice, 24/7

Contact us with your questions and we'll answer, day or night. Learn more