Healing Meditation Retreat Centre
Our objective is to purchase land in Southern Portugal and build a Retreat centre to promote Meditation, Healing and Self-Expression. The centre is called Fonte Do Equilibrio.
In English, Equilibrio means balance. In a world full of technology and constant distractions, it's difficult to stay balanced. Demands on our attention are nearly infinite – work, emails, kids, bills – how do you stay grounded? For many of us the answer is, we don't.
There comes a time when we need to escape our phones, the hustle and bustle of busy streets, and the stressors that keep us from feeling at peace – to connect to nature and more importantly, reconnect to ourselves. To make a choice to get back in balance.
For several years I have dreamed of creating a space for people to come and seek refuge within. In this space people are free to express their hearts, connect to themselves, and remember how to truly enjoy the simplicity of being.
Fonte Do Equilibrio will provide a space for people to rest. Deeply rest. A place to come home to your own being, where you can surrender all the woes of life, all the worries of the future, and simply be in stillness. In the stillness we find our centre – our true Self. In the stillness we find our balance once again.
My Background
My name is Sam Power and for the past 6 years I've been facilitating workshops, retreats and one on one healing. I focus on pointing the individual or group back 'home', to one's inner source of peace and happiness.
This involves a mixture of outward action - facing one's fears and challenging limiting beliefs, and introspection – taking your attention inward, to your own source through meditation, self inquiry and self compassion.
Ultimately, what I share helps people find true peace and freedom within themselves to then fearlessly share their unique talents with the world!
For more information about my background as a facilitator see this page

https://www.samuelpower.co.uk/about-sam/
For more detailed information about the retreat centre
, whom it will serve ,and how the money will be spent, please visited the dedicated page on my website:
https://www.samuelpower.co.uk/the-centre
Why This is Happening

After many years of deeply exploring inward and pushing as many boundaries as I could, something happened that has changed my experience forever. You could call it an "awakening." At first it was incredibly blissful and enlightening. Then it was absolutely terrifying. To say it has been challenging to assimilate this awakening into the "real world" is an understatement.
It has felt incredibly confusing, isolating, painful and scary. From the Western perspective it seemed something wrong with me. However, when I travelled to the East, I started to understand that something beautiful was transforming in me.
After many occasions of begging on my knees and praying for it all to end, a light within me began growing stronger and stronger. Slowly but surely a vast freedom , peace and love has been permeating my experience even since.
I wish for this centre to support those who feel isolated, confused, scared or who just seek some space to go within. To give them a chance to really rest and take their time through challenging transitions. What helped me navigate through the darker times was having space to simply be. To let it all go. To be nurtured and loved. This is what I wish to offer.
We are in a stage of our evolution of consciousness where experiences similar to Sam's will continue to happen to many many others and they will be in need of somewhere to go to feel safe and to understand the changes that they are experiencing in themselves.



The Uniqueness Of This Centre
Some communities and centres can have a serious tone that force obligations, restraints and rituals on the participants.
This centre doesn't preach any 'way' or 'path'. It encourages everyone to find their own wisdom within.
The emphasis is on being able to enjoy the journey of Self Realisation and Self Expression. Fun, games and unique expression are encouraged :)
Who the Centre Serves
The centre will support those who feel isolated, confused and scared. It will be a place for those who are searching within themselves – to give them a chance to truly rest. Let us create a space that allows them to take their time and feel through their transitions and connect to themselves. What helped me most when navigating the darker times was having a space to simply be. When we can simply be, we regain our balance.
Outcomes
(All of the below are just a byproduct of realigning with one's True Self)
Healing
Navigate through scary and confusing awakening experiences
Recover from Depression, Anxiety, Panic Attacks, Suicidal despair
Release traumatic energy, (recovering from PTSD, ASD, RAD)
Learn how to balance your energy centres
Empowerment
Regain clarity of mind and clarity of action to align with your Higher Calling
Connect with your source of creativity and spontaneity
Overcome fears of judgement, failure and rejection
Create deep and meaningful connections with others
Let go of the victim mindset
Some team members and I will be on the ground in Southern Portugal from April 2018. To join the team and fun this summer contact me through my website.
Projected Costs:

Land: 80,000-90,000 - around 2 Hectartes or more

Water: 5,000 to install a well (if not already present)

Electricity: 5,000

Living Structures: 40,000 + labour (10%)

Toilets/Showers: 1,500-3,000

Stamp duty/lawyers/Notary/admin fees: 3,000

Land Agent Advisor: 2,500

Total Estimate =  £115,000-150,000




How Your Donation can Help

£10 = Feeds someone at the centre for one day
£20 = Provides food and accomodation for someone for one day
£50 = Helps maintain and grow produce for the centre and its inhabitants
£100 = Allows someone to attend a 4-day retreat
£1000 = Provides and eco-friendly toilet
£2500 = Purchases a yurt that sleeps 6 people
£5000 = Builds a well to provide fresh water for the community

Service to Humanity
The dream is for the centre to be supported fully by the donations and the kindness of others. As such, there will be no fixed fee's for those who attend retreats. I have witnessed this working in several monasteries and Vipassana centres across the world, and this model resonates most with me and the mission of the centre.
By offering refuge to those in need, we can have the greatest impact and can truly be of service. Without the pressure to make money or sell, we quiet the ego and come from a place of true giving. This is the the intention of Fonte Do Equilibrio.
There is so much potential for this
SERVICE SPACE
. Once our foundational structures and sessions are set up we could extend our reach to many worthwhile causes like helping animals in need of shelter, give some homeless people a shelter and food or collaborate with other existing charities that are already doing great work in the world.
Heartfelt Thankyou 
Dear soul,
Thank you for your kind contribution to this heartfelt project. We are deeply grateful for your support, without which none of this could happen. Your support helps significantly towards creating something magical, something meaningful and something that serves the greater good of the whole planet.
Take a moment to imagine a world where in every town there is a centre like this.... In every village there is a space for people to come together as one in the name of love and connectedness..... In every city there is a school where children are taught how to prioritise self love, compassion and nurturing one's inner creativity..... In every government there is an understanding of oneness and our true potential is fully embraced and encouraged to shine.... This is the kind of world that you are helping to create by supporting such a project. 
A new world, an exciting one, full of light and love!
Wishing you all the love and joy that you deserve on your journey through this life. 
Sam and the Fonte Do Equilibrio Team
P.S.
Please do share this campaign with your family, friends, and social network. Every little action helps to bring this dream alive.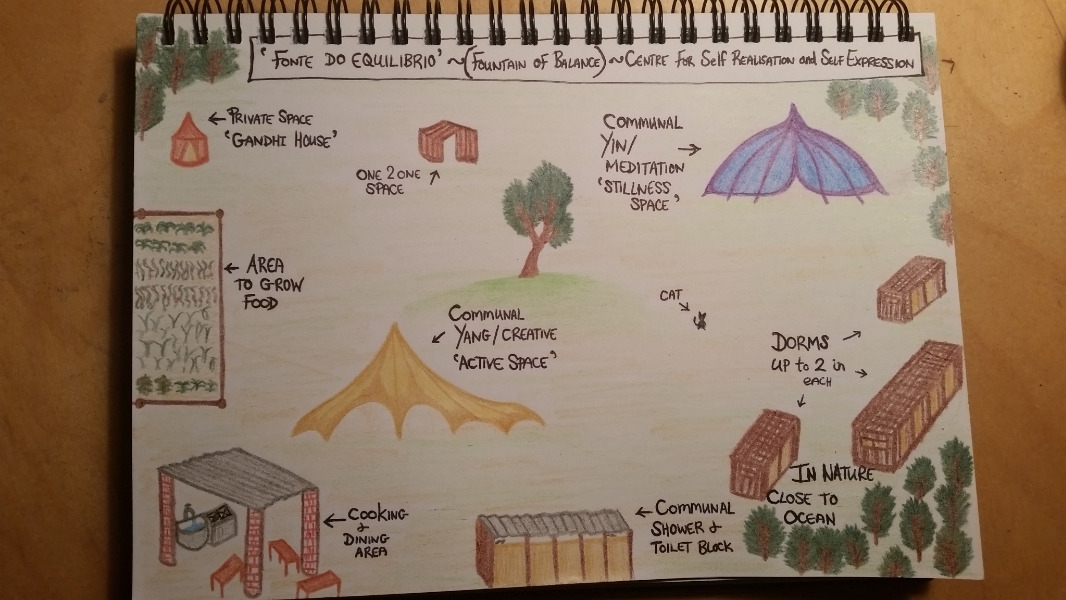 Organizer
Sam Power 
Organizer
Thames Ditton, South East England, United Kingdom