Fuego Volcano Victims #FuerzaGuate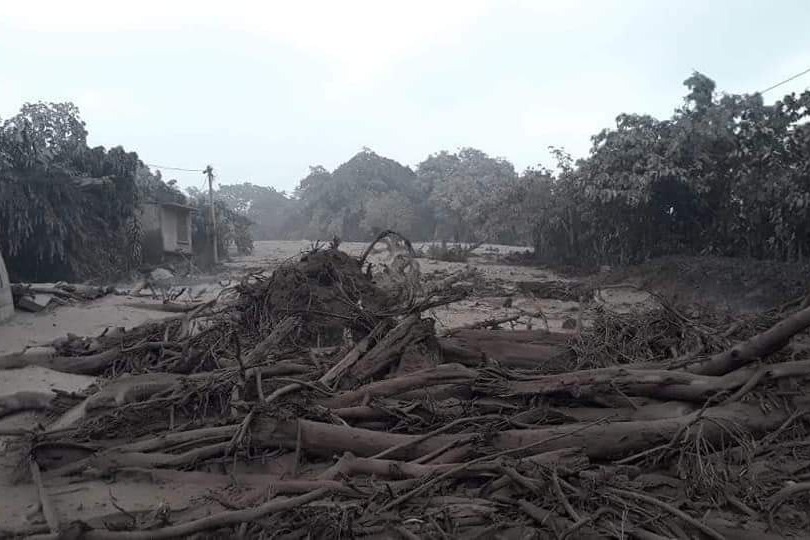 TODAY SOMETIME AROUND MIDMORNING ON OF THE 4 MOST ACTIVE VOLCANOS ERUPTED, FUEGO.  THERE ARE MORE THAN 25 PEOPLE DEAD ALREADY IN A NEAR BY VILLAGE ABOUT 10KMS FROM ANTIGUA GUATEMALA. PLEASE HELP WITH WHAT EVER YOU CAN EVERY BIT COUNTS - THIS WILL MAINLY BE FOR MEDICAL ASISTANCE AND RECOVERY FOR THOSE WHOM WERE INJURED. I TRUST THAT MY FRIENDS AROUND THE WORLD THAT HAVE BEEN TO THIS BEAUTIFUL PART OF THE WORLD WOULD UNDERSTAND!
UPDATES: 
 TZULES HAS TAKEN THE TIME TODAY IN GOING DOWN TO ESCUINTLA WITH SOME FRIENDS AND DONATIONS MADE BY THE WONDERFUL PEOPLE OF ANTIGUA, TO ANALIZE THE SITUATION AND TO SEE WHERE IN REALITY CAN THIS MONEY BE OF GREAT USE - WE DO KNOW THAT THE MOST IMPORTANT THINGS AT THE MOMENT ARE WATER AND MEDICATION MAINLY PEOPLE THAT ARE LOCATED IN HOSPITALS THAT HAVE LITTLE OR NO RESOURCE TO TAKE CARE OF THE VICTIMS INJURIES. UPON ARRIVING AT THE FIRST SHELTER SHE QUICKLY NOTICED THAT AWAY FROM THE SHELTERS THERE WHERE STILL MORE PEOPLE THAT HAD NOT LEFT THEIR HOMES (80+) BECAUSE THEY WERE AFFRAID PEOPLE WOULD STEAL THE LITTLE THEY HAVE LEFT - THE FIRST ASSISTANCE WENT TO THEM TODAY AND SHE HOPES TO RETURN TOMORROW WITH MORE AID AND RELIEF FOR THESE PEOPLE - SO FAR I WANT TO EXTEND MY GRATITUDE TO THOSE WHOM HAVE DONATED TO THIS CAUSE , DIRECTLY OR INDIRECTLY - AND AS ADDITIONAL INFORMATION THIS HELP IS GOING DIRECTLY TO THOSE SERIOUSLY IN NEED! THANKS AND WILL KEEP YOU POSTED!
Update June 6th: Thank you again to everyone that has donated and shared this campaign on their social media. Currently, a close friend of mine in Denver CO, Joel Pritchett will be wiring the donations received so far to my Guatemalan Bank account. From there myself and Tzules will be purchasing and bringing medical supplies, water, and other toiletries to donate to communities effected by the eruption.
For those of you wondering about the current situation in the communities effected here is a small update. Currently supplies are reaching pop up rescue shelters for the displaced survivors of the eruption. These locations are very necessary, but based upon mine and Tzules's relationships with community leaders in the area, we feel it is necessary to reach the survivors that are too poor or afraid to leave their homes for fear of what is left, being stolen or vandalized. Specifically we will be reaching the communities of Santa Lucía Cotzumalguapa and Yepocapa between the states of Escuintla and Chimaltenango.
Joel Pritchett will continue to work on keeping you guys updated along the way through the Gofundme campaign page and social media. If you are interested in following our progress you can follow us on social media here:
Ernesto-
Instagram: @travelust87
Facebook: facebook.com/vasco636
Tzules-
Instagram: @Tzules
Facebook: facebook.com/tzules.sunun
Joel 
Facebook: facebook.com/joel.pritchett88
Organizer and beneficiary
Orlando Ernesto Vasquez
Organizer
Englewood, CO
Joel Pritchett
Beneficiary