Danielle's Living, Medical, and Rehab Expense Fund
Friends and Family,
For over the past month, my sister Danielle has been through three different hospitals and is currently in rehab, healing and regaining the strength to walk again.
A life-long waitress, she works two jobs to support herself and her son.  Before Christmas, Danielle began getting fatigued easily, both at work and at home, and she started losing her appetite.  Shortly after that, she began bloating and the act of eating even the smallest quantity became painful.  She continued to struggle through work and spent her off time doing her best to recover.
Her symptoms persisted, and was supplemented by chest pain.  She visited the doctor, who diagnosed her with stress/anxiety and sent her home with a hyperventilation bag, which obviously didn't help.  A few days later, she went to Cooley Dickinson Hospital, and after nearly passing out in the waiting room, they sent her home with ulcer treatment medication. 
She continued to worsen, she found it difficult to breathe, and she was suffering the effects of mental confusion.  The following day, she was brought by ambulance to Holyoke Hospital and was admitted to a bed, while they tracked her vitals and gave her a saline IV while they conducted tests.  The hospital supplied her with oxygen, but she continued having labored breathing, while her confusion became worse, and she lost the ability to get on her feet.  Her vitals were unstable, tests were inconclusive and an ultrasound of her heart displayed what the doctors considered fluid around her heart.
The decision was made to send her to Baystate Medical, a more comprehensive hospital in western MA, where further testing continued to be inconclusive while she was in the ICU.  Her kidneys were approaching signs of failure, and bloodwork levels were dangerously low.  Her low sodium levels were the likely culprit of her confusion, a condition known as hyponatremia.  Tests shortly thereafter showed fluid in her lungs, so the hospital began treating her for pneumonia with steroids and antibiotics.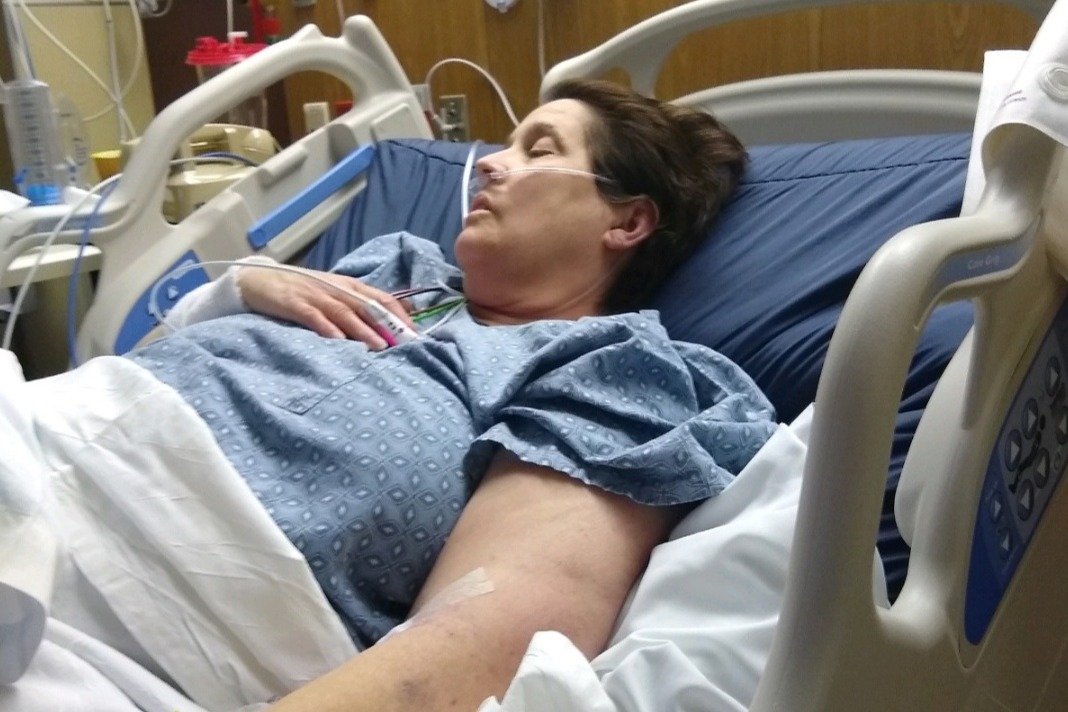 She was then moved out of the ICU and closely monitored her vitals.  Several days later, as her breathing continued to decline, they moved her back into the ICU and treated her with a full oxygen mask.  Her breathing was so shallow, it genuinely looked like she might not make it.  Doctors suspected blood clots in her lungs, and Danielle was treated for signs of congestive heart failure.  She was started on blood thinners, but the hospital couldn't perform the desired CT with contrast to find blood clots, because her kidney function was so poor they couldn't filter out the dye.
Over the next several days, her breathing and vitals showed signs of improvement and she was moved out of the ICU.  Her vitals continued to stabilize, despite continued breathing difficulties, bloating, abdominal and chest pain and a lack of appetite.  The hospital deemed she was on the right track, and released her to rehab to work on strengthening her legs, despite no diagnosis for her bloating, abdominal pain and inability to eat.
Currently at the rehab facility, her breathing improved immensely and her confusion went away.  Her bloating has appeared to diminish some, and she's slowly gaining the ability to eat, but not without periodically throwing up and having gastrointestinal issues.  She continues to be weak, and has made little progress with physical therapy.  Though her condition absolutely demands nursing assistance, her insurance company is aware of her lack of PT improvement and will no longer cover her stay as of this coming Thursday.
Our family has come together and covered her bills thus far (not medical, as those bills aren't available yet), and we're doing our best to prepare for privately paying for rehab, but this is quickly becoming overwhelmingly expensive.  For those who are willing and able to assist, we've set up this GoFundMe to gather support for her recovery.
We currently have no idea when Danielle will be able to walk again, as she is still a fall risk.  It is very likely she will be discharged from the next rehab and will rehab at home.  Our goal today is to get her another 30 days of rehab at a private care facility.  We will provide updates as they become available.
From her son, Kevin:
We are starting this GoFundMe to help her with living and medical expenses as she has been out of work for over a month now and will be so for an indeterminate amount of time.  All her life, my mother has been a hard worker as a server, single mother, amazing person and friend, but especially amazing as my mom.  For everything she's done for me, I would like to try and help her not to stress about finances while she is unable to be herself - a strong , independent, responsible, hard-working badass.  I'm hoping, as a team of friends, family and compassionate human beings, we can help her out now that she needs it the most.
I love you, mom.
Kevin Bushey Jr.
Donations

Organizer and beneficiary
#1 fundraising platform

People have raised more money on GoFundMe than anywhere else. Learn more

GoFundMe Guarantee

In the rare case that something isn't right, we will refund your donation. Learn more

Expert advice, 24/7

Contact us with your questions and we'll answer, day or night. Learn more