Dog Kennel for Teen's Homeless Shelter
$2,100
of $16,000 goal
Raised by
16
people in 4 months
We are short $16K to finish our homeless shelter's dog kennel!

Our new homelessness has a kennel for homeless teens who have dogs.  We are in the middle of construction of the kennel and have fallen sort of the kennel budget construction costs.
We need help.  I need to raise $16K by end of Feb.
The total cost of the kennel is $46K and we have received a very generous donation from a dog loving benefactor for $30K
(Big shout out and thank you to our dog loving donor for the initial $30K donation).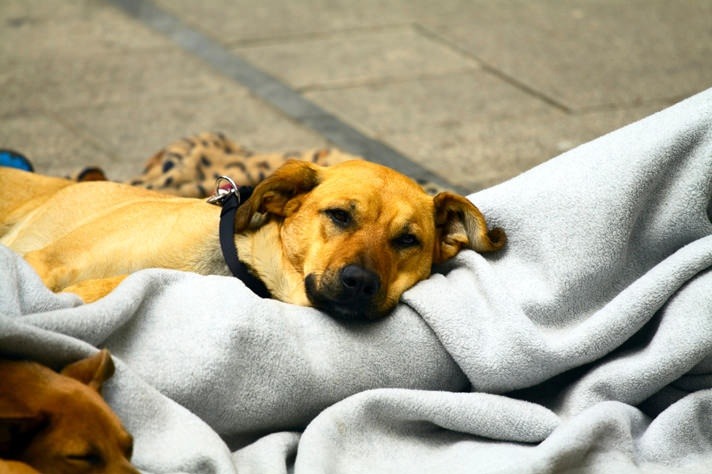 Homeless youths will not come in out of the freeing cold for help, food or shelter if it means leaving their dogs alone on the street. This is why an emergency shelter for homeless kids needs to have a kennel.
Cold, hungry, homeless, street kids sitting on a filthy bug infested, damp, mildewed sleeping bag or laying in the fetal position over a warm grate because it blows out warm air from the TTC subway below.  The kids are outside 24/7 in the dead cold, freezing temperatures of our Canadian winters.
Curled up beside these teenagers is their very best friend in the whole wide world, they're companion and often the only soul they can trust and count on...their dogs.  These are the forgotten youth and both the kids and their dogs are at risk to the elements, hunger, disease and abuse.  The kids often stay on the street turning down help and a warm bed/shelter as they would never, ever take refuge for themselves and leave their BFFs behind.  So they stay our all year long, in the coldest of winter's path, in wind chill's reaching well below freezing zero temperatures.  These children ignore all cold weather alerts and advisories to stay with their dogs.  Until now.  YouthLink is in the midst of constructing a new state of the art emergency shelter and transition home for youth.  This home is pioneering many new initiatives in emergency care, rehabilitation and long term counselling.  Part of our plan is to include a four season dog kennel.  In an effort to ensure we don't leave any homeless kids on the street who need our help, food, and shelter we are welcoming the forgotten kids to our new shelter along with their dogs. 
HOMELESS YOUTHS WITH PETS ARE FOUND TO BE LESS DEPRESSED, LESS LIKELY TO USE DRUGS and MOST IMPORTANTLY LESS LIKELY TO HARM THEMSELVES THROUGH SELF MUTILATION and SUICIDE.
Our counselling services encompass, education, tutoring, music lessons, mental health issues including-suicide, bullying, self harm, sex trade rehabilitation. 
Your donation  will allow us to fund the construction of dog kennels at our new 51 room emergency youth shelter & transition home.  These kennels will open the door and be an important solution to the homeless sensitive youth who have no place to go and nowhere to live because they cannot face leaving their dogs alone on the streets in order to get themselves inside out of the elements.  We are building this kennel to be able to reach and get through to homeless on the street young people who historically, we have not been able to help because they have a pet.  there are hundreds of these at risk, homeless young people in the GTA.
About us: Evan Back is the Head of Fundraising & Marketing for YouthLink. 
YouthLink is a mental health agency for youths ages 13-24. Formed in 1914, originally named Big Sisters of Metropolitan Toronto. Became YouthLink when they went co-ed.  YouthLink has over 63,000 in person counselling sessions every year, feeds over 500 young people every week, operate several group homes, provides free music lessons and equipment and is opening the only Emergency Homeless Youth Shelter and transition home in Scarborough, from Victoria Park all the way east to Durham.  We need your donations.  
https://youthlink.ca/donate/
+ Read More
to our donors,
our kennel is almost complete, please email me if you'd like to join me for a tour of the facilty.

THANK YOU VERY MUCH for your support!

evan.back at youthlink.ca
+ Read More