Save a Cambodian English School
About the School
Sunshine Free English School was founded by Cheak Chuom in 2014 and provides free English classes to kids in Cambodia. The school is located in a small village called Meanchey Village, and is about 40km west of Siem Reap, Cambodia.
After working as a tour guide for many years, Cheak realised that the ability to speak foreign languages, especially English, was 
very
 important to the young generation in Cambodia. As most jobs are in tourism and hospitality, the ability to speak English guarantees kids a brighter future. Thus, Cheak is trying his best to give back to his community through the English school as he wants to see all the children lead better lives. However, he has been struggling.
Kids learning English in the current school building.
The Main Challenge
The Sunshine School used to get funding from a charity organisation. Unfortunately, the charity withdrew their donations due to lack of funds.
This means the school will close down if they don't find financial support.
The most pressing matter is paying the salary for the local teachers. There are only 2 English teachers and their combined salary is $150 USD per month. This involves 3 classes a day, Monday to Friday. Since funding has stopped, Cheak is struggling to pay them out of his own pocket. There are
125 children
depending on the school and without the teachers, there will be no school.
Learning English is very valuble. Students will come at night for the opportunity to learn.
Other Challenges
The current school building has a number of issues. Firstly, the school tends to flood when it rains during monsoon season. This creates hazards when students need to use electricity.
When the school floods, the children sit on their desks.
Secondly, given the increasing number of students, it has become difficult to accommodate them all in the small school. Because of this, Cheak is trying to build a better school but lacks the funds to do so.
Sometimes tourists ask Cheak to take them to his village so they can help the kids with English.
Cheak was also given a donation of 5 laptops.  Exposing the children to such technology is important for their futures as nowadays, many jobs are digitised.
About the Costs
Here is the breakdown of the costs (in USD) needed to help Cheak with the English school:
- Teacher salaries: $150/month for a year = $1800
- Land preparation costs for new school: $700
- School building costs: ~$1800
So in total: $4300 USD (which is $5500 AUD)
The goal is to provided Sunshine School with at least 1 years' worth of teacher salaries and the needed building costs.
Even if we could cover the teacher salaries, this would ensure the school does not close down.
Even the kids are helping to build their new school!
A Message from Sunshine English School for Kids
Please help us keep this school from closing down and give the children a better future. If you would like to support and be a part of this project, feel free to contact us at anytime on our Facebook page:
sunshineenglishschoolforkids
Orkun is "thank you" in the Cambodian language. We from Sushine Free English School For Kids would like to say ORKUN to everyone in advance.
About Cheak (The Founder)
Cheak was born into a poor farming family with 4 other siblings in the remote countryside. He is the eldest brother in the family and was the only one who graduated from university. He was able to finish school because of the strong support his aunt gave him after his mom passed away when he was 16. He left his siblings, father, and hometown to move and study in Siem Reap city. Luckily, he graduated university in English Teaching and got a chance to work in the tourism industry as a local tour guide. Last year, he was recruited to be a tour leader for G Adventures and lead various tours through Thailand, Cambodia, Vietnam and Laos. Since then, he has been financially supporting his 4 siblings, his father and his own family while also supporting the school.
This is the school founder - Cheak Chuom.
To build the school, Cheak was first given land from his father-in-law. The land was filled with banana trees and was very muddy. With the help of the whole village, including the children, they cut down the banana trees, dug up the ground to place pipes for water drainage, and helped lay bricks. The school was a community effort and now, they are all working together to build a new and better school.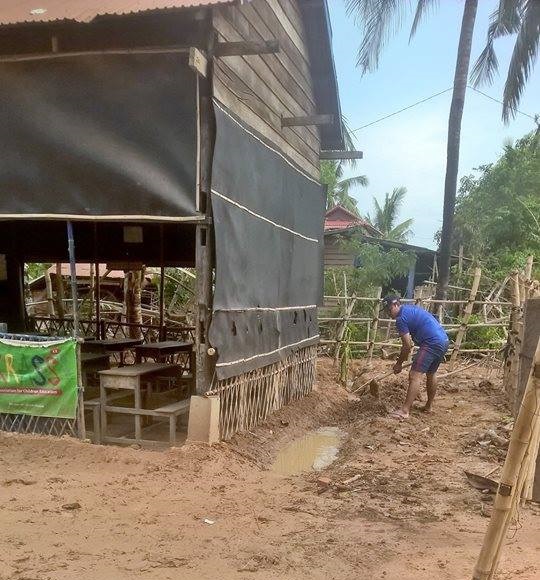 Cheak building the current school and digging a trench to keep the school from flooding.
About Me (Steph)
In case you're all wondering about my involvement with this project, I became friends with Cheak while I was travelling in Cambodia. I was really inspired by all the kindness and hard work Cheak had been going through to do so much for the people around him. So, I've been helping him raise money. GoFundMe doesn't work in Cambodia so I'm helping him set this page up on his behalf in Australia. This is a beautiful cause and I would hate for it to crumble because of a lack of funds. I hope some of you feel the same way too.
Feel free to contact me if you have any questions!
Cheak and I in Cambodia.

Organizer
Stephanie Wong
Organizer
Keysborough VIC