This is our friend and brother Ricardo Armas and his Prject Genesis dream - would you help us.


"Where's Guatemala?" I asked Kevin when he told me he agreed to a trip when one of our friends/coffee shop regulars invited him that day.  He really had no exact idea either honestly.  We're not dumb but we only really knew it was down by Mexico, somewhere.  So here was our plan once we started to "Google" it a bit and learn more about the place.  Tour some coffee plantations, drink some great coffee, see some volcanoes, and just have an adventure.  All that did happen, but so did so much more.

As God has a way of doing with us, He divinely arranged throughout the week a introduction to Ricardo Armas and his Genesis Project.   After meeting Ricardo and seeing the school on the last day of our trip, we knew that was the real reason for our trip to Guatemala.

Ricardo is a man who has given his whole life and his life's purpose to 115 children.  Children that need him and his program desperately.  Every day for over 5 years now, this man "shows up" for these kids, giving everything he has.  Somethimes he's had to "show up" by riding a bicycle in the rain for over 20 miles each way with large portions of the road being just mud.  Sometimes he's had to "show up" by riding a moped motorcycle with a volunteer and a bunch of supplies on the back.  Several times each week he has to "show up" by washing cars all week in his "free time" in Guatemala City for $4.50 per car, so he can afford gas to get there and pick up the kids in his truck (every day at least 30 kids pile in to his pick-up truck for the last few mile ride to the school)
and pay for the small meal the kids will be fed for the week.  Many days the meals are a corn mush, most days rice, beans, and if they're lucky, a bread, vegetable or tortilla may have been donated to be added.

 There's one teacher at the school to teach all 115 kids and English is not one of the subjects.  At the moment, it's only sporadically learned whenever English speaking volunteers are there for a couple of
days. We know all of this not from reading about the organization ont heir website but we were blessed to be able to go back to Guatemala in December, 2017 to spend a month with Ricardo and the Genesis Project.  After our first meeting with Ricardo, we simply knew in our hearts that we needed to
go back and be "hands-on" to really get to know Ricardo and understand him, the organization and what we can do to help.

Ricardo has done a amazing job for over 5 years now doing unbelievable things with very little assistance.  God has brought people to him at crucial points when they're truly needed and we believe we're part of that and Ricardo/the Genesis Project truly needs help right now.  It's grown to a point to more than Ricardo can finance and do all on his own every day, so we will be returning to Guatemala for oneyear beginning in
February, 2018 to assist him and the school.  During this time, our goals are to teach the children English daily as that is the only way they will be able to have any hope for a better opportunity and to enhance their meal program. 

It's critical that these children receive more nutrients than what the school is currently able to provide.
 For many kids, this is the most nutritional meal they will receive that day.  At home the typical meals consist of beans, rice and tortillas with a little bit of coffee, for every meal, if they do get a meal at home. In order to be able to learn and grow (many of the children are half the size of "normal" children their ages), the meals need so much help.

Ricardo Armas our leader

Kindergarden kids 

Jefferson

Picho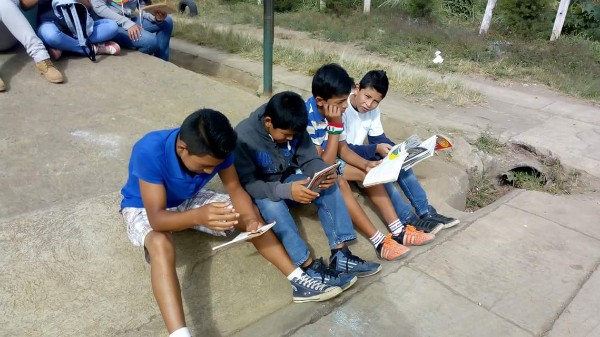 The kids are taught pride in their school and grounds

By far one of the most amazing days of my life!

Kids are always kids no matter where they are.


I want to take Rosalinda home with me.

Our Genesis Team!