38
2
FL Clinical Trial Travel Costs
$4,175
of $5,000 goal
Raised by
40
people in 3 months
UPDATE (5/13/2019)
Josh and I arrived to Florida on May 8th for my first appointment at the Moffitt Cancer Center the following day. We met with the doctor, nurse, research investigator, and social worker who explained in more detail the clinical trial drug and expectations for me as a patient.  All of them were truly amazing, answered all of our questions, and were patient and kind with us. I felt very comfortable with them, which is a good sign! However, it was a bit rough at first hearing that they need me to be down in Florida once a week for the next two months to do bloodwork and check ups. That is
a lot
of travel! It definitely was discouraging to hear, but after discussing and praying about it, Josh and I still want to go for this trial. The hope is to get me started on May 14th with the new drug, and to try to get all of my appointments as close together as possible in order to accommodate Josh and I. We are now extending our time in Florida for another 10 days in order to be here for all of the appointments that I will be daily having during my first week on the new medication. 
With this news of staying longer and having more travel time, Josh and I are in need of more financial assistance. The wonderful social workers at both Nationwide Children's Hospital and the Moffitt Cancer Center have given me various scholarship funds to apply to. These scholarships are  designated to help patients cover costs for travel, lodging and such. Josh and I hope that we get some funding through these scholarships. This is also the reason why we are opening up the GoFundMe campaign again since we are in need of financial assistance. If you are able to do so, that would help us out so much! Even simply sharing and passing along our story is support in itself.   
Thank you always for your support in prayer, word and deed! I wouldn't be typing this update from Florida if it weren't for our generous family and friends and our even more generous heavenly Father. 
Much love,
Jenna and Josh 
------------------------------------------------------------------------------------------------------
I have the amazing opportunity to take part in a clinical trial in Tampa, FL at the
Moffitt Cancer Center
, which is ranked the 9th cancer hospital in the country. The
clinical trial
  is specifically for relapsed Ewing's Sarcoma patients.This is very exciting news! I have never had the opportunity to be part of trial that is specifically for relapsed Ewing's Sarcoma patients, so this could be huge. We have our first initial appointment on Thursday, May 9th, and for sure know we have to be there at the hospital all day Thursday and possibly Friday.
My husband Josh and I are currently investigating ways to get financial support through Nationwide Children's Hospital, the Moffitt Cancer Center, as well as other scholarship and funding. In the mean time, if you would like to donate to our trip and travel costs, we would be beyond grateful! We also would like to stay in Florida for a few days post-hospital appointment in order to vacation for a bit, since we haven't been on a vacation together since our honeymoon over a year ago.
Thanks so much for reading our story, praying and supporting us in so many ways. We are truly grateful for our families and friends who are so generous in word and deed to us.  
As always, if you want more updates on my cancer journey and faith, please check out and subscribe to my blog at
www.jennabarnettsearcy.com
Love,
Jenna and Josh Searcy
+ Read More
Update 1
2 months ago
Share
UPDATE (5/13/2019)
Josh and I arrived to Florida on May 8th for my first appointment at the Moffitt Cancer Center the following day. We met with the doctor, nurse, research investigator, and social worker who explained in more detail the clinical trial drug and expectations for me as a patient.  All of them were truly amazing, answered all of our questions, and were patient and kind with us. I felt very comfortable with them, which is a good sign! However, it was a bit rough at first hearing that they need me to be down in Florida once a week for the next two months to do bloodwork and check ups. That is a lot of travel! It definitely was discouraging to hear, but after discussing and praying about it, Josh and I still want to go for this trial. The hope is to get me started on May 14th with the new drug, and to try to get all of my appointments as close together as possible in order to accommodate Josh and I. We are now extending our time in Florida for another 10 days in order to be here for all of the appointments that I will be daily having during my first week on the new medication. 

With this news of staying longer and having more travel time, Josh and I are in need of more financial assistance. The wonderful social workers at both Nationwide Children's Hospital and the Moffitt Cancer Center have given me various scholarship funds to apply to. These scholarships are  designated to help patients cover costs for travel, lodging and such. Josh and I hope that we get some funding through these scholarships. This is also the reason why we are opening up the GoFundMe campaign again since we are in need of financial assistance. If you are able to do so, that would help us out so much! Even simply sharing and passing along our story is support in itself.   

Thank you always for your support in prayer, word and deed! I wouldn't be typing this update from Florida if it weren't for our generous family and friends and our even more generous heavenly Father. 

Much love,
Jenna and Josh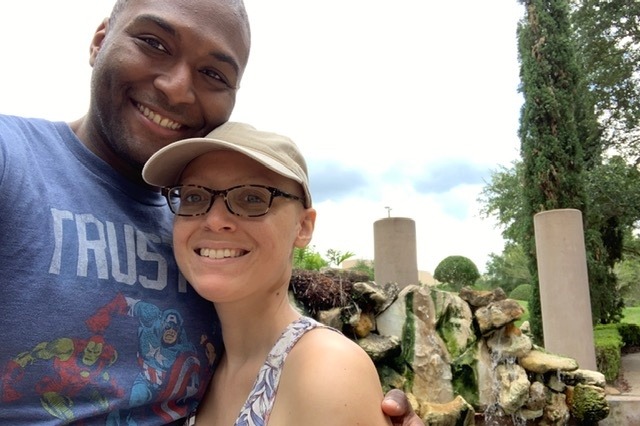 + Read More