Finishing Vrážné Zen Center's New Kitchen
Update 22 November 2023
Here is an update on our progress. The kitchen cabinets are installed, up next installation of the countertops.
Our kitchen still needs new appliances, so your support is still very welcome.
---------------------------------------------------------------------------------
Update 7 November 2023
It's now November and we are happy to say that we have paid for the cabinets and countertops and the installation. Thank you to all who contributed so far.
However, our new kitchen still needs new appliances. We are hoping to raise money this month so that we can take advantage of any pre-holiday sales and get the new sinks and the new induction cooktop and convection oven installed before the new year.
€ 1 100 — Sinks (2) and Faucet Sets
€ 3 670 — Induction Cooktop
€ 2 290 — Convection Oven
It would also be nice to have the dishwasher and some extra money for furnishing the communal area above the kitchen, but, for now, a functional kitchen is all we need to be ready for Kyol Che!
Thank you for your support so far!
---------------------------------------------------------------------------------
4 September 2023
This fundraiser has been initiated by the Kwan Um School of Zen of Europe for the benefit of Vrážné Zen Center, Seon Mun Sa, located in the Moravian region of the Czech Republic.
Over the next 90 days, our goal is to raise € 20 000 which will allow Vrazne to fully equip, furnish and complete their new kitchen addition by the end of December 2023.
The exterior of the kitchen addition is completed, but it still needs to be completed and appliances must be purchased and installed before Vrážné welcomes the guests who will arrive for the annual Kyol Che retreat beginning in January 2024.
Abbot Jiří (George) Hazlbauer, JDPSN has sent us the list of what is needed—
€ 3 670 — Balance due on Kitchen Cabinets
€ 4 000 — Counter Tops (granite)
€ 1 100 — Sinks (2) and Faucet Sets
€ 3 670 — Induction Cooktop
€ 1 470 — Dishwasher
€ 2 290 — Convection Oven
€ 3 800 - Finishing Communal Area
€ 20 000 — Total Campaign Goal
Any funds in excess of € 20 000 are also welcome as more renovations need to happen.
Seon Mun Sa, Vrážné Zen Center, is the head temple of the Kwan Um School of Zen in the Czech Republic, and it is currently the only residential center there. Since its founding over a decade ago, renovations have been ongoing. (See the pictures below!)
The reason Vrážné has asked the European Office for financial help now is that they have outside vendors that need to be paid for cabinets, countertops, and appliances, and the facility needs to be completed before Kyol Che Retreat 2024 begins.
Will you please donate to help Seon Mun Sa complete its new kitchen addition before Kyol Che begins? Any contribution you can make will be greatly appreciated.
The Kwan Um School of Zen Europe thanks you all in advance for whatever financial support you can offer to Vrážné to help it continue its mission to save all beings.
We also thank Vrážné for the leadership and dedication shown to continuing our School's mission, and for inspiring dedication and support for that mission in so many practitioners and volunteers over the years.
Yours in the Dharma,
Veronique Struis,
Director Kwan Um School of Zen Europe
A note from Seon Mun Sa—
We at Seon Mun Sa thank the Kwan Um School of Zen Europe for supporting us by initiating this fundraising effort on our behalf.
Since our beginning in the little town of Vrážné in the Czech Republic, we have been very fortunate to have attracted the support of a volunteer community dedicated to transforming the old farm we bought into the thriving Zen Center it is today.
Today, thanks to all of you, Seon Mun Sa can offer Zen meditation training through meditation instruction, daily morning and evening meditation practice, public lectures, teaching talks, retreats, workshops, and community life. Our programs are open to anyone regardless of previous experience.
We would like to thank all the wonderful people who have supported us over the years. Thank you all! It is because of your hard work, physical and spiritual, that we have been able to convert an old farm into a thriving Zen Center. And while there is still much to be done, we are confident that, in time, it will all get done because of you.
At this time, any donation you can give us to help us finish the new kitchen will be very welcome. In return, we offer you our warmest thanks and our gratitude— and an invitation to come visit with us! Seon Mun Sa is a beautiful place, and we look forward to welcoming you as our guests.
On behalf of Seon Mun Sa, thank you for your support!
Jiří (George) Hazlbauer, JDPSN
Abbot, Seon Mun Sa
A Short History of Seon Mun Sa (Vrážné Zen Center)—
After the purchase of the land and the farm, several
years of gradual improvement began...
Among other things, it included the renovation of two rooms in the Dharma Hall, the renovation of the kitchen and office, the addition of a room for visiting teachers, the renovation of the living part of the adjacent house to accommodate visitors, the complete renovation of the roof and the completion of a floor with all the facilities for residents and guests.
In addition, we built a yurt, cultivated the forest into a garden, and even participated in many projects of the village of Vrážné itself — planting trees, cleaning the forest after logging, etc.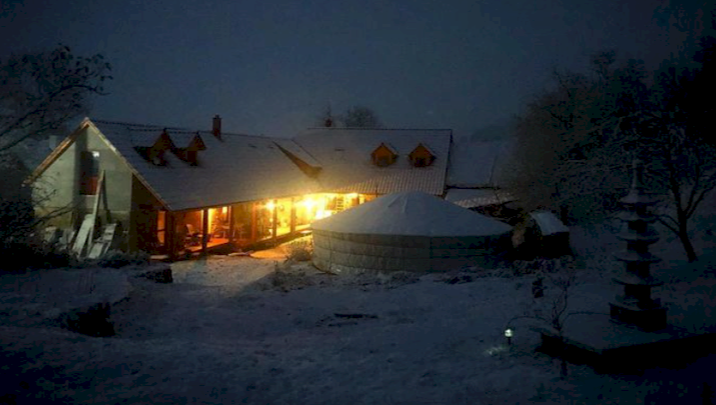 The New Addition
In 2022 we added another part to the main house:
a spacious kitchen and a large common room upstairs.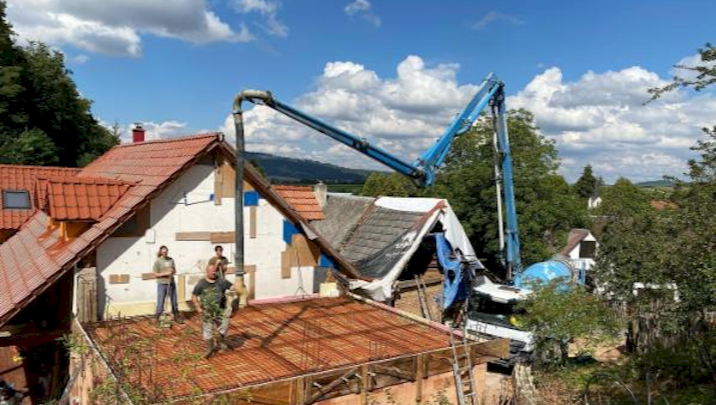 In 2023 we began finishing the addition
September 2023
Here is a comparison between Vrážné's old kitchen and the new kitchen—
About making kimchi in the old kitchen—
As one of our teachers who lived through the Old Vrážné Kitchen Experience put it,
"Those who regularly cook in the kitchen during retreats and big events can tell you how they had to coordinate their breathing rhythms so that they could share a tight space when working together... Together action is necessary, but it does require 'elbow room.'"
And now Seon Mun Sa has "elbow room!"
Aren't the new cabinets beautiful !?
We can't wait until the kitchen is done!
Thank you! Please come visit— sit with us!
Web Sites
Please be assured that:
All donations received will be forwarded to the Vrazne Zen Center
by the Kwan Um School of Zen Europe.
Should you have any questions about this fundraiser, please email