Sedna Epic Expedition to Norway--Emily Paris
(Cover Photo courtesy of expedition partner Waterproof Cruises & Expeditions and copyright of Jens Wikström - Wildlife Photography.)


Hello Everyone, and welcome to my Go Fund Me campaign for the 2019 Sedna Epic Expedition to Norway!
I am a rising senior at UC San Diego studying biochemistry, cell biology, and marine science. I work three jobs as a dance instructor, campus ambassador and tour guide, and STEM instructor for middle and high school students through Sally Ride Science. I also conduct research on marine bacteria at the Moore Lab at the Scripps Institution of Oceanography. After graduation, I hope to enroll in a PhD program for biological oceanography where I will study the effects on climate change on our oceans and the organisms in them.
This year, I will be embarking on a women's leadership and research expedition to Norway with the Sedna Epic Expedition from November 22 - December 2.
We will be working to connect with Sami women and collect scientific data while snorkeling the in the water with herring run to document orca and humpback whales feeding. I am honored to be one of the youngest members of this predominately female expedition, which is on a 100% volunteer basis. Because I am volunteering on the trip, I need your help to go!
(The fjords of northern Norway are characterized by steep-sided cliffs that continue into deep waters. Photo by Birgitta Evchen Mueck and courtesy ofWaterproof Cruises & Expeditions — in Tromsø, Norway.)
First, some background on the Sedna Epic Expedition:
Since 2014, Sedna's ocean knowledge sharing and mobilization program—delivered via mobile aquariums which temporarily house sea critters, underwater-robot building workshops and snorkel safaris—has brought the ocean to eye level for more than 1,000 Inuit youths, girls and Elders in remote communities in Labrador, Nunavut and Greenland. During the summers of 2014, 2016 and 2018, Team Sedna mounted three all-female snorkeling and scuba diving expeditions to the Arctic. Building on Sedna's experiential ocean program and in collaboration with Inuit advisers and Elders, the sea women designed and delivered an ocean mentorship program for largely non-swimming Inuit girls and young women (ages 16 to 24 years), introducing them to potential careers in the ocean and assisting them in obtaining scuba diving certifications.
(The Sedna Epic Expedition's founder and leaderSusan R. Eaton navigates pack ice, offshore northern Labrador, wearing a Suunto Diving watch aLadies First Arctic-rated SANTI Diving dry suit and using a Dive-Xtras Cuda 400 Diver Propulsion Vehicle (aka "scooter")during Sedna's proof-of-concept expedition to Newfoundland, Labrador, Greenland and Iceland in July 2014. Photo copyright sednaepic.com - Jill Heinerth)
The goals of the 2019 Norway expedition are to:1.
Build long-lasting relationships with Sami women and girls of Norway
2.
Participate in a 2.5-day Women's Leadership & Team Building Program that will bring Sedna women together from around the globe to  learn about Norway's geography, history, and the culture and traditions of Norway's indigenous peoples
3.
Discuss how to best address climate change in the Arctic when we return to our own communities.
4.
Conduct field research and document the environment in waters where orca and humpback whales gather to feed on herring.
Since I am a college student supporting myself through work and scholarships to pay rent, utilities, groceries, gas, and other miscellaneous living expenses, I am unable to pay for the entire expedition on my own.
(WOMEN WANTED: This incredible image is courtesy of Waterproof Cruises & Expeditions and photographer and explorer Göran Ehlmé ofWaterproof International. The small silver speckles in the water are herring fish scales!)
The total cost of the expedition for me alone is about $9,000.
I am working to pay 23%, or $2,000, of the total cost in addition to any expenses regarding gear or training that I need. The cost of the expedition includes 6 training dives and 2 certifications that I will be earning with the other Sedna women on July 18-22 in celebration of PADI Women's Dive Day and in preparation for snorkeling in the freezing Norway waters. The Seattle training includes my Diver Propulsion Vehicle, Dry Suit, and Divers Against Debris Certifications. I will also be purchasing a dry suit that I will use while snorkeling in Norway and using on subsequent expeditions. 
Below is the cost break-down:
- $4,695 for the expedition aboard the MV Freya
- $1,200 for the flight from San Diego to Tromso, Norway
- $650 for hotel before boat expedition
- $150 for food before boat expedition
- $1,100 for PADI Women's Dive Day Training Trip
- $400 for Miscellaneous and other cold-weather gear
Total: ~$9,000 - $2,000 of self-earned money = $7,000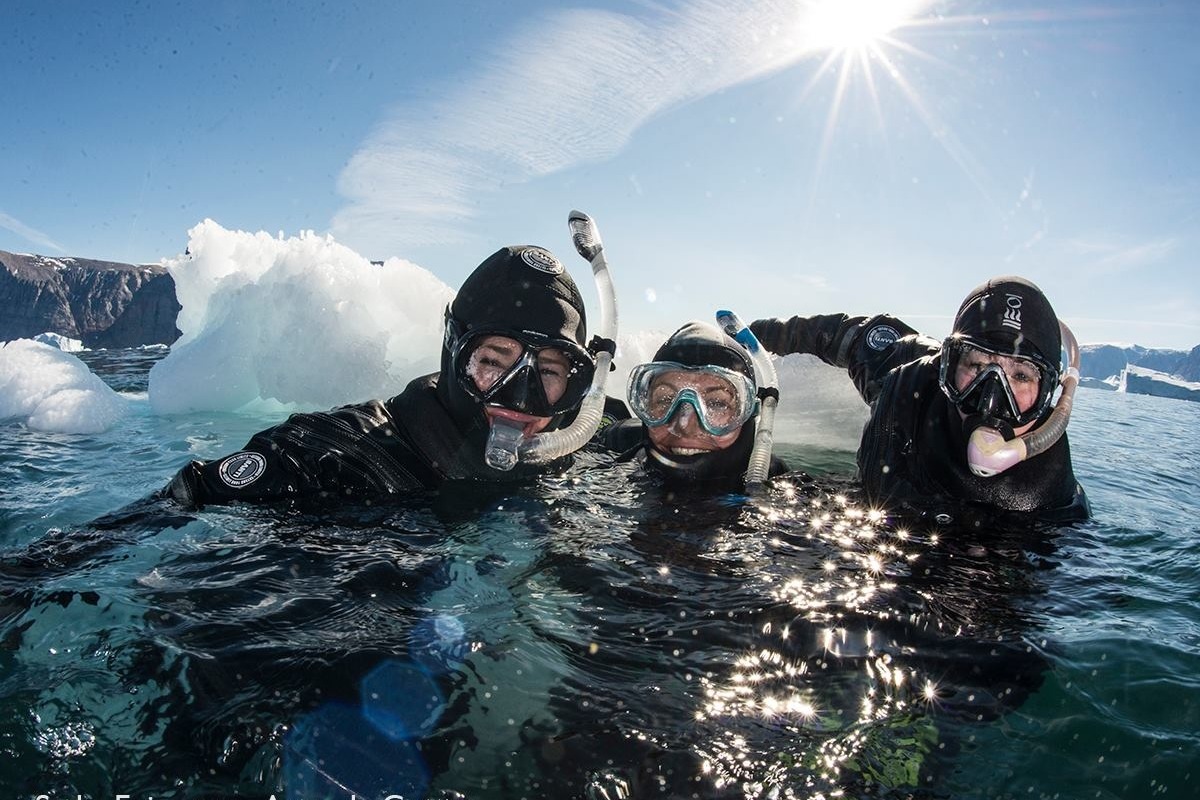 (Pictured here, offshore Uummannaq, Greenland, are three of Sedna's Canadian Team Sedna members (L-R): Urszula Tokarska, the first Canadian woman to climb the highest mountain on every continent; Sedna co-leader and educator Mary Ellen Gucciardi; and Sedna's ombudswoman, geologist and sea floor mapper Kitrina Godding. We're sending healing thoughts to Sedna's wonderfully talented photographer Amanda Cottonas she recovers from surgery. SANTI Diving Halcyon Dive Systems Adventure Canada PADI Scuba 2000 Aquarius Scuba Dive Brockville Adventure Centre & Abucs Scuba Charters First Air, Fly the Arctic Fantasea Line Great Lakes Divers Marine Institute) 
By supporting my participation in this expedition, you will enable our team to snorkel in the fjords and capture video and acoustics of feeding orca and humpback whales. This media will be used in educational opportunities and workshops for youth around the globe, and in another Sedna woman's documentary on human-caused stressors in the ocean entitled
Spiral Pacific
. The whale song bioacoustic sounds collected may also be used to produce unique music! 
We also plan on collecting data regarding water temperature, salinity, pH, and dissolved oxygen while in the water, and hope to collect this data consecutively for three years to asses any pattern changes in the whales' environments.
Other Sedna women
are planning projects in collaboration with Norwegian students tracking the whales in the fjords based on their tail and fin markings. As a team, we will be helping them identify the whales from a new angle--underwater! We will be able to identify them by their saddle patches as we observe their underwater feeding behavior.
(This amazing photo is courtesy of expedition partner Waterproof Cruises & Expeditions and copyright of Jens Wikström - Wildlife Photography.)
This expedition is extremely important to me for several reasons.
Not only will it allow me to gain field research experience I can use in my graduate studies and career, but it will also allow me to connect with many highly accomplished women from around the world. The 2019 expedition includes 14 total team members, some of who are also journalists, scientists, university professors, science communicators, doctors, artists, and more!
Lastly, I am very passionate about the representation of women in science, especially in the field.
It is extremely important for young women and girls to picture themselves participating in things men are traditionally known to do (such as conducting research in the icy and dangerous Arctic environment). When I entered college, I didn't know many people in my prospective field yet. I felt the gender discrepancy present in science and did not picture myself even having the ability to go to graduate school. Hearing about Sedna for the first time last July opened so many doors for me, and it inspired me to know that there are groups of females doing science, building relationships, and working on ships together! Please consider supporting my personal development, but also know that by supporting me and the other women of this expedition, you are supporting women in STEAM (science, technology, engineering, art, and mathematics) as a whole!
Thank you for taking the time to read about the 2019 Sedna expedition as I prepare to snorkel through the 40 degree Fahrenheit (5 degree Celsius) Norwegian fjords in the name of science, education, and women's empowerment!
(Photo by Karin Brussaard and courtesy ofWaterproof Cruises & Expeditions)
Any donation will bring me closer to my fundraising goal and closer to enabling our group to provide unique educational opportunities to the San Diego community when we return.
For a donation of $60 or more, 
I will send you a handmade Sami viking-inspired bracelet, assembled by yours truly!
I appreciate your generosity so greatly!
For more information, please check out the Sedna
Website
Follow the Sedna Epic on
Facebook
Twitter: @SednaEpic
Instagram: @SednaEpic
Check out Emily's
personal science blog
Please subscribe to my Go Fund Me campaign for
updates on San Diego snorkel and dive fundraisers I will be organizing with Sedna women from San Diego this summer!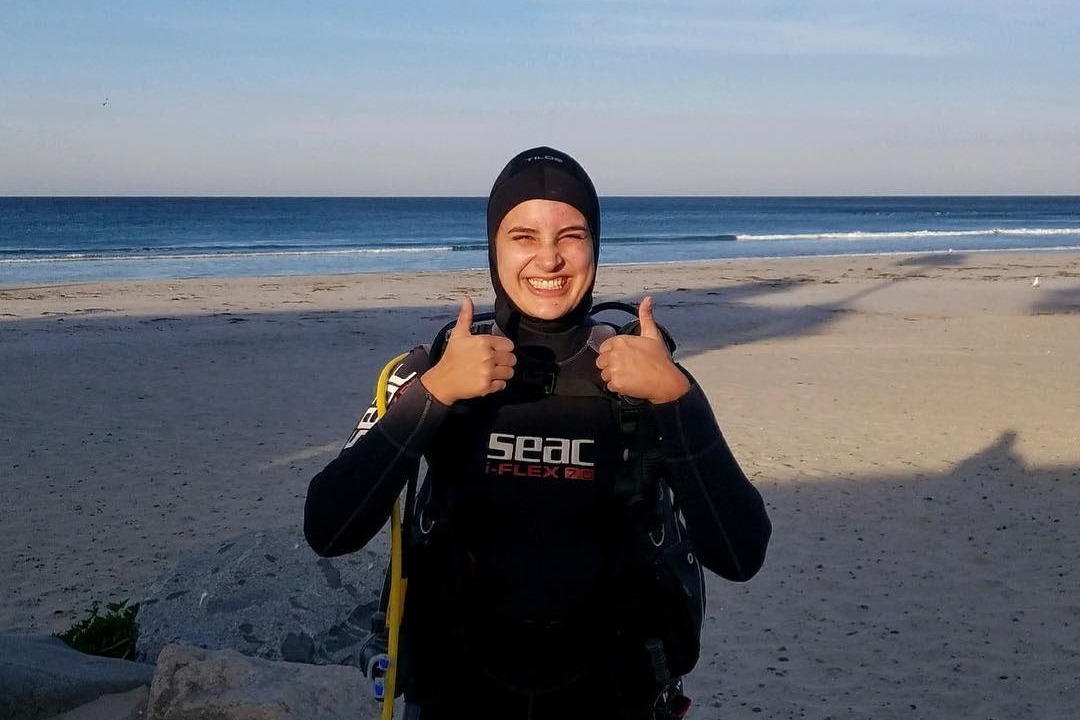 Organizer