Elaine's Type 1 Diabetes Treatment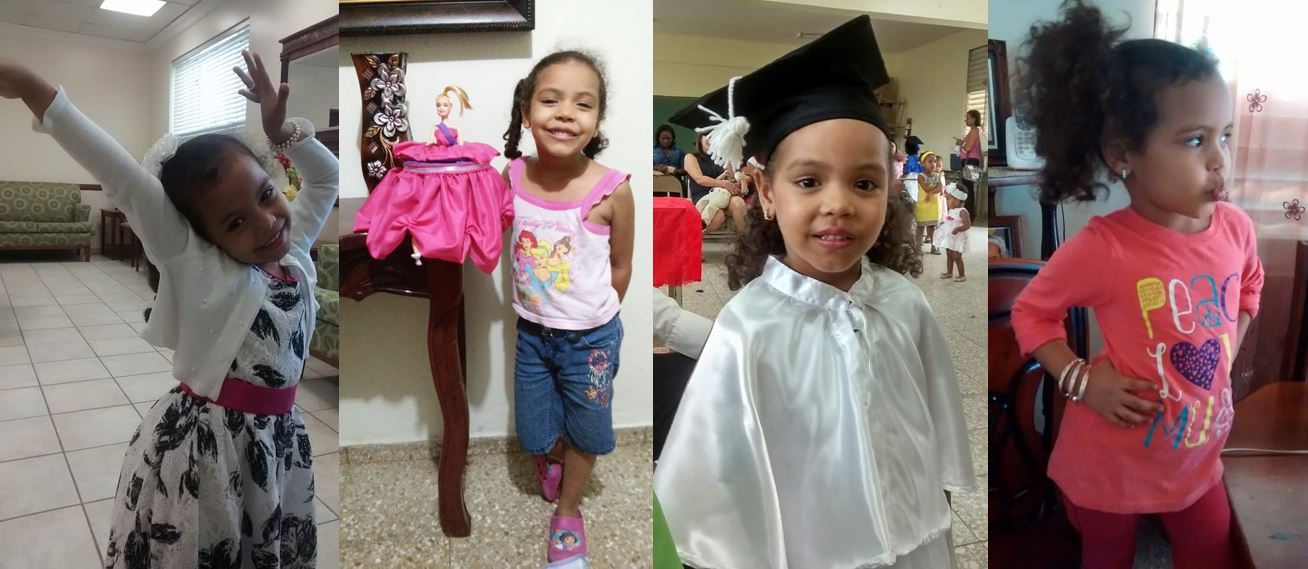 Meet Elaine, six years old. She likes beauty and princess items. She lives in the Dominican Republic. When Elaine was 18 months old, she was diagnosed with type 1 diabetes. The causes of type 1 diabetes are unclear, and there are no cures – only treatments. She needs your help.
(El mensaje en español está abajo.)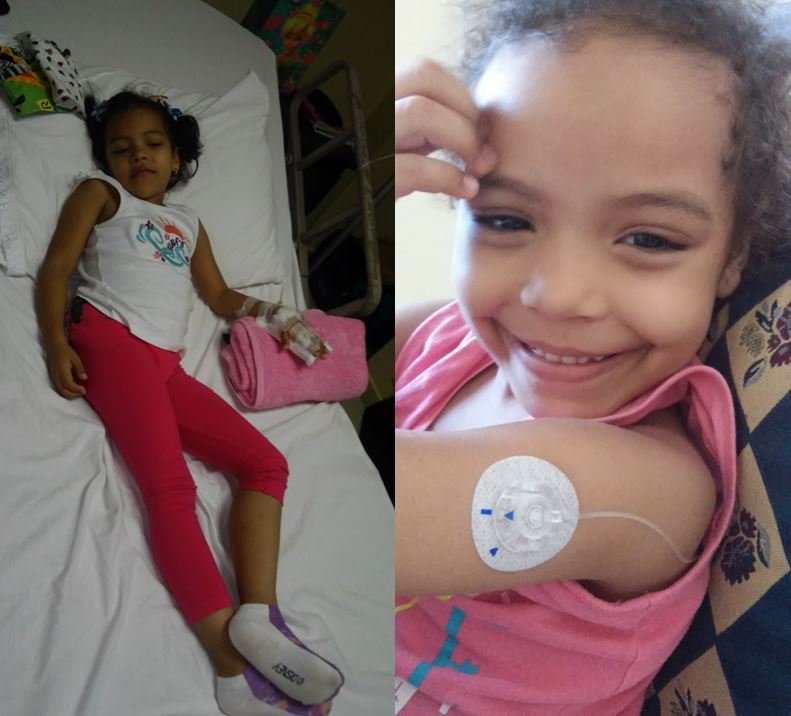 Elaine's dad is Ariel Peralta. He and I met nearly 10 years ago in the Dominican Republic while on volunteer missions for our church. We worked directly together for three months – every day, all day. In that time, I came to admire his sense of humor, strong work ethic, and general love of people.
Although we came from different backgrounds, countries, cultures, and languages, he and I became fast friends. He's among the best men – and most humble – I've ever known. He grew up without much, but he was happy and grateful for what he had, and he never judged me for the opportunities I had as an American that he had never enjoyed. I once had to force him to take a phone card valued at less than five dollars so he could talk to his family on Christmas. Less than five dollars!
Through the years, I was thrilled to see photos of him getting married and having a precious daughter. I knew he would make a great husband and father.
Being a young father is not easy. (I should know; I am one myself!) It's even harder in a third world country where the same opportunities are not available. That's why it broke my heart when I found out that Elaine – his only child – suffers from type 1 diabetes. While I have no doubts as to her father's diligence in earning an income and his frugality in managing it, he is not a man of means. Medical bills are coming due – $5,000 worth – and he simply cannot pay them.
It seems the universe has once more dealt an unjust blow of inequality. I am not a man of means myself by first-world standards. I'm struggling to make a happy environment for my family, and we often have to do without. But when I reflect on my house, my vehicles, my job, and my education, I am ashamed by how much I have compared to those in the Dominican Republic, including my friend.
Ten years ago, our common belief in God brought us together. I still believe in a God who loves all of His children. Perhaps he crossed our paths long ago so that this day could come to pass. I don't have much, but I can spare some for my friend's daughter, Elaine.
Whether or not you believe in God, please consider what you might be able to do to enhance a little girl's life and help ease a young father's struggle to provide a happy life for his family.
There are many worthwhile causes that constantly attract our attention and request for our donations. This is only one of them, one which I respectfully hope you'll think over.
If you have the means, please consider donating to help Elaine. But even if things are tight like they are for me and so many others, please examine areas where you might be able to give, even if it's only $5. Perhaps you can forego a drink or a bag of chips the next time you stop at the gas station. It would only be a small inconvenience for you, but it could make a big difference for this little girl if we all came together.
Elaine's medical bill is due Thursday, July 14. Unfortunately, GoFundMe does not support Dominican banks yet. Therefore, I will withdraw the funds and send them to him on Wednesday to make sure they are available in time. However, if you are not able to help at this time, consider coming back when you can, and I will send it after the fact. Even if now is not the time that you can donate, please share this campaign with those you know. Spreading the word will help immensely, and I would be humbly grateful if you would assist me in this way.
I have set the GoFundMe goal at $5,800 to account for additional fees that are incurred through use of the service as well as money transfer fees to send the donations to the Dominican Republic. If you'd like and are able, you can also donate directly to me to help save on fees, and I can update the GoFundMe amount using the "offline donations" feature. (If you are located in the Dominican Republic, I encourage you to donate directly to Ariel to save on exchange rate fees.)
This is a message from Elaine:
"Gracias a todos porque sin conocerme me ayudan y hacen de mi vida más feliz y alegre."
"Thanks to everyone who without knowing me still helps me and makes my life happier and more cheerful."
--------------------------
Conoce a Elaine, una chica de seis años. Le gustan artículos de belleza y princesas. Vice end la República Dominicana. Cuando tuvo 18 meses, se diagnosticó con diabetes mellitus tipo 1. Las causas de diabetes mellitus tipo 1 no son claras, y no hay curas – solo tratamientos. Ella necesita tu ayuda.
El padre de Elaine es Ariel Peralta. Él y yo conocimos casi hace 10 años en la República Dominicana mientras que servimos misiones de voluntad para nuestra iglesia. Trabajábamos directamente juntos por tres meses – cada día, todo el día. En ese tiempo, llegué a admirar su sentido del humor, fuerte ética de trabajo, y amor general de la gente.
Aunque vinimos de antecedentes, países, culturas, y idiomas diferentes, él y yo llegamos a ser amigos rapidamente. Él es uno de los mejores hombres – y más humildes – que he conocido. Creció sin tanto, per estaba feliz y agradacido por lo que tenía, y nunca me juzgó por las oportunidades que yo teníá como norteamericano que él nunca habia disfrutado. Una vez, tuve que obligarle a aceptar una tarjeta de teléfono que valía menos de cinco dólares para que pudiera hablar con su familia en la navidad. ¡Menos de cinco dólares!
A través de los años, me alegré ver fotos de él casandose y luego teniendo una hija preciosa. Yo sabía que él sería un gran esposo y padre.
Ser un padre joven no es fácil. (Debo saber; soy uno yo!) Es aún más difícil en un país del tercer mundo donde las mismas oportunidades no están disponibles. Pero eso, me rompió el corazón averiguar que Elaine – su única hija – sufre de diabetes mellitus tipo 1. Mientras que no tengo dudas que su padre es diligente en ganar ingresos y es frugal en administrarlos, no es un hombre de mucho dinero. Los pagos medicos se deben pronto – valen $5,000 USD – y él sencillamente no puede pagarlos.
Parece que el úniverso una vez más ha dado un golpe injusto de desigualdad. No soy yo hombre de mucho dinero según los estándares del primer mundo. Me esfuerzo hacer un ambiente feliz para mi familia, y a menudo tenemos que adelantarnos sin las cosas que nos gustarían. Pero cuando reflexiono en me casa, mis vehículos, mi trabajo, y mi educación, tengo verguenza que tengo tanto comparado a los de la República Dominica, incluso mi amigo.
Hace 10 años, nuestra creencia común en Diós nos llevó juntos. Todavía creo en un Diós que ama a todos sus hijos. Tal vez Él nos llevo juntos para que este día pudiera acontecer. No tengo mucho, pero puedo dar un poco para Elaine, la hija de mi amigo.
Si crees en Diós o no, por favor considera que podrías hacer para mejorar la vida de una niña y ayudar aliviar la lucha de un padre joven para proveer una vida feliz para su familia.
Hay muchas causas que valen la pena y que constantamente nos atraen la atención y piden nuestras donaciones. Ésta es solo una de ellas, una que con mucho respecto espero que consideres.
Si tienes la habilidad, por favor considera donar para ayudar a Elaine. Pero aún si las cosas están apretadas como están para mí y a tantos otros, por favor examina áreas donde tal vez puedas dar, aunque sea $5. Quizás puedas pasarte sin una bebida o una bolsita de papas fritas la próxima vez que vas a la gasolinera. Sería solo una poca inconveniencia para tí, pero podría ser una diferencia grande para este niña si todos ayudamos.
Los pagos medicos de Elaine se deben el jueves, 14 Julio. Lamentablemente, GoFundMe no soportan a los bancos dominicanos todavía. Así que voy yo a retirar los fondos y mandarselos el miércoles para asegurar que están disponibles en tiempo. Sin embargo, so no puedes ayudar ahora, considera volver cuando puedas, y lo mandaré después. Aún si ahora no es el tiempo en que puedes donar, por favor comparte esta compaña a los que conoces. Difundir la palabra ayudara inmensamente, y yo estaría agradecido humildemente si me asistarías en esta manera.
He ponido la meta de GoFundMe a $5,500 USD para considerar los pagos adicionales que se incurren en usar tal servicio tanto como los pagos de transferir las donaciones a la República Dominicana. Si te gustaría y puedes, también puedes donar directamente a mí para evitar tales pagos, y puedo actualizar la cantidad en GoFundMe por usar la habilidad de "donaciones offline (fuera de línea)." (Si estás en la República Dominicana, recomiendo donar directamente a Ariel para evitar los pagos del tipo de cambio.)
Aquí está un mensaje de Elaine:
"Gracias a todos porque sin conocerme me ayudan y hacen de mi vida más feliz y alegre."
(Nota del autor: Perdona mi español. No es mi primer idioma, y ya hace mucho tiempo en que lo practico mucho. He tenido que buscar algunas traducciones por el internet, y no estoy seguro que siempre eran las posibilidades mejoras.)

Organizer
#1 fundraising platform

More people start fundraisers on GoFundMe than on any other platform. Learn more

GoFundMe Guarantee

In the rare case something isn't right, we will work with you to determine if misuse occurred. Learn more

Expert advice

Contact us with your questions and we'll answer, day or night. Learn more