Babies Aspen & Sage Walsh
Robert & Kate Walsh's Story
In September of 2013, following Kate finishing veterinary school and after being together for nearly 15 years together, they decided it was time to start a family. They were immediately successful and so excited to start planning for the amazing journey ahead. Kate, being a veterinarian, immediately joked she felt like she was having a litter and was very pregnant in appearance right away. Despite Kate's teasing, they were very shocked to find out at their 12-week appointment they were pregnant with identical triplets. Unfortunately, none of the embryos had heartbeats at this time and things didn't appear to be progressing as normal. Kate scheduled a follow up ultrasound the following week to check the progress and she and Robert were heart broken to find out that the pregnancy was not able to sustain.. That evening Kate underwent surgery to terminate the pregnancy, as miscarriage at home could be life threatening. They then started a long hard road of healing both mentally and physically. They had so many questions, but no answers. Despite this difficult time, they knew that together we could get through anything.
Still wanting a family, two months later they again found themselves expecting. Kate again teased that she was having a litter and felt like she was pregnant with multiples. They were seen at 9 weeks for an ultrasound and once again shocked to find out that they were pregnant with identical twins, but this time with heartbeats. Kate was seen for several ultrasounds and routine test from 9 weeks through 20 weeks and continued to have good news, including the confirmation they were expecting girls!
Kate & Robert cautiously started sharing the news with family and friends and increasingly felt confident this pregnancy was going to be healthy with each visit, until their 20 week anatomical ultrasound. 20 weeks of gestation is the typical time where a head-to-toe ultrasound is performed to look at all the anatomy of the fetuses. Once again they were confronted with difficult and heart breaking news. One of the girls had a congenital diaphragmatic hernia.
Statistically congenital diaphragmatic hernia occurs in 1 out of every 2,500 births (1,600 cases in the US each year). The cause of CDH is not known. CDH occurs when the diaphragm fails to form or close properly in the first trimester and the hole allows the organs in the abdomen to migrate into the chest. This in turn leaves little space for the lungs to develop. Unfortunately, 50% of babies born with CDH do not survive. 
Like the majority of parents who are delivered the news of a CDH diagnosis, Kate & Robert were told they would most likely lose their baby girl immediately after delivery. As any parents would, they feared the worst and emotionally felt defeated. Luckily, their regular OB strongly encouraged them to start looking for doctors, facilities and research that could potentially help. The more they learned the stronger the desire to beat the diagnosis became. To make the situation even more difficult they still had another healthy baby girl to take into consideration.
Kate's regular OB referred them for confirmation of CDH with a maternal fetal medicine specialist in West Palm, FL. During this visit they found out that the same baby with CDH had an abnormal umbilical cord with only 1 umbilical artery and 1 umbilical vein, called a two-vessel cord. Typically, the umbilical cord should have 2 umbilical arteries and 1 umbilical vein. Because of the two-vessel cord and concurrent CDH there was fear that a genetic abnormality was underlying and that they also needed to have the heart checked for problems as well. Kate underwent a double amniocentesis to collect amniotic fluid for genetic analysis. Luckily the genetic analysis results came back normal. Despite getting some more information, Kate & Robert did not feel like this specialist knew enough about treatment options for CDH so continued to look further for the right place for bothy them and their girls.
Fortunately, one of the best doctors in the nation (arguably) for treatment of congenital diaphragmatic hernia, Dr. Kays, was at the University of Florida Shands in Gainesville. They made contact with Dr. Kays and his team and scheduled a long list of appointments to be seen by both Dr. Kays and Dr. Gregg, who would be Kate's new OB at SHANDs. The complete ultrasounds of both girls were repeated and a cardiac echo was performed on the baby with CDH. The cardiologist found a congenital heart defect as well, called ventral septal defect (VSD). The news on this baby seemed to be getting worse every time they met with a doctor. Kate's appointment with Dr. Kays was the next day and it went well. He their baby with CDH a 70-85% chance for survival. They then formulated a plan of action to deal with the many diagnoses that they had been given. Kate would have to move to Gainesville around 32-34 weeks of gestation to be close enough for delivery of our girls. The continued concern and stress for them as parents was not the plan, but rather the timing of taking the appropriate actions.
Kate & Robert went back home to continue life as usual, but life, as usual, had a different plan once again. At week 26 weeks of gestation Kate's regular OB ordered bed rest due to shortening of Kate's cervix. By the middle of week 27, Dr. Gregg insisted that we come again to Shands for a workup. The conclusion was that it would be best if Kate continue bed rest but relocate the Gainesville sooner than later. Kate & Robert rented an apartment and were settled in for the long haul.
THE BIG DAY!! On the evening of week 28, Kate & Robert went in to see Dr. Gregg due to some more signs of pre-term labor and ended up staying to be monitored and for Kate to receive magnesium to slow down the progression of labor. At about 3pm the monitoring became trying to keep the girls in the womb as long as possible. At 6 pm Kate's water broke and meds were administered to once again try to keep the girls from coming. At 9 pm the pain from having contractions all night got to be too much and an epidural was necessary to keep the pain at bay and to continue to try to buy time. Then came the call at 3:45am of the day that marked the 28th week of pregnancy; the girls were coming NOW. At 3:52am their CDH baby, Sage Arnica was born, quickly followed by Aspen Lily at 4:02am. The future for both sweet baby girls will come with a hard and a long road in NICU.
Sage is not only fighting for her life with CDH and a heart defect, but also as a preemie. She will require surgical repair of the CDH in the days ahead and will continue to require a ventilator to breath for quiet some time. It is highly likely she will need a second surgery to fix several heart defects. Full term CDH babies typically require several months of NICU time and a long list of monitoring and treatments for secondary conditions and complications to CDH. Sage will most likely need longer in NICU due to being preemie as well.
Aspen, who is "healthy," will also continue to fight on a ventilator and with typical complications of being born so premature. Her NICU time may be shorter than Sage's, but the road will be equally tough for her.
Currently Robert & Kate are maintaining two separate homes on only 1 partial income. They maintain their home in Fort Pierce, FL as well the apartment they had to acquire last minute in Gainsville, FL to remain close to the girls. Neither Kate nor Robert are able to work during this time and Kate is only collecting a partial income. Although they have insurance the financial weight they will endure will be great. I am hoping this can help ease their stress and allow them the energy and time to focus on what is important … Sage & Aspen.
Robert & Kate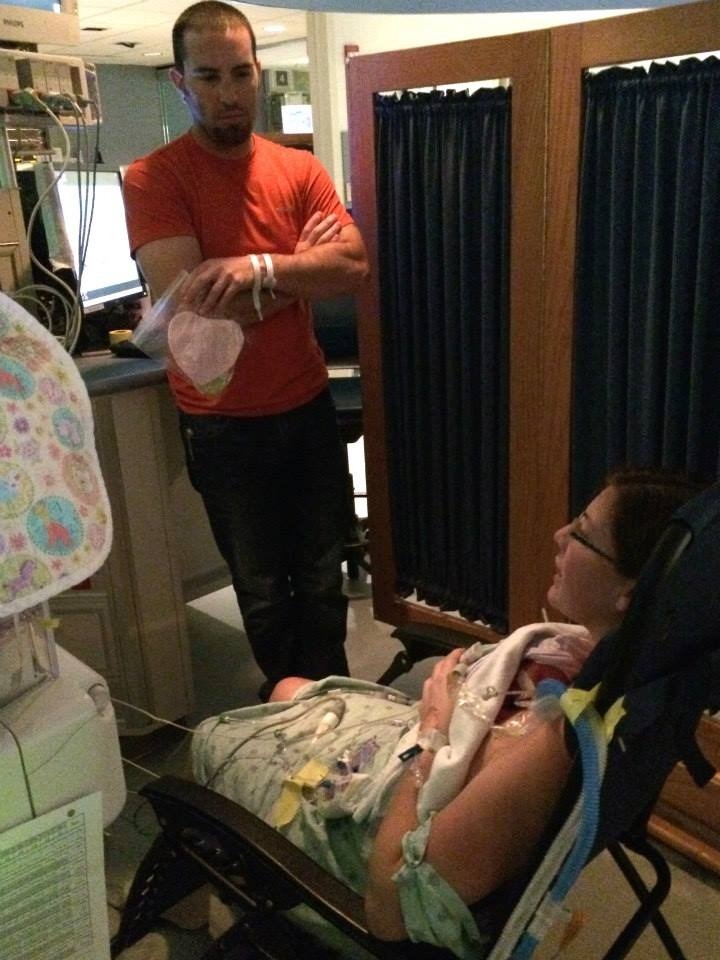 Baby Sage Holding Kate's Finger
Robert & Kate Changing Baby Aspen's Diaper
Baby Aspen
Please remember that of your donation 7.9% +$0.30 of every donation goes to GoFundMe fees.

Organizer
#1 fundraising platform

More people start fundraisers on GoFundMe than on any other platform. Learn more

GoFundMe Guarantee

In the rare case something isn't right, we will work with you to determine if misuse occurred. Learn more

Expert advice, 24/7

Contact us with your questions and we'll answer, day or night. Learn more