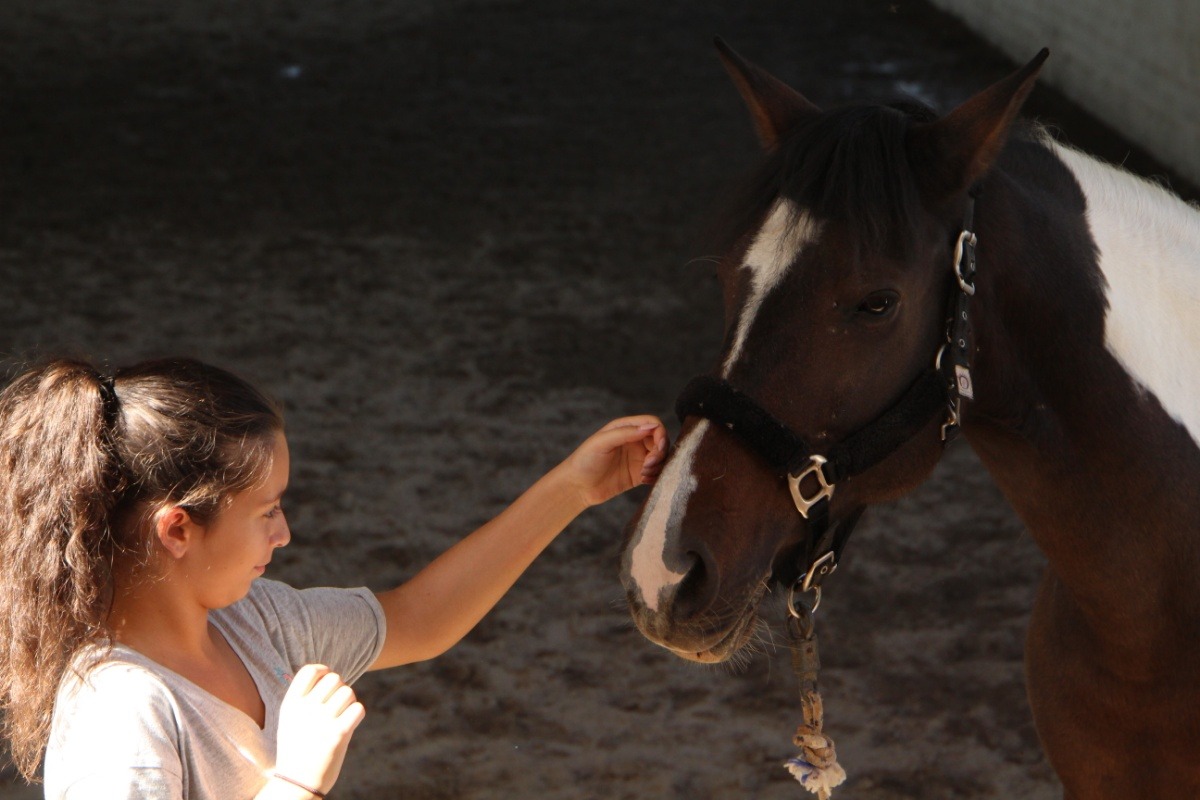 Ein neues Therapiepferd und mehr Therapiestunden für meine Patienten mit psychosomatischen oder körperlichen Erkrankungen und Behinderungen.  
Ich bin vor 13Jahren mit meinen Pferden und vielen Plänen im Kopf nach Portugal ausgewandert. Nach anfänglichen Schwierigkeiten habe ich es geschafft, als Reitlehrerin und Reittherapeutin Fuss zu fassen.
Anfangs habe ich nur mit körperlich und geistig Behinderten Kindern und Jugendlichen gearbeitet. Mittlerweile ist die Nachfrage aber auch von Menschen mit psychosomatischen Erkrankungen da.
Leider ist hier in Portugal das normale Einkommen ca. 650€ und somit ist es vielen Patienten nicht möglich mehr wie 15€ pro Therapiestunden zu zahlen. Manchmal biete ich sogar Stunden im Tausch von Lebensmitteln oder anderen Dienstleistungen an.  
Nun brauche ich um allen meinen Patienten gerecht zu werden ein neues Therapiepferd und etwas mehr Zubehör. Dafür bin ich auf Spenden angewiesen. Nur wenn ich das Therapiepferd über Speden gekauft bekomme werde ich weiterhin meinen Patieten die Therapie anbieten können, die sie brauchen und auch neue Patienten aufnehmen können. Ich würde gerne auch die Kinder und Jugendlichen aufnehmen, die finanziell nicht die Möglichkeiten haben zu kommen.
Wenn genug Spenden zusammen kommen kann ich auch missbrauchten Kindern die Chance auf Reittherapie geben. Mit nur 60€ kann ein Kind einen Monat lang einmal pro Woche zu mir kommen.  
Hier in Portugal gibt es keinerlei Zuschüsse für Reittherapie. Ebenso ist die Arbeit mit Pferden für psychosomatisch erkrankte Menschen noch nicht bekannt.  
Bitte helfen Sie alle mit und geben den Menschen hier eine neue Chance 
A new therapy horse and more therapy sessions for my patients with psychosomatic or physical illnesses and disabilities. 
13 years ago I emigrated to Portugal with my horses and many plans in my head. After initial difficulties, I managed to gain a foothold as a riding instructor and riding therapist.
Initially, I only worked with physically and mentally disabled children and adolescents. Meanwhile, there is also demand from people with psychosomatic illnesses.
Unfortunately, in Portugal, the normal income is about 650 € and so it is not possible for many patients more than 15 € per therapy hours to pay. Sometimes I even offer hours in exchange of food or other services. 
Now I need to meet all my patients a new therapy horse and a little more accessories. For that I depend on donations. Only if I get the therapy horse over Speden I will continue to be able to offer my patients the therapy that they need and can also accommodate new patients. I would also like to accept the children and adolescents who do not have the financial means to come.
If enough donations come together, I can also give abused children the chance of riding therapy. With only 60 € a child can come to me once a week for a month. 
Here in Portugal, there are no subsidies for equine therapy. Likewise, the work with horses for psychosomatically ill people is not yet know 
Please help everyone and give people a new opportunity here 
Um novo cavalo de terapia e mais sessões de terapia para meus pacientes com doenças psicossomáticas ou físicas e deficiências  
Há 13 anos emigrei para Portugal com os meus cavalos e muitos planos na minha cabeça. Após as dificuldades iniciais, consegui  firmar como instrutor de equitação e terapeuta de equitação. Inicialmente, trabalhei apenas com crianças e adolescentes com deficiência física e mental. Enquanto isso, também há demanda de pessoas com doenças psicossomáticas. Infelizmente, em Portugal, o rendimento normal é de cerca de 650 € e, por isso, não é possível para muitos pacientes pagar mais de 15 € por horas de terapia. Às vezes até ofereço horas em troca de comida ou outros serviços.  
Agora eu preciso encontrar para todos os meus pacientes um novo cavalo de terapia e um pouco mais de acessórios. Por isso eu dependo de doações. Somente se eu receber o cavalo de terapia sobre doações continuarei sendo capaz de oferecer aos meus pacientes a terapia que eles precisam e também podem acomodar novos pacientes. Eu também gostaria de aceitar as crianças e adolescentes que não têm meios financeiros para vir.
Se os doações vão ser suficientes, também posso dar às crianças maltratadas a chance de fazer terapia. Com apenas 60 €, uma criança pode vir a therapia uma vez por semana durante um mês.
Aqui em Portugal, não há subsídios para a equoterapia. Da mesma forma, o trabalho com cavalos para pessoas com problemas psicossomáticos ainda não é conhecido. Por favor, ajude todos e dê às pessoas uma nova oportunidade aqui