Easter Bunny Fundraiser Breakfast $12pp
Each year our MOMS Club strives to participate in three fundraising activities. In the Fall and Winter we work with the United Way to provide underprivileged children with school supplies and Christmas gifts. This Spring we have decided to host an Easter Bunny Pancake Fundraiser Breakfast in support of a local family in need. All of the proceeds from the breakfast will go to Kim Hill-Saul, a high school classmate of one of our members, Michele Smith-Kussmaul. Below is a brief summary of Kim's challenges:.
On May 2, 2012, Kim's life changed forever. While sitting at her desk grading papers, her blood pressure spiked to 220/120. She was sent to the ER and was never able to step foot into a classroom again. After many tests, Kim was diagnosed with Nephrotic Syndrome. Her kidneys are not filtering properly so she struggles with everyday routines such as playing with her son, giving him a bath, and even cooking dinner for her family. Kim still visits doctors, goes to dialysis, takes medications, and deals with serious health issues on a daily basis. She was forced to officially resign from her teaching profession and is currently waiting for a kidney transplant. This has put a major financial strain on her family, who cannot afford to live on one income. They currently reside in a one bedroom town house with their son. On top of normal expenses, she has additional medical bills, doctors' co-pays, prescriptions and an impending surgery to fund. To read the full story please visit her website at
http://www.gofundme.com/54fu9o
Please show your support for Kim by attending our Easter Bunny Pancake Breakfast. The breakfast will be held on Saturday, April 12th from 8-10 am at the Applebee's in Bridgewater. $12pp includes pancakes, sausage, eggs, and a beverage. Please pay here **PLEASE PUT YOUR FULL NAME & HOW MANY PEOPLE WILL BE JOINING YOU** for the hostess. Tickets will be sold til April 4th! If you cannot attend our breakfast you can still help out Kim by generously donating on this gofundme account! Thank you!
Bring a Camera for a picture with the Easter Bunny!
*If you are interested in Volunteering we need approximately 20 volunteers to run this event: greeters, servers, bussers, and Easter Bunny Photo Station assistants. Volunteers must be over 16 years of age. Please sign up on this site:
http://www.helpersignup.com/s/117b67188b8a517af09395f33bfea606
or e-mail [email redacted] by April 1st if you or your family members can commit 3 hours of your time to help a family in need!*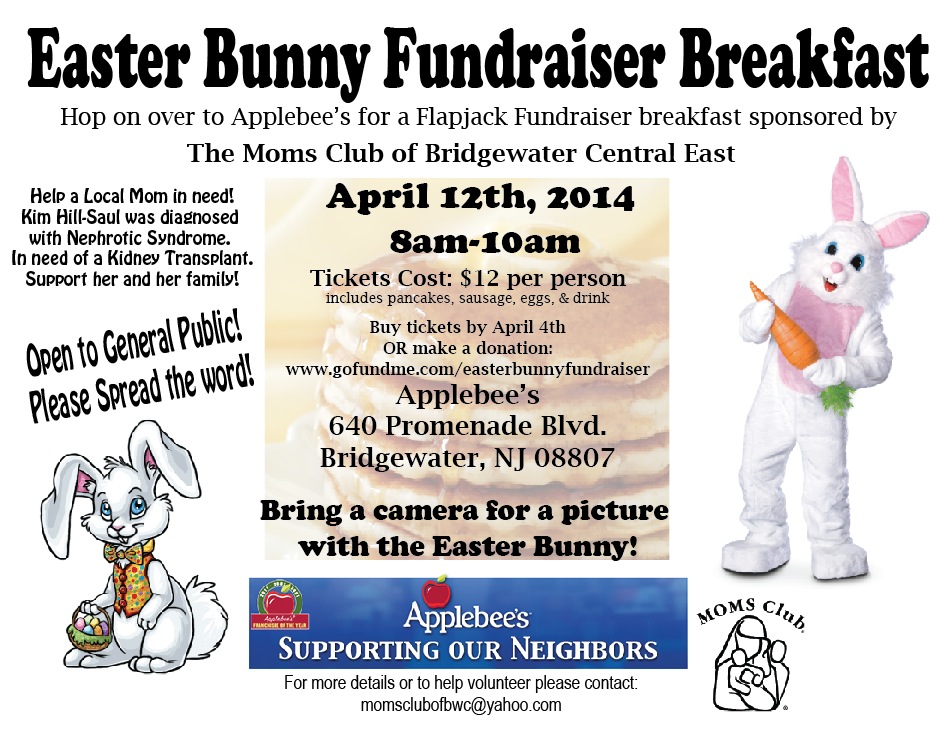 Organizer