Medical Treatments 4 Laura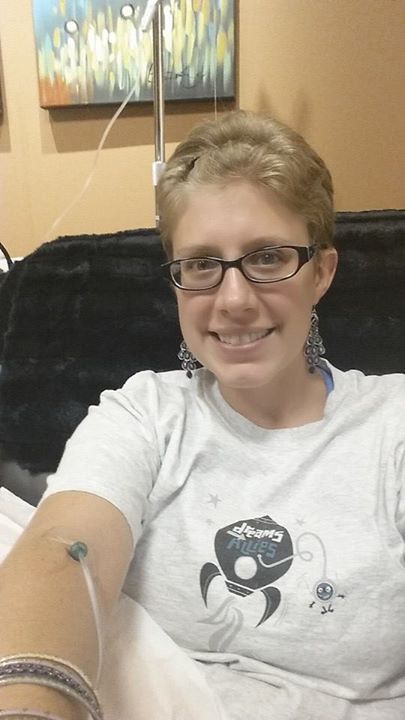 (2nd IV infusion, done in Kansas City area 9-15-2014)
In 2007 I got really sick. I had to leave college for a semester and go home to my parents.  I lost 20 pounds from being sick including a rare side effect called Serotonin Syndrome caused by all the medications I was on.
I have always had something off health-wise. Frequent infections (respiratory, UTI/Kidney,GI related), precancerous concerns that rapidly became high-risk, daily pain, and headaches and migraines are just some of the issues I've dealt with my whole life. I continue to get benign and "precancerous" cell changes in the forms of polyps and cysts removed annually or bi annually it seems.  I honestly do not know a day without pain of some kind.
By 2007 I was up to 8 doctors and over 20 pills a day. Band-Aids.  Doctors stated, "You have something off with your immune system, we do not know what."  One doctor told me to look
into farming perhaps or something low to no stress and have a good quality in life... If you know me, I love gardening but if I am not working with humans and helping someone I am bored, and when I am bored I have to find something or someone to help.  It's me, it's my calling. Currently I am a social worker and therapist with children and families.
Back to 2007 once more. When I went home I felt like I had tried everything and every doctor. My parents took me to a family friend's doctor in Austin, Texas—Dr. Kendall Stewart of Neurosensory Centers of America. Dr. Stewart got the whole picture.  After 2 hours of initial testing and an hour with me, he explained I have a Methylation Deficiency due to a probable
MTFHR gene defect.  After testing I have a heterogeneous, dual gene defect on the MTHFR gene.  This means I do not have the enzymes to methylate (activate) B vitamins such as B-12, Folate, P5P and so on.  Not enough activated B vitamins leads to anemia (often pernicious anemia) and weakening of blood cells and nerves.  B vitamins are essential for blood and nerve health.  Once the nerves are weakened you have demyelination. Painful.  This issue often leads to MS and Lupus. In fact, I was on the path to MS and possibly Lupus.
I began a regiment of prescriptions, creams, and shots to fight my genetic deficiencies and reverse the damage caused by years of my body attacking itself and refusing to heal properly. These treatments helped, but never fully maintained their success in the long term. 
More recently, my struggles have increased. Since 2012, I have had strep, pneumonia, several sinus infections, thrush, and my body attacked my respiratory system. I developed additional diagnosis's including Hashimoto's Thyroid (Hypothyroid), thrush, systemic candida, and peripheral neuropathy. Existing symptoms worsened and new issues developed including severe and chronic fatigue, relentless migraines, I stopped making progesterone and oxytocin, and little estrogen- thus putting me in to perimenopause at 28, and more. 
I could continue with the long list of diagnosis and treatments I have had but now I feel like not only can I treat my symptoms, there is a possible cure.
What Now??  Plan of Action?
- IV infusion therapy every 2 weeks for at least 12 months that incudes glutathione and other nutrients my both can not process due to several newly discovered genetic mutations in attition to my MTHFR mutation to help turn on the body's natural ability to detox and is a very strong anti-inflammatory treatment. These treatments are not covered by insurance at this time and range from $120-200 an IV infusion.
-  GcMAF/Goleic is a medicine designed to turn my T-cells back on. One of the main causes of my health issues is that the T-cells in my body that are designed to fight disease have been turned off. GcMAF/Goleic is a treatment that turns those T-cells back on. Goleic is a sublingual treatment, GcMAF is an injectable.  We are starting with the sublingual.  I will continue my every-other-day shots of methylated B vitamins and folinic acid, but at least with this treatment I can take the medicine orally. Each 4-5 month round of treatment is $680.
Why we are seeking to raise $6000.  The treatments are not cheap and not covered by insurance. But when they work, I will no longer need the additional $300+ of prescriptions a month that I am currently taking. We anticipate significant results in the next 12 months. 
Will it be a cure? we are not 100% sure, but we are sure it will significantly help.  The cure rate so far in studies for people like me are 70%.... this is awesome.
Conservatively, right now we are spending $12,000-$15,000 with our blessed insurance that covers what it does each year.  I have just talked about my health issues but there are several other health concerns that Liam and Landon have experienced and then there is general life.
Liam does have a milder defect, but has been in a conservative treatment with Dr. Stewart and has a better immune system then me and now and is doing very well.  We strive to keep him that way, and hope to find the right combo to be a cure for him too.
Upon doing a budget and praying, Landon and I are looking to raise the approximately ~$500 a month for the $6,000+/year we will be short when we do these treatments, on our already tight budget.  Our debt really does not have a room to grow since we have put so many medical expenses on credit cards already.
*** UPDATE ON 9-16-2014***
So through research, prayers and consideration I am staying with the current integrative medicine clinic for my IV infusions and the doctor there. Every other place I called was requiring a local doctor's prescription but I could not use their own, the doctor at another place was not taking new patients, then the 3rd referral asked for details of what I was looking for, sounded dumbfounded and put me on hold 10 mintutes-probably hoping I would hang up... I sure did.
The IV infusion I had yesterday was gentler and I feel pretty good. I am also on a oral activated supplement of 400mg of glutathione a day.
The challenges we face now are:
The doctor's initial appointment where she looks over or gathers blood work pre appointment and puts together a personalized plan before I come in and then spends 2 hours with me is $695. She met with me for 20 minutes the other day for free and I felt a good connection and understanding/competency. Then I would be placed at least for a year under a comprehensive treatment regime which is a $700 down payment and then $300 month for the rest of the year, totalling $4000/year out of pocket once I am an established patient, before bi-weekly IV infusion cost. I would get a significant reduction in IV pricing at an annual rate of $890 instead of individually at $125 just every other week being around $2400... but I would have to pay for the package all at once. So the up front costs are not totally to be $2285 then $300/month.... Some of the non IV infusion appointments could potentially be partially reimbursed by insurance but most integrative medicine clinics do not bill insurance before/at appointment due to the low reimbursement rates and time spent. The doctor I will be seeing spends so much time on each patient she sees up to 4 clients a day that is a full day. At the rate of 4 clients a day she/those doctors could not afford the time they spend with the reimbursement insurance company would allow. Most western medication doctors are 15 max minutes a pop.
So with just upfront costs being $2285 then $3300 (300 X 11months) the costs are looking hard to comprehend spending. But, we look at when I am so sick 5 ER visits in 2 months is not cost effective or a cure. 7+ specialists with monthly to bi-monthly visits or costly tests is not cost effective. So what to do? Continue praying, giving it to God and trusting he will provide... having faith. Fundraising. And, seeing where we could earn more and budget to spend less. Please share this fundraiser and if you can contribute a few dollars here or there, we would so appreciate. Prayers, thoughts, vibes and mojo is always felt and so appreciated as well.
Much love!"
I know so many people struggle financially, but if you could give even a dollar or two that would add to our medical funds. If you are able to donate more great, but prayers and encouragement are invaluable and so appreciated too.
I want to be healthy to be the best mom, wife, social worker, and friend to those I come in contact with.  I want to continue giving time, compassion and care to others through my profession and daily living.  These treatments should be the key to being able to do just that.
Please consider giving if you have the ability.
Thank you! 
Laura, Landon, and Liam Denkler
Organizer
Laura Denkler
Organizer
Liberty, MO