Dr. Nana Awareness 2021 Mission
Happy Easter Week-End From Bamenda, Cameroon!
The Dr. Nana Foundation Mission team is set  and ready for tomorrow April 3, 2021 mission at its Center in Bamenda. Please kindly inform friends and family attend as we all join the world to show Jesus: a way out of fear and into faith, from chaos into peace.
Thank you for the support !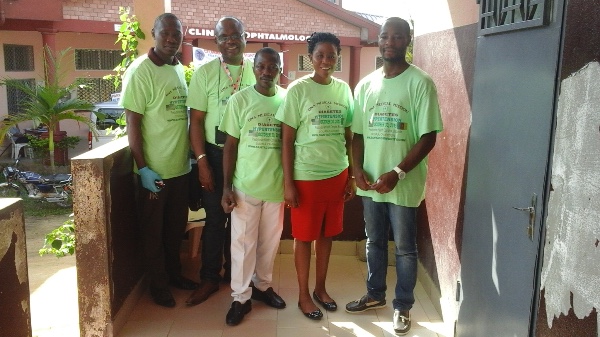 Dr. Nana Health Awareness, INC.  Mission 2019
The story: Looking to raise $4000.00
Thank you for visiting Dr. Nana Health Awareness, INC.For the past eight years, as seen on the website: WWW.DrNanaHealthAwareness.Org and WWW.SantaCommunity.com , Dr. Erick Yoashi Nana the founder of Dr Nana Health Awareness, INC., a U.S.A. 501(c)3, Public Charity, non profit organization, has been spending ten percent of the 365 days of each year in both Africa and the United States raising awareness and saving the lives of thousands of people through screening of diabetes and hypertension. He has been providing free medications during these screenings. In November, 2016, he acquired a center in the city of Bamenda, in Cameroon and trained local medical personnel to assist the free screening and counseling.
Dr.Nana has been personally sponsoring these annual missions from 2011 to 2016 which was a particularly challenging year following a tragedy. Every dollar spent to buy the items which were stolen from Dr. Nana's car in Washington Dc in 2016 which included a laptop, tablet, camera, othoscope, opthalmoscope kit, portable EKG machine and stethoscope, came from his own financial contributions. The perpetrator was apprehended by the Washington DC police, sentenced and imprisoned after in trial at the Washington DC superior court by the Washington DC Attorney's office. Dr. Nana never received any of the items back or any compensation.
The mission continued in 2016, 2017 and 2017 and has been very successful in saving thousands of lives.We are seeking sponsors for Dr. Nana Awareness 2019 and future medical missions. We are in urgent need of funds to get as many diabetic testing strips and lancets as possible. Each person that we test uses a test strip and a lancet. Your tax deductible donation of $10.00 will test five people. $20.00 will test 10 people.
We are also seeking for furniture to accommodate both the staff and patients, stationary notebooks i.e. hospital exercise books to document blood pressures and sugar readings. Compensation cost of training administrative staffs, computer and printers at the Dr. Nana Awareness center to assist record keeping, as well as EKG and Ultrasound machines to diagnose damages done by hypertension and diabetes are some of the items that will go a long way to upgrade the center. Standard stock of Medications and Medical supplies as well as generators and solar equipment will be good.
But for now, all we will appreciate is any small contribution towards purchasing basic necessities for the mission as as testing strips and lancets.
Thank you for your generosity.
Dr. Erick Y. Nana

Organizer
Erick Nana Yoashi 
Organizer
Greater Upper Marlboro, MD