Documentary photography of rock art
Help me document the ancient rock-art of the American West!
The Project:
As I've traveled throughout the western U.S. on various photography projects I've begun documenting the Ancient Artworks I've found.  Ancient American Indian rock art, petroglyphs (made by chipping rock surfaces) and pictographs (made by painting or dying rock surfaces), are found throughout the American west.  These Native American artworks are between 500 & 4000 years old and some are even more ancient.  These are beautiful symbols and stories, permanently preserved in stone by ancient American Indian Shaman-Artists.  Imagine the native artist of 2000 years ago; he spent nearly every waking hour simply surviving; hunting, gathering, seeking water and shelter and yet he still made art that survived to modern times!
 I want to document as many petroglyphs as I can, modernize some of the ancient artists' works, and share them with those who can't see the sites for themselves.  Funding would be used for travel to the rock art sites and for post-production of the resultant photos.
Many of the rock art sites are protected within National Parks and Monuments –except now, because of political machinations, our parks and monuments themselves aren't exactly protected—which leaves these delicate ancient rock art sites endangered again.  An example of a potentially at-risk site is this one, in the newly-shrunken Bears Ears National Monument:
Other sites, in non-protected areas, have been heavily vandalized by graffiti and even bullets!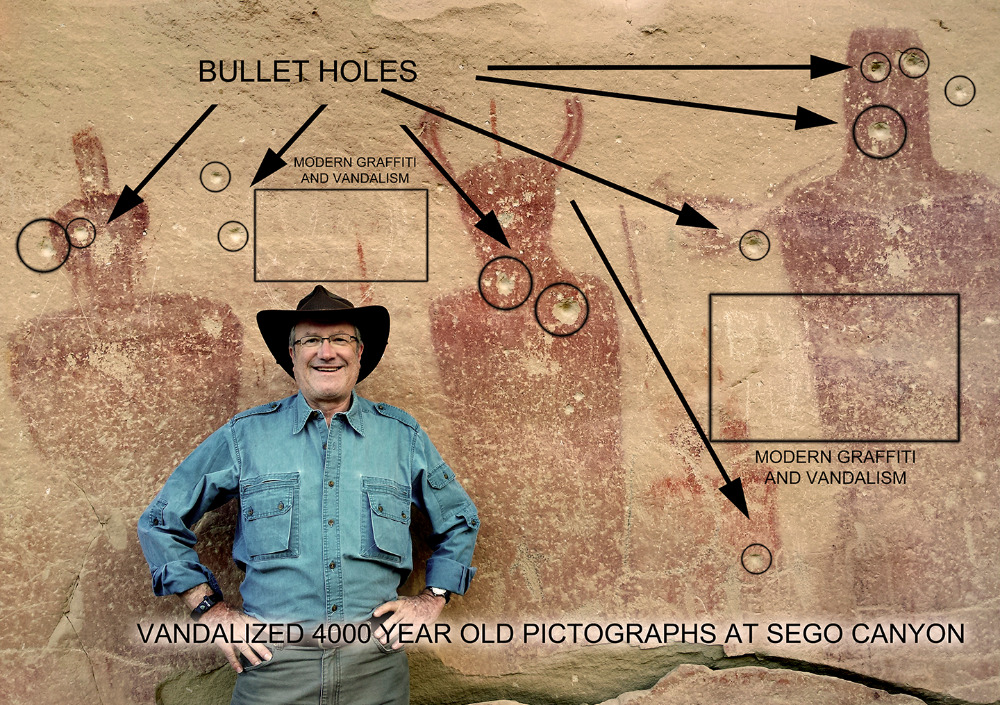 Here's a site vandalized by graffiti
Hopefully my new photos will lead to a greater awareness of the rock art sites and their continual need for preservation.  Availability of high-quality photographs, both documentary & artistic, obtainable by anyone interested should result in less vandalism and destruction of these sacred sites.
Documentary photos of Rock Art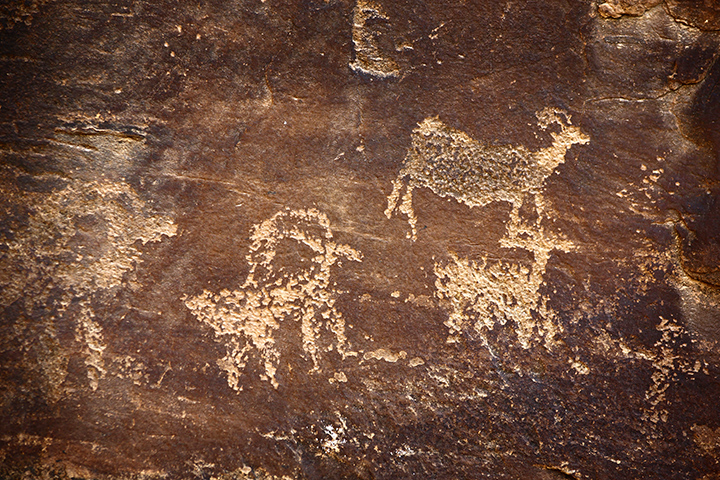 While there are already many photographs of Rock Art much of the existing photography is of an academic nature aimed at archeologists, folklorists and researchers.  Much of the 'fine-art' photographs that include Petroglyphs and Pictographs are landscape photos in which the Rock Art isn't the main subject.  My goal is to create elegant documentary photos and to create new impressionistic works using the ancient Rock Art as a starting-point.
The Goal:
After I find and photograph petroglyph sites I will process the photos three ways:
1.       Straight, unretouched documentary photos.  Primarily for academic/study use.
2.       Retouched, removing signs of decay and vandalism.  I will do my best to return the image to what it most likely looked like at the time the petroglyph was created.  For exhibition or publication.
3.       Using the retouched petroglyph as starting-point I will digitally post-process the image to create something new, based on the old.  This is my own artistic interpretation to build on what the ancient artist left.  A continuance of expression hundreds or thousands of years after the source material was created.
Artistic reinterpretation of Ancient Rock Art
Up to this point I've self-funded the project but it's grown far beyond what I'd originally begun and I'd like you to help out.  Mainly, funding will be used to cover travel expenses: fuel and lodging.  Occasionally fees or other gratuities must be paid to access private lands or sacred Indian sites that are either unknown or forbidden to White Men.  From time to time Indian guides must be hired to visit some sites and they must be compensated.  Any extra funds will go to pay for printing, postage, presentation and exhibition/publication.
Ultimately I'd like to photograph at least thirty-six sites in seven states --or as much as funding will allow!
About me:
I'm a full-time professional photographer with over thirty-five years of experience.  I have a degree in photography.  I work with both film and digital and have produced photography and digital art for advertising and editorial clients worldwide.  I've produced works in a variety of styles including abstract-expressionism, surrealism, impressionism and photojournalism.  For this project documenting Ancient American Rock Art I will be working in a straightforward documentary style photographically and then continuing the Ancient Artists' work digitally in an impressionistic style.
For 2018 I already have two, small, exhibitions of some of this work scheduled for galleries in Arizona.  Once the project is completed I will seek a large-scale venue for an extensive exhibition.  I also will produce boxed-set portfolios of the imagery.
And if I find there is enough interest, a book may be produced.  Stay tuned for that.
Please donate!Help me document the past
and bring the ancient art into the future!Thank You!!

Organizer
#1 fundraising platform

People have raised more money on GoFundMe than anywhere else. Learn more

GoFundMe Guarantee

In the rare case that something isn't right, we will refund your donation. Learn more

Expert advice, 24/7

Contact us with your questions and we'll answer, day or night. Learn more