Hi, I'm Carta Monir. I'm a cartoonist and publisher based in Ann Arbor, MI. I run Diskette Press, a small operation dedicated to publishing the work of up-and-coming trans cartoonists.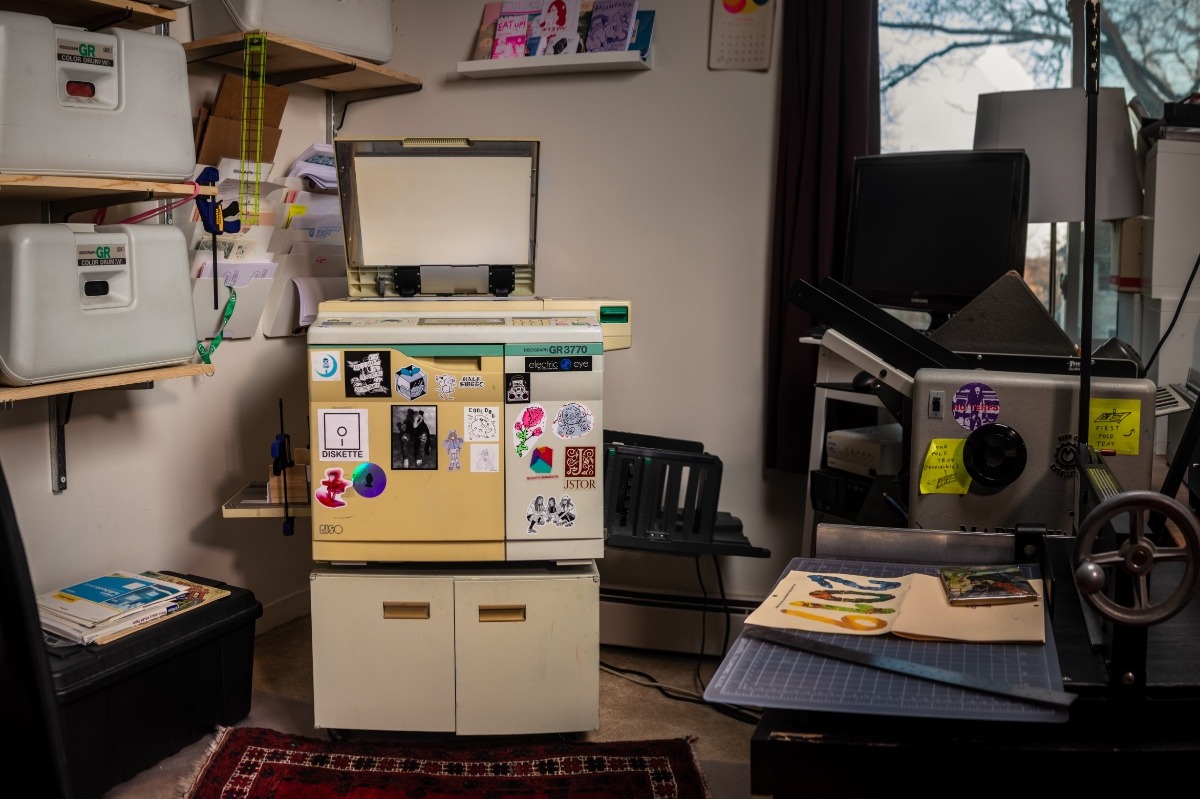 We print all our work on a Risograph GR3770. Our print shop is currently taking up half my living room. BUT! That's what we're hoping to change!!
We have been offered a two-car garage to use as our new studio! This is very good because it will allow us to expand substantially. Currently we're working with about 200 square feet of space, and everything is extremely cramped. Moving into this garage space will allow us to not only move around more easily, but expand our operation with new machinery and the capacity for much more inventory.
SO WHY ARE WE ASKING FOR MONEY?
Two reasons! The first is very straightforward. The garage needs some work! This is what it looks like right now:
It's full of trash that's been accumulating since the garage was built in the mid-1940s! Yes, if you look closely there's carpet on the floor because it was owned by a maniac I guess. It needs to be cleaned. But more that that, we need to smooth out the floor, add drywall and insulation, and install new lighting and ventilation! We're confident that we'll be able to do it, but every cent helps us make the final result even better!
The other thing we need money for is some new equipment! This space will allow us to substantially expand our operation with new machinery including an electric paper cutter and a collating machine! Even second-hand, though, that stuff costs money (not to mention the cost of renting a van and hiring movers to lift the very heavy stuff). Your donations will help us make our new location as beautiful and functional as possible for the years to come.
WHY THIS MATTERS
We just tabled at the Small Press Expo in Bethesda, Maryland with 18 (!) different books! Every single book we brought was by a trans creator, most of whom had never been published before. Two of our creators were nominated for two industry awards each, and one of them, Emma Jayne, won for a comic we printed. We're doing good work that nobody else is doing right now, and your support means that we can do even more!
You might wonder why we can't use the money we're making off our books to completely fund this move. The answer is that we're currently structuring our payments to give our artists as much as possible, meaning we're not making very much profit! It's important to us that our artists are paid what their work is worth. By helping us now, you're also helping us to continue paying our artists as much as we possibly can.
(photo by MariNaomi)
Thank you for reading! Thank you for donating! We love you a lot. <3