Complete Loss of Home to Fire in Berry Creek
With an extremely heavy heart, it is difficult to share that a dear friend and a spirit brother, Derek Leong, has lost his home in Berry Creek - within the west zone of the "North Complex Fire".   This beautiful property had been a special sacred place, and was the sole primary residence for Derek and his partner, Stephen Standridge.
The North Complex Fire had initiated as the "Bear Fire" which was the result of a mid-August lightning strike.  It was part of a complex of fires that was about 50% contained and had been burning for three weeks in the Plumas National Forest . It was considered by many to be within control, up to this point.
However - this fire took a fateful turn on September 8.  When fueled by 45 mph winds, the fire jumped the Feather River with a ferocity that exceeded firefighters' expectations and their ability to stop it.
We can be VERY thankful that Derek and Stephen were able to take action with enough time to safely evacuate.  But that night, it obliterated most of Berry Creek, a few miles north of Lake Oroville, leveling house after house - and killing at least 15 people.
Nearly two weeks had passed until Derek and Stephen were even able to confirm that their home was no longer standing - an anxious time, indeed.   What they found on September 24 when they were allowed an escorted visit, was complete and total loss and devastation.
While there is some coverage by insurance, it not nearly enough to cover their losses and re-build a life. Major losses include such irreplaceable items of special sentiment - photographs of loved ones, journals personal historical documentation, personal artwork, collected artwork - amongst everything else they had owned and acquired together over time.  
** Derek and Stephen are two incredible lovely spirits with BIG giant loving hearts, generous and self-less in their service to community and others around them.  **
PLEASE JOIN ME in showing them some generosity and kindness, in small return for the pure light and energy they each exude into this world and with great intention.  
These funds will not help with the grief and ache in their hearts for this epic loss, but can serve as the first step towards healing with a show of our community support.  <3
                                                                 The Background Story: 
When Derek Leong purchased this home in 2013, it was the start of a new year, with the seed for a new life.    His initial intention was to make it a small permaculture farm, however over the last few years he and his partner (Stephen) were guided to offer the land as a retreat space for friends and small groups - a special sacred place - intended for gathering, healing, community building, and ultimately, heart expansion. 
The two spent countless hours beautifying and cultivating the land.  Together, they grew fruits, vegetables and herbs in their gardens, restored a pond to support all sorts of wildlife, planted flowers to help the pollinators, built decks for meditation, yoga, etc.  They also kept a flock of free ranging chickens and had a small apiary (beekeeping).  Many friends helped with building and caring for the land. 
Re-building in this location would be a complicated process and take a minimum of two years.  In the meantime, Derek and Stephen will rent a place to call home, while they stabilize from the terrible tragedy of this immense loss.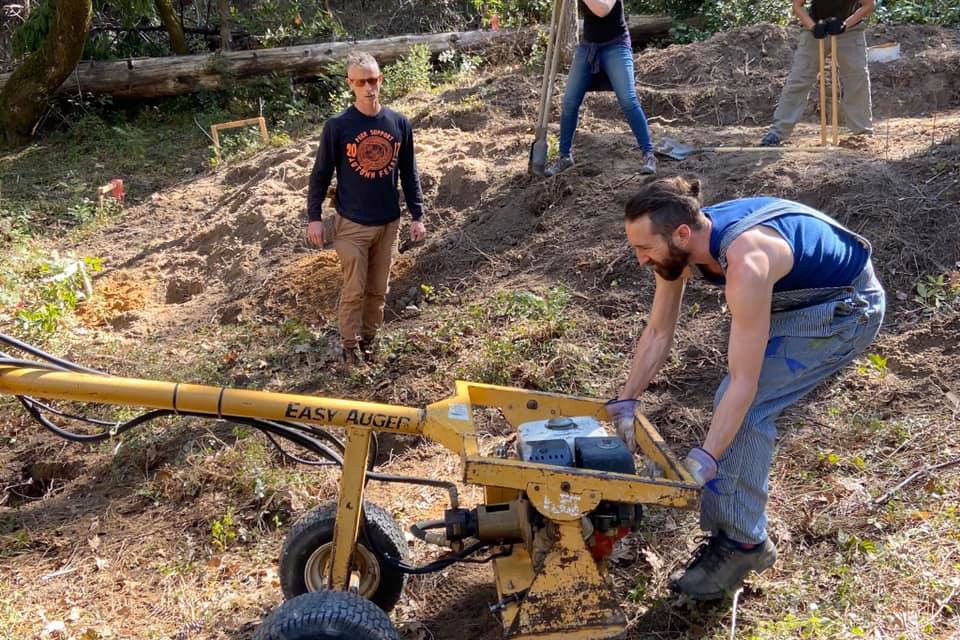 The following info was prompted by GOFUNDME:  
This gofundme was created by Dulce Vita - I am a friend of Derek and Stephen, whom I met several years ago through mutual friends.  
When I first learned of the possibility of their loss due to fire, I immediately felt deeply for them - and upon confirmation, also felt an immense pull to assist them with asking for community support, due to a strong feeling of empathy for their situation, especially with fire being the effect of a particularly unusual weather incident, directly caused by climate change.  
In addition, I was astonished to notice that they themselves were not asking for support funds - literally the opposite, donating to fire fundraisers of others who lost just as much as themselves, and also urging others to show kindness and do the same!  Lastly, I felt strong desire to offer my ability for storytelling and positive use of my social media reach through exposure to a large conscious and caring community.
** These funds will be deposited into an account owned by Derek Leong towards the replaceable items that were lost in the fire and assist with next steps towards another home.  I will not have access to ANY funds - I am merely an organizer and supporter. **
Organizer and beneficiary
Dulce Vita
Organizer
Berry Creek, CA