Andy Delgado Fight Against Cancer
Andy Delgado is a devoted husband and doting father of a beautiful, energetic 4-year-old daughter. He loves spending time with his family and one of his hobbies is photography. Sadly, Andy has been battling cancer since 2015, when he was first diagnosed with Stage 4 colon cancer. He underwent surgery and completed chemo and radiation therapy. It took around six months for him to make a full recovery and he and his family had hoped this nightmare was behind them.
     Tragically, Andy has endured three more surgeries this year.
In February 2018, he was diagnosed with metastatic lung cancer and needed two months to recover from this operation. In June, doctors discovered Andy had a brain tumor and he underwent surgery that month, as well as another surgery this month in August. He is still recovering and undergoing more tests in the hospital. He will need therapy to help with his gross motor skills, such as walking and balance. 
     Andy is the main provider of his family, but due to his condition, he is unable to work as a truck driver. His supportive wife is also unable to work because she has to take care of him and their daughter. Your donation will help cover some medical bills that are not covered by his insurance, rent, and basic family needs, such as groceries. 
     His friends and family are eager to see him recover and get back to his active life. He loves spending quality time with his wife and daughter. He wants to see his daughter grow into a beautiful woman and be there for her in every step of the way. He is a great friend and he is always willing to lend a helping hand. Now it is time for us to all come together to lend our support to Andy.  
Please make a donation, leave a note of encouragement and spread the word. Every donation is crucial and appreciated no matter how big or small!
Thank you in advance for all your love and support on behalf of his friends and family.
....................................................................................................................................................................................................
Andy Delgado es un esposo devoto y un padre súper cariñoso de una hermosa y enérgica niña de 4 años. Andy disfruta pasar tiempo con su familia y uno de sus pasatiempos es la fotografía. Lamentablemente, Andy ha estado luchando contra el cáncer desde 2015, cuando se le diagnosticó cáncer de colon en la etapa 4 por primera vez. Se sometió a cirugía y completó terapias de quimo y radioterapia. Le tomó alrededor de seis meses para que se recuperara por completo. El y su familia deseaba que toda esa pesadilla quedara atrás.
Trágicamente, Andy ha tenido que pasar por tres cirugías más este año.
En febrero de 2018, fue diagnosticado con cáncer de pulmón y necesitó dos meses para recuperarse de esta operación. En junio, los médicos descubrieron que Andy tenía un tumor cerebral y se sometió a cirugía ese mes, así como a otra operación este mes en agosto. Él todavía se está recuperando y se está sometiendo a más pruebas en el hospital. Necesitará terapia para ayudarlo con sus habilidades motoras gruesas, como caminar y mantener el equilibrio.
Andy es el único proveedor de su familia, pero debido a su condición, no puede trabajar como conductor de camión. Su esposa tampoco puede trabajar porque debe cuidar de él y de su hija. Su donación ayudará a cubrir algunas facturas médicas que no están cubiertas por su seguro, alquiler y necesidades familiares básicas.
Sus amigos y familiares están ansiosos por verlo recuperarse y volver a su vida activa. Le encanta pasar tiempo de calidad con su esposa y su hija. Él quiere ver a su hija convertirse en toda una mujer de bien y estar allí para ella en cada paso del camino. Él es un gran amigo y siempre está dispuesto a ayudar. Ahora es el momento de que todos nos unamos para brindar nuestro apoyo a Andy. 
Por favor haga una donación, deje una nota de aliento y corra la voz. ¡Cada donación es crucial y apreciada sin importar cuán grande o pequeña sea!
Gracias de antemano por todo su amor y apoyo en nombre de sus amigos y familiares.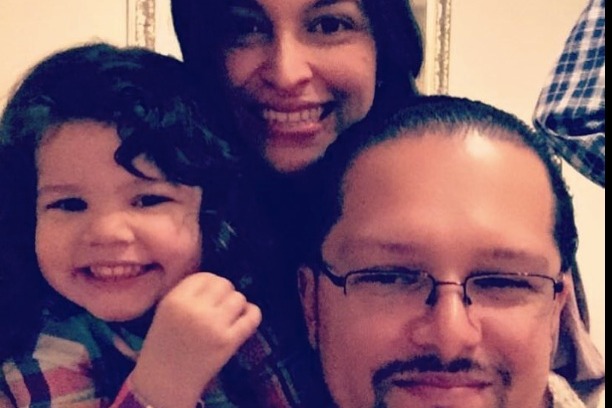 Please continue to pray for Andy's full and speedy recovery. 

Por favor continuemos rezando por la pronto recuperacion de nuestro amigo Andy

Fundraising team: Family and Friends (4)