De & Mary's Flooded Home Rebuild
De and Mary - celebrating Mother's Day 2017 in the garden (the river within its banks: photo).
The recent, late February, flooding in South West Michigan has affected thousands of individuals and families. We are all grieving for our physical losses, while at the same time rejoicing that our neighbors and family are safe and dry. Well, mostly dry. 
De and Mary have lived in Saint Joseph, Michigan for the past 50 years and along the banks of the Saint Joseph River for over 20 years. During that time, they have worked continuously to build a loving home for themselves and their daughter. They enjoy taking advantage of living next to the river, fishing and boating, gardening and feeding the flocks of songbirds that come to their feeders.
Every spring, snowmelt and rain fill the river to levels safely within its banks, this year, however, was a perfect storm. Several feet of snowfall quickly began to melt when the usual February warm up happened. This alone would not have been a problem, but days of heavy rain in the area and near the headwaters of the river caused a sudden surge of water that quickly broke the banks of the river and rushed over the over the road within hours. 
Around lunchtime, the fire marshal came to the front door with the evacuation notice. With little more than 30 minuets to leave their home, De gathered up important documents, a few articles of clothing for himself and Mary, and tried to place as many things on the counters and tables as he could. Fully expecting to be able to return home the next day, De then rushed off to help ensure the safety of neighbors up and down the street. 
However, 24 hours later, hope that the water would come no higher than the road was lost. De was able to actually paddle the family canoe down the street to survey the damage. Like most of their neighbor's homes, water was flowing into their house on all sides; in some places the water was knee deep. 
While they are waiting for the floodwaters to reside, family friends are graciously hosting De and Mary. The couple does have flood insurance, but will not be able to begin the claim process until it is fully safe for the insurance adjusters to enter their home. They will then have to wait to go through the process of making a claim. What they need now is help rebuilding. Nearly everything inside and outside will need to be disposed of and replaced. The couple has immediate need with the unexpected costs of clean up and providing storage for what can be salvaged. Long-term housing will also need to be secured while this repair is being made.
De and Mary wish to firstly thank you for taking the time to read their story and are filled with comfort in knowing that they are not alone during this uncertain time. They are extremely thankful that all that was lost can be replaced in some manner or another. They still have each other and their health. They know that during this time of widespread devastation caused by the flooding in Michigan there will be many people with many needs. They are extremely thankful for whatever you feel you may be able to give to help with the immediate costs associated with housing, storage and clean up of their beloved home.
Although, it is not the first time that images of flooded homes have been shown, when it is one's own home there is something so surreal about the image that unless you have seen your own possessions floating in contaminated water you can not fully comprehend what is happening. Something they wish on no one.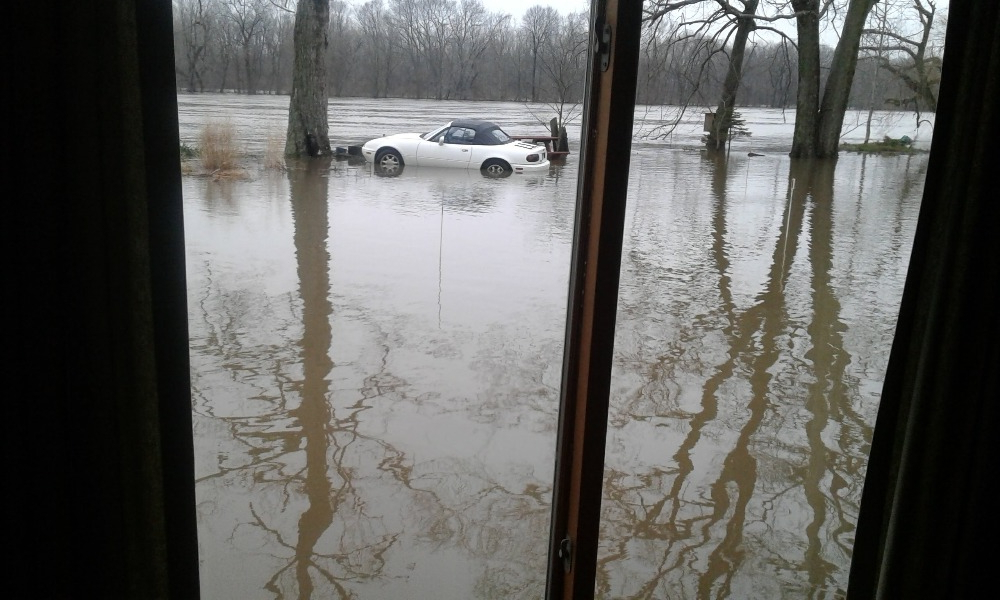 View out the front windows puts into perspective the level of the water.
The hardwood floor in the kitchen floats as the water pushes up through the house.
Evidence of a hasty evacuation
The living room
The guest room, once a bright and sunny spot is now filled with 9" of flood water.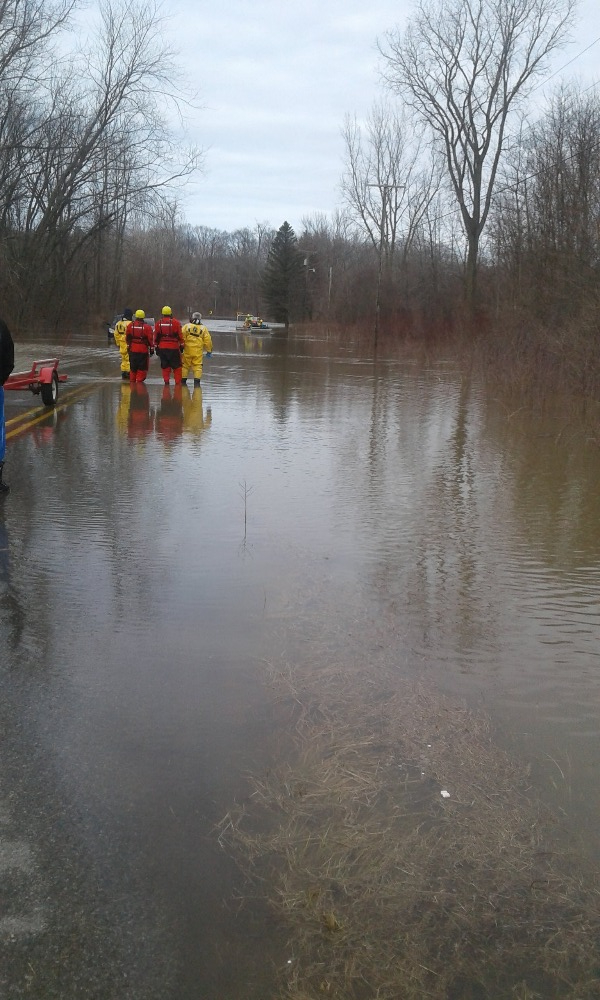 Fire Marshal and Coast Guard personale helping residents evacuate the street. Thankfully, De was able to take a canoe with him when he left and was able to row back with neighbors to help.
Organizer and beneficiary
Emaley Brusveen
Organizer
Saint Joseph, MI